One of the biggest Esso dealers and Tim Hortons franchisees in British Columbia, this first-generation Canadian has set up the first global prize for Punjabi literature
By Gurmukh Singh
Barj Dhahan presides over the diversified Sandhurst Group of Companies in Vancouver.
Starting from scratch in the late 1970s, he has built his group into a conglomerate of real estate, gas stations and Tim Hortons.
But this hugely successful entrepreneur is a man of many interests and skills. He is passionate about philanthropy. He wishes quality education for everyone. He is into living an integrated life – family, business and spirituality. He swears by the benefits of yoga and reads tomes of literature.
Not surprisingly, he calls himself a ''social entrepreneur'' as he has liberally donated to social and educational causes in India and Canada and supported NGOs doing development work around the world.
Indeed, the Dhahan family has done outstanding work in their native Punjab to promote healthcare and girls' education.
And deeply committed to the promotion of the Punjabi language, Barj Dhahan has also created the annual Dhahan Prize for International Punjabi Literature worth $25,000 to encourage writers.
On route to becoming a hugely successful businessman, he has also delved into politics.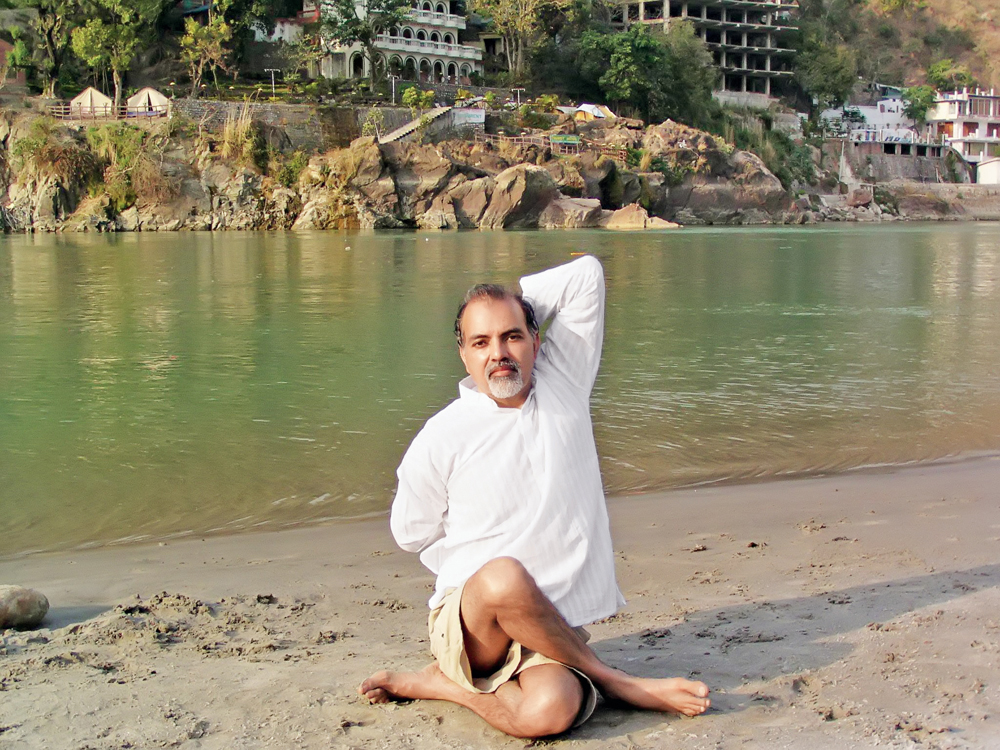 The Canadian story of the Dhahan family – Dhahan is their ancestral village between Banga and Phagwara in Punjab – started in 1959 when his father Budh Singh Dhahan landed in Vancouver.
''My father took part in the freedom movement and he was later involved in Akali politics. Being an honest person, my father soon realized that in order to be successful in politics, you either have to have your own money or beg from others. So he didn't see a future for himself and left Punjab to settle in Port Alberni where his sister's family had lived since 1933,'' says Barj Dhahan whose full name is Barjinder Singh Dhahan.
Barj, along with his mother and three sisters, joined his father here in 1967. His eldest sister arrived two years later.
''I was in fourth grade in India, but I had to start from third grade in Canada,'' he says.
As Barj Dhahan tells in this interview, early in his life he learned the value of hard work which paved the way for his 
future success.
Q: So how was your 
childhood as a new immigrant boy in Port Alberni?
I came here from India when I was 10. At 
the age of 14, I started working 
part-time at a general merchandise store in Port Alberni. There I learnt many things such as assembling bicycles and furniture, organizing the warehouse, uncrating merchandise and laying it for pricing, and making home deliveries of furniture and appliances. That is where I also learnt driving at a very young age. I also learnt how to communicate and work with people much older than me. That job taught me the value of hard work. I was a very outgoing person and willing to learn anything.
Q: What was your father 
doing at that time?
He was working in a plywood mill and on Saturdays in a metal shop. Then in 1973, our family moved to Vancouver and my father started his residential construction business in Richmond and Vancouver. I used to help him and learnt early lessons in entrepreneurship and construction from him.
Q: So that's how you caught the entrepreneurial bug, right?
Actually I think I have always been a risk taker and willing to take chance in doing something on my own. I was still a student at the University of British Columbia in 1979 when I leased my first Merit Oil gas station.
Q: Why didn't you join your father's construction business?
My father had a business partner. And I wanted to do something different and be on my own. An opportunity (to lease a gas station) came my way and I seized it. The idea was to make some money and support my family. But it was hard to run a business when you have a family and you are also a student.
As for my father's business, he sold many of his properties in 1980 and entrusted the rest to his partner and left for Punjab to focus on charity work. Serving others has been the singular mission of my dad. Though he was successful, running a business was not his calling. He always wanted to help the poor, weak, and girls in particular. He felt Sikhs were not given equal opportunities in India and he wanted to change that.
Since he grew up in Punjab and came here only in his thirties, he went to his native Dhahan to start the Guru Nanak Mission Medical & Educational Trust in 1981.
Q: So what did you do with 
your first gas station?
I ran it for five years. Then in 1985 I wanted 
to go to law school and become a lawyer. But everything changed in 1986 when I went to meet my father in Punjab.
Q: What did your dad tell you?
My dad told me that since I already had a business base, I should concentrate on expanding my business and not waste five 
to six years in setting up a legal practice. 
So when I returned, I threw myself into my business whole-heartedly and got into the expansion mode.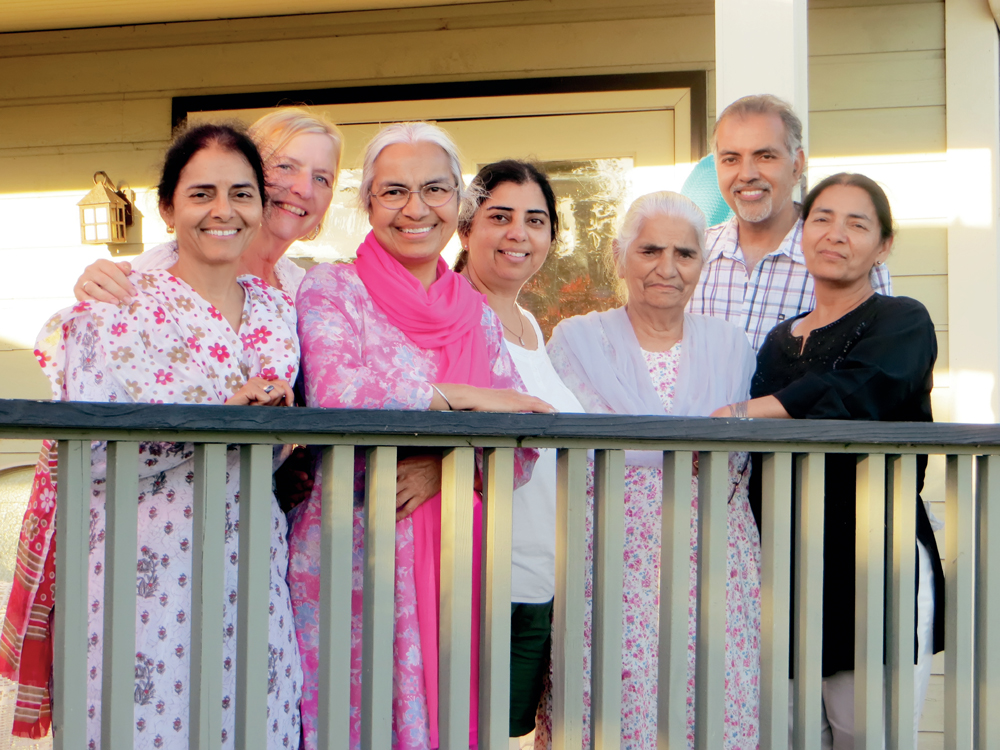 Q: So your dad's advice propelled you to become one of the biggest gas station dealers in BC.
Well, we bought four gas stations in 1986-87. Then I partnered with a Calgary oil company which wanted to create its own retail network. A new retail brand of gas stations was started. I opened the first CANPET gas station in Squamish. I already had properties to brand them as CANPET. Under this brand about 11 gas stations were opened. And then some years later I closed the last one and sold it to Mohawk Oil.
In 1992, I added my first Esso branded 
gas station.
Later, we shifted all our gas station business 
to the Esso brand and sold off some of the smaller facilities.
In the 1990s, we were also into wholesale distribution of diesel and gasolines to smaller retailers in BC and exported product to Washington state.
This year, we are opening another large gas station in Surrey.
Q: Today, you are one of the biggest franchisees of Tim Hortons in British Columbia. When did you buy your first franchise?
We started our association with Tim Hortons in 1996 when it had very few outlets in Western Canada.
In 1999, we built our first 
free-standing Tim Hortons in Maple Ridge. It set a national record in sales for new openings. Today, there are over 6,000 Tim Hortons in Canada and the United States and this one is among the top 70 restaurants in sales volume.
Our Tim Hortons business is doing well and we are adding five new outlets this year.
In fact, the thrust of my business today is on Tim Hortons and property development.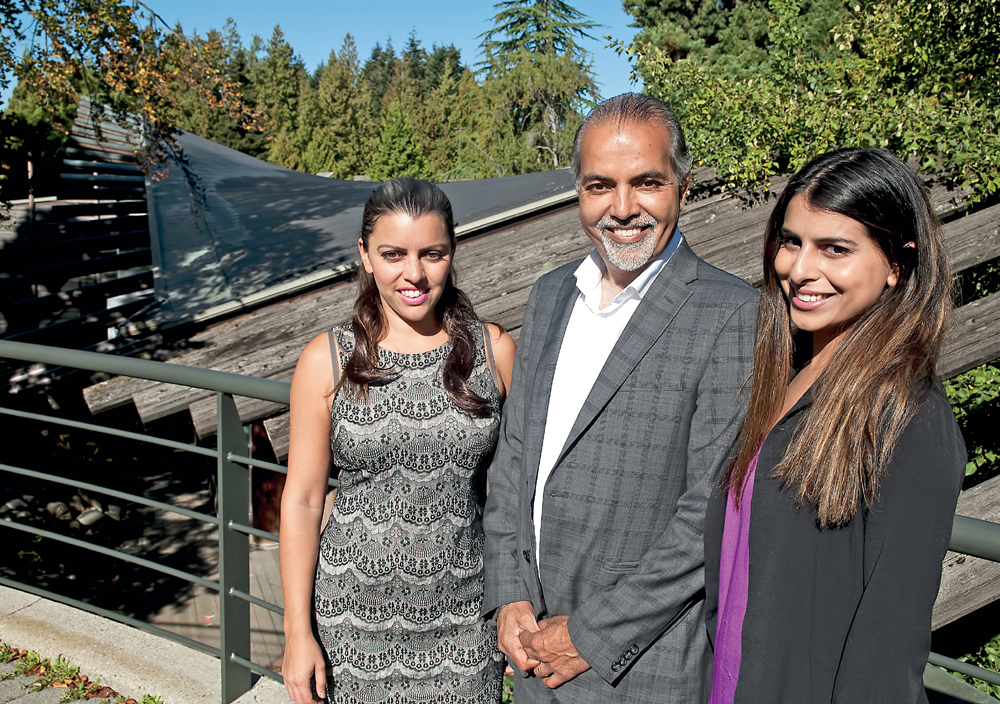 Q: Where do you see the Sandhurst Group of Companies in the next 20 years?
We will continue to expand and maybe turn into a half a billion dollar company in 20 years or even sooner.
Q: Away from business, your family has been doing a lot of social and educational work in Punjab under the Guru Nanak Mission Medical & Educational Trust. When was the Trust set up?
The Guru Nanak Mission Medical & Educational Trust was set up in 1979 by my father.
The Trust opened a 40-bed hospital in 1984 to serve rural people. Today it has been expanded to 225 beds.
The Trust also started the Guru Nanak College of Nursing in 1993. This nursing college has partnered with the University of British Columbia. Over 2,000 young women and a few young men in Punjab have got their nursing diplomas and degrees from this college. Nearly 250 of them have moved to Canada. The Trust also runs a large elementary and high school and a drug and alcohol rehabilitation centre.
To support the Trust, we set up the Canada-India Education Society (CIES) in 1991. The CIES launched first-ever collaboration in nursing education between Canada and India when it brought together the UBC School of Nursing and the Guru Nanak College of Nursing in 1998. As a non-profit, CIES raises funds to support its Canada-India work, including student and faculty exchanges. From 2001 to 2005 
we also ran a four-year health outreach programme in Punjab covering 60 villages. This programme was partly funded by the former Canadian International Development Agency.
Q: And how about the annual Dhahan Prize for International Punjabi Literature of $25,000 that you started in 2014?
This award recognises the rich literary history of Punjabi and honours authors who are producing high-quality 
Punjabi literature around the world today. It is aimed at encouraging better literature in Punjabi while promoting Punjabi language and culture.
This award is for literary works produced in both Gurmukhi and Shahmukhi scripts.
Through this award, we also want to bring together all Punjabis who have been divided on the basis of country, religion and script. That's why it is an international award.
We wish to support translation of the winning works into English because great Punjabi literature needs to be shared with the world.
So far, we have given three awards.
Q: Tell us about your involvement with the Canada-India Centre for Excellence at Carleton University and IC-IMPACTS Ltd at the University of British Columbia.
I am one of the founding donors and board members of the Centre at Carleton University which officially opened in 2010. The Centre at UBC is funded through the National Centres of Excellence (Ottawa) and was announced by Prime Minister Harper during his official visit to India in 2012. The idea behind these centres is to promote Canada-India relations through research and scientific collaborations and student mobility between the two countries. The centres facilitate exchanges of thinkers, researchers, entrepreneurs, scientists and students. It is a way of 
promoting India in Canada and Canada in India.
Q: You are into spirituality and religion. What is your idea of religion?
Live imaginatively and out of the religious boxes. Create a better world for all. None can define God exclusively. Those who claim that their view of God is correct are profoundly mistaken. The Divine is beyond description and human constructs. 
But we are all one!
Q: So how do you define yourself?
I am a learner, social entrepreneur, connector 
(of ideas and people). I see myself as a peacemaker and prosperity creator.
Q: You are very much into 
yoga. Why?
I have always been fascinated with wellness. Yoga helps in it. Perhaps it is one of the best systems for overall health and well-being. I did a 250-hour yoga teachers training programme from Langara College in 2008-09. I did it from the standpoint that a college-based training has to meet certain academic standards.
Q: You are a promoter of literature. Are you also a 
student of literature?
Yes, I love books and I read a lot. In fact, I was admitted into the UBC's Creative Writing programme in the late 1976, but I did not complete it.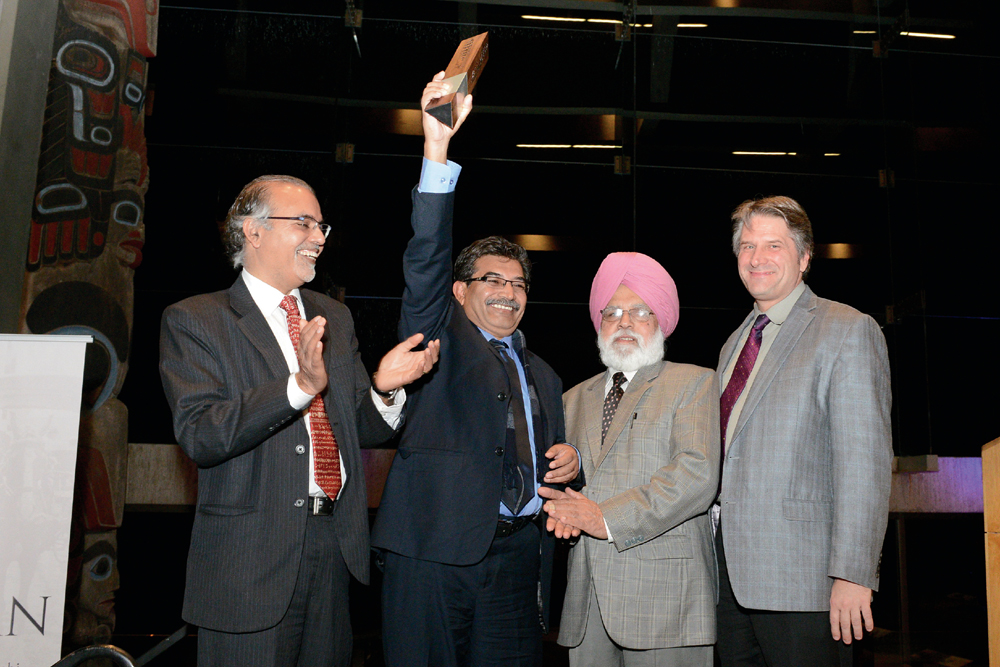 Q: What do you value 
the most in life?
The freedom to be yourself.
Q: Your most favourite book.
The Captain's Verses by Pablo Neruda who won the Nobel Prize in 1971. I was drawn to Neruda as a person, a romantic, a poet, and a political activist. Kahlil Gibran's The Prophet is also my favourite book.
Q: Any tycoon who is 
your role model?
I don't follow tycoons, but I learn from successful business people. 
I am inspired by Guru Nanak and Jesus. Guru Nanak was a storekeeper and farmer. Jesus was a carpenter. Both talked about living truthfully and sharing with others because the universe has plenty for everyone. That's also the way of doing good business.
Q: Any regrets in life.
I wish I had learned more and worked more creatively during my 30s and 40s.
Q: Your happiest moment in life.
Many. The birth of my first daughter in 1980 was one of them. I felt all life is a miracle.
Q: You have been in politics in the past. What about the future?
I have always been involved in the political process. One day I may consider running for an elected office.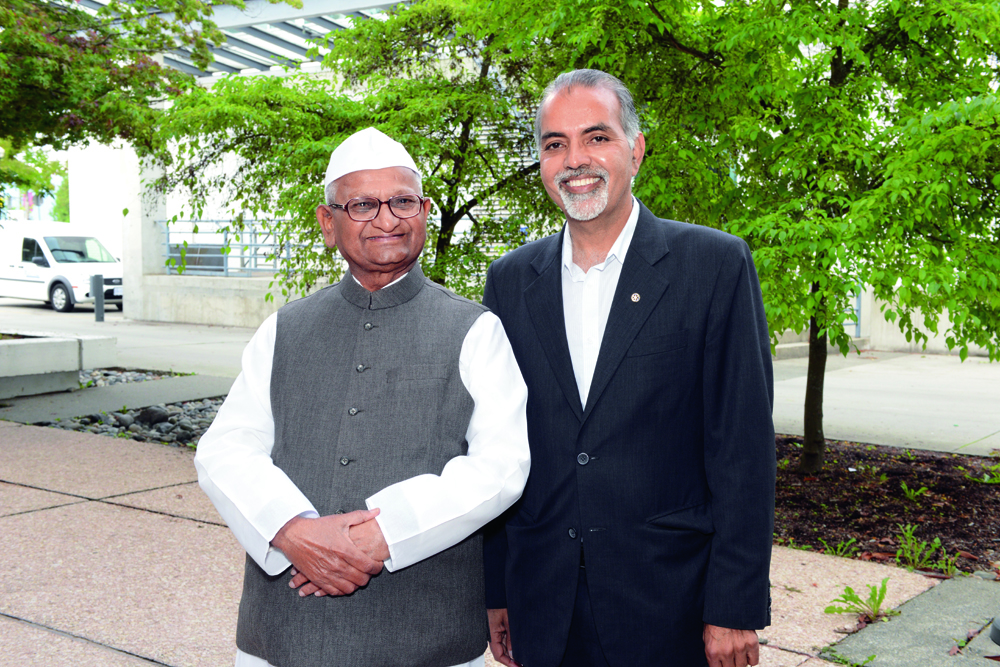 Q: Do you think you have been lucky or do you attribute your success to hard work?
A bit of both. You need luck, but you have to work hard and honestly to be successful.
Q: What is your biggest weakness?
Salty snacks, especially cashews.
 I can't stop eating them. I don't smoke, drink or party in a big way.
Q: What would Canada be 
like in the next 50 years?
It will be the most diverse and harmonious nation on earth and, therefore, it will also be the richest nation in material wealth, culture, art and literature.
Q: What one-sentence advice would you give your children?
Live with open heart and hands, give and receive love, and be 
your true self.