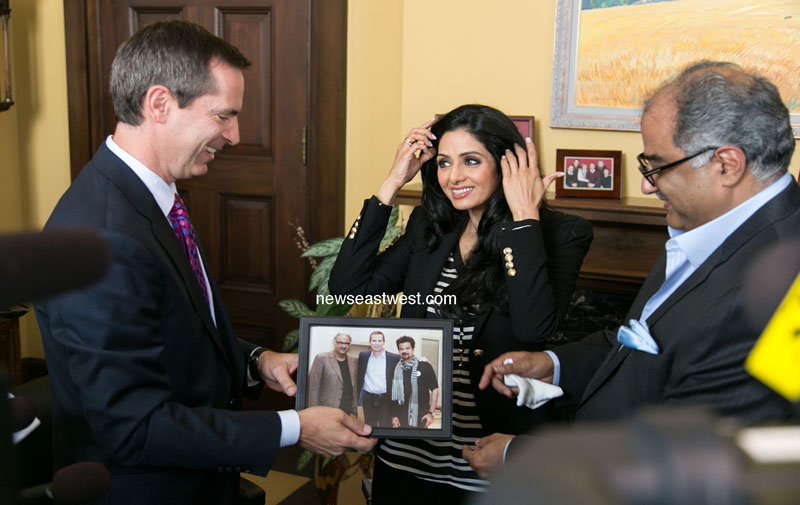 News East West
Bollywood legendary actress Sridevi is dead. She was 54.
The actress, who ruled the box office in the 80s and 90s, passed away on Saturday night following a heart attack in Dubai. She had gone there with her family to attend the wedding ceremony of her nephew actor Mohit Marwah.
Her brother-in-law Sanjay Kapoor told The Indian Express: "Yes, it is true that Sridevi passed away. I just landed here, I was in Dubai and now I am flying back to Dubai. It happened roughly around 11.00-11.30. I don't know more details yet."
READ ALSO: When Premier Dalton McGuinty couldn't stop looking at Sridevi
Sridevi, who gave major Bollywood hits such as Himmatwala, Chandni, Mr India and Nagina, was given the Padma Shri in 2013 for her services to the Indian film industry. She was called the "Goddess of Beauty" by filmmaker Ram Gopal Varma who had a crush on her.
The actress, whose real name was Shree Amma Yanger Ayyapan, entered Bollywood after making a name for herself in the  south Indian film industry at a very young age, starting off as a child artiste.
READ ALSO: Did Amitabh Bachchan have premonition about Sridev's death?
Sridevi made her acting debut at the age of six in the Tamil film Thunaivan in 1969. She also appeared as a child actress in the Malayalam film Poompatta in 1971.
She became famous as part of the troika of Rajinikanth, Sridevi and Kamal Haasan in the Tamil film industry in the 1970s. Sridevi did over 30 films with Kamal Haasan alone.
Her first foray into Bollywood was also as a child actress in the 1975 hit film Julie.

Sridevi got her first lead role in Bollywood in 1978 in the film Solva Sawan.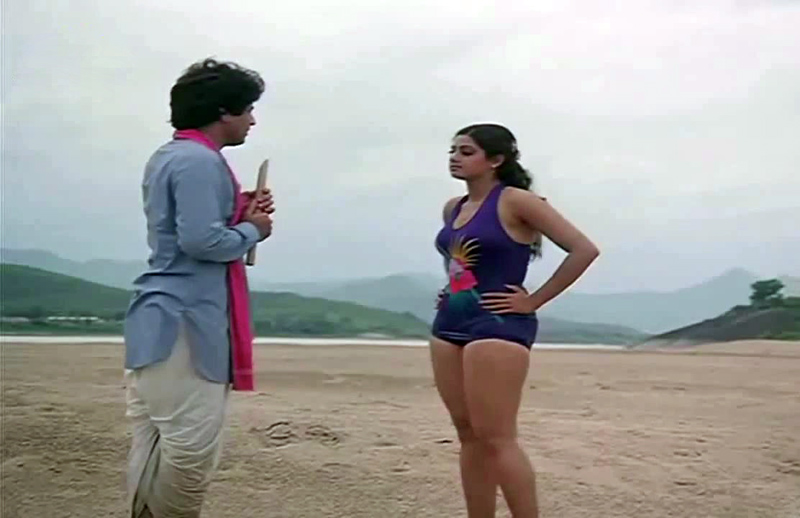 The 1983 film Himmatwala was her first blockbuster in Bollywood and she became famous as thunder thighs because of her role in the film. She never looked back in Bollywood after Himmatwala – which was a remake of the 1981 Telugu film Ooruki Monagadu.
READ ALSO: 10 best films of Sridevi
Because of her thunder thighs, Bollywood director Ram Gopal Varma had a great crush on Sridevi. When she married Boney Kapoor (already married like Dharmendra), Varma said he thought of committing suicide.
Varma has written in his book Guns & Thighs about Sridevi, "Srideviji's fame is not only because of her acting capacity but it's also because of her thundering thighs — top critics of `Himmatwala time'… If only acting talent is a measure for stardom, why wasn't Smita Patil bigger than Sridevi-ji… The thunder thighs made the difference."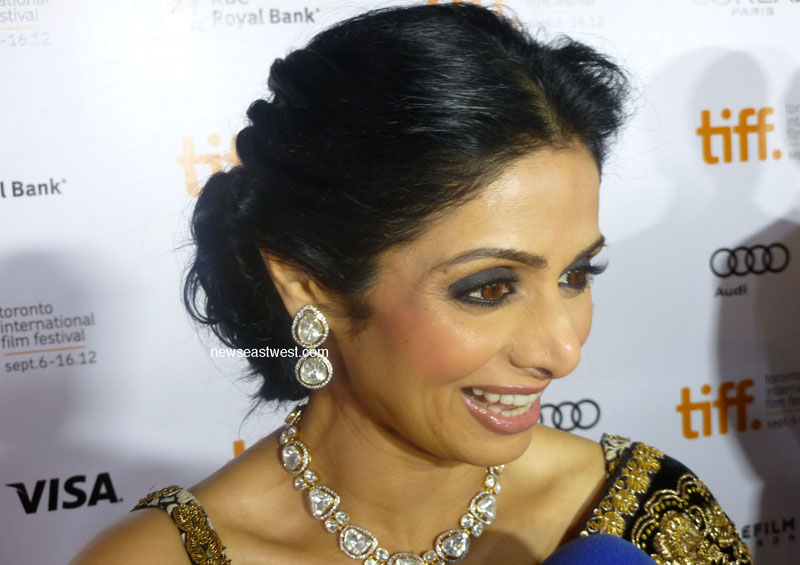 Sridevi and Boney Kapoor have two daughters and their elder daughter Janhvi is set to make her Bollywood debut in Karan Johar's Dhadak.
                                        HOW SHE GOT PREGNANT BY ALREADY MARRIED BONEY KAPOOR
Interestingly, just like Hema Malini's marriage to already-married Dharmendra, Sridevi also made headlines with her love affair with filmmaker Boney Kapoor who was already married to Mona Kapoor.
Actually, Sridevi and Boney Kapoor first met in 1984 when Boney as the producer of Mr India (1987) went to her to cast in the film. He fell in love with her, though he didn't tell Sridevi about his feelings.
Sridevi said in an interview: "Boney came to me in 1984 to sign me to play Seema, the lead female role for Mr India. He confessed later, that he fell in love with me outright! He, however, did take a few years to sort out his life…"
Sridevi added that she too fell with him when she came to know who really Boney Kapoor is.
"I fell in love with him when I got to know the real him. It was difficult, traumatic even and it took me many years to finally accept the fact that I was destined to be with Boney," said Sridevi.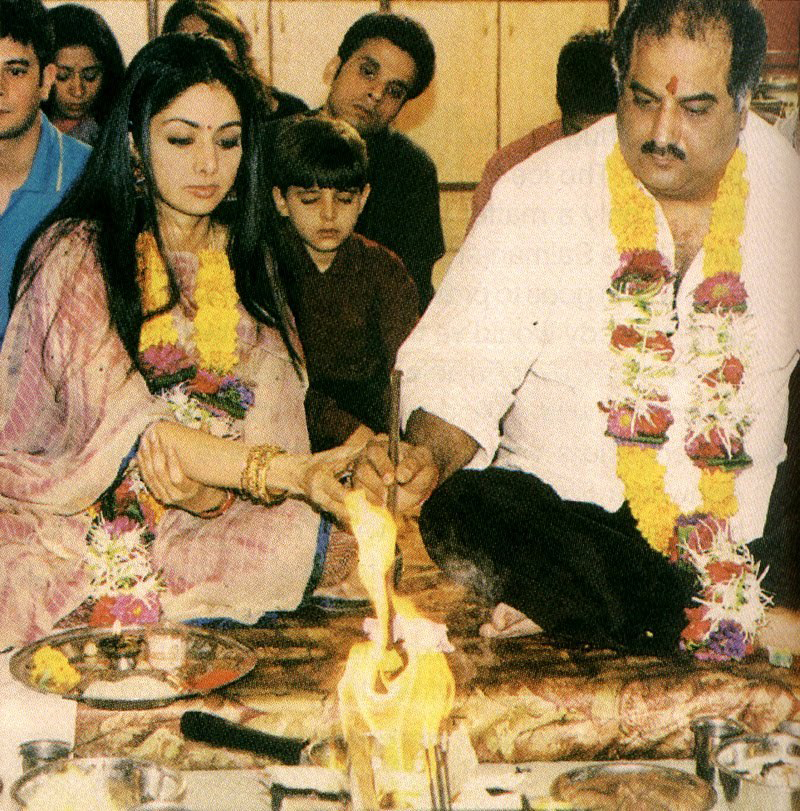 When Sridevi moved to Mumbai permanently, she became friends with Boney Kapoor's wife Mona Kapoor and started living with them. For public consumption, Sridevi used to treat Boney Kapoor as her brother, but secretly the two started their long overdue affair and she became pregnant with his child.
When the news of Sridevi's pregnancy spread, Boney's wife Mona became furious. Boney Kapoor had no option but to leave Mona and his two children Arjun and Anjula to have a temple wedding with Sridevi in 1996. He was still legally married to Mona Kapoor when he had this temple wedding with Sridevi.
Mona Kapoor had said an interview about the end of her marriage to Boney Kapoor: "He (Boney) was 10 years older to me. I was 19 when I married him. So I literally grew up with him. Ours was a 13-year-old marriage. So it came as a shock when I realised that my husband was in love with somebody else… There was nothing left in the relationship to give it a chance because Sridevi was already with a child."
Sridevi and Boney Kapoor went on to have two daughters Jhanvi and Khushi and stayed married till the end.
Sridevi, who took virtual retirement from films as she raised her two daughters, staged a comeback with English Vinglish in 2012.
As she turned 50 in August 2013, Sridevi also appeared on the cover of Vogue India. She was last seen in the 2017 film Mom.
Tributes poured for the actress, with Prime Minister Narendra Modi tweeting to express his shock over her death.
Saddened by the untimely demise of noted actor Sridevi. She was a veteran of the film industry, whose long career included diverse roles and memorable performances. My thoughts are with her family and admirers in this hour of grief. May her soul rest in peace: PM @narendramodi

— PMO India (@PMOIndia) February 25, 2018
Tamil super star Kamal Haasan, who was the co-star of Sridevi in over 30 films, recalled his association with her.
Have witnessed Sridevi's life from an adolescent teenager to the magnificeint lady she became. Her stardom was well deserved. Many happy moments with her flash through my mind including the last time I met her. Sadma's lullaby haunts me now. We'll miss her

— Kamal Haasan (@ikamalhaasan) February 25, 2018
Priyanka Chopra said it was a dark day for the film industry.
I have no words. Condolences to everyone who loved #Sridevi . A dark day . RIP

— PRIYANKA (@priyankachopra) February 24, 2018
Former Miss Universe Sushmita Sen said she can't not stop crying after hearing the news.
I just heard Ma'am Sridevi passed away due to a massive cardiac arrest. I am in shock…cant stop crying…

— sushmita sen (@thesushmitasen) February 24, 2018
Actress Preity Zinta said she was heartbroken after hearing the news.
Heartbroken & shocked to hear that my all time favourite #Sridevi is no more. May god give peace to her soul & strength to the family #RIP

— Preity zinta (@realpreityzinta) February 24, 2018
The Lunchbox actress Nimrat Kaur said she was numb at the news.
Compelled at this unfortunate hour to be reminded of the age old idiom – चार दिन की चाँदनी, फिर अँधेरी रात … numb at this grave untimely loss. There never was, nor will there ever be anyone quite like you. What a profoundly sad night. #TheOriginalEverything #RIPSridevi pic.twitter.com/tH04Rgzj7C

— Nimrat Kaur (@NimratOfficial) February 24, 2018