The newly elected Brampton Mayor seeks support of Indo-Canada Chamber of Commerce to pitch his city to businesses in India
TORONTO: With its population of cricket-loving immigrants increasing rapidly, Brampton will soon build the first world-class cricket stadium in Canada, says Mayor Patrick Brown.
Addressing members of the Indo-Canada Chamber of Commerce here on Friday, Brampton's newly elected mayor said since cricket is a passion for immigrants from India and other places, "we will build a world-class cricket stadium in Brampton during my term'' so that anyone coming to do business or live in the city doesn't miss what they love.
Known as a friend of India and Prime Minister Narendra Modi in the Indo-Canadian community, Brown — a former MP and Ontario PC leader — has been to India 18 times during the past 11 years. In fact, he started this year —  2018 — in India by doing puja in Varanasi and offering prayers a the Golden Temple in Amritsar. The Indo-Canadian community accounts for a huge portion of the city's population of over 600,000, with Punjabis alone making up over 20 percent of its population.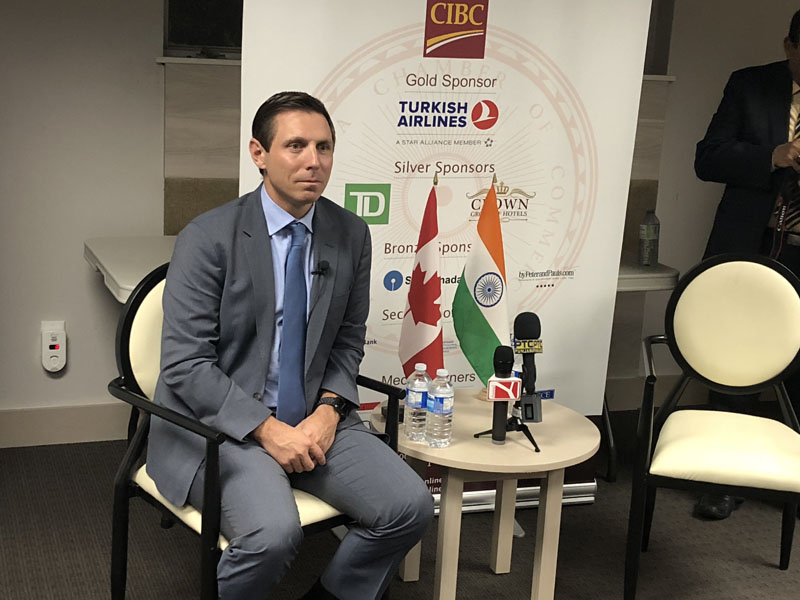 Brown also said, "We will have the first outdoor garba this year out on the streets," adding that Brampton already allows the Indo-Canadian community to celebrate Diwali with fireworks.
READ ALSO: Big ideas for small businesses at ICCC SME Expo 2017
The Brampton mayor said that since creating jobs tops his agenda, he would take every step to make his city attractive for businesses and investors from anywhere, including India, by keeping the cost of doing business low. "There won't be any tax increase during my term,'' he said.
"We have a mosaic of people in Brampton and we are the most diverse part of Canada. It is natural advantage for us'' to pitch Brampton to the world, he said.
Describing Indian and other diaspora communities of his city as its biggest assets, Brown said he would use the huge Indo-Canadian community to pitch his city to businesses in India. 
"The Indo-Canada Chamber of Commerce can open doors for Brampton in India. I have been to India 18 times in 11 years and I will do now as mayor to pitch Brampton to businesses in India,'' he said.
Since as Ontario PC leader he had vigorously campaigned for lower auto insurance rates in Brampton, he was asked what he would do now as the city mayor. Brown said he fought hard for ending postal code discrimination by insurance companies and as the city mayor now "I am cautiously optimistic about it.''
Asked about his cold relations with Ontario Premier Doug Ford, Brown said he is `selfishly interested' only about Brampton and ready to work with the Premier and the Prime Minister to promote interests of his city, warning that no one has won power without Brampton.
With a vast number of people from Brampton commuting daily to Toronto for jobs, Brown said his dream is to create many jobs so that people don't leave the city. "Everything will be done with a view to creating jobs,'' he said, adding that the city's economic development office would plan and guide people seeking to start businesses.
Welcoming Brown, the newly elected Indo-Canada Chamber of Commerce president Pramod Goyal said the chamber has been working for building business bridges between the two countries for over 40 years and creating jobs for the community.
On a lighter note, Goyal said that he was in the league of the newly elected mayors as he too took over as the ICCC president on the same day — December 3 — the mayors were sworn in!
RELATED: Gujarati singer Nilesh Parmar plans garba academy in Canada
RELATED: T20 cricket coming to Canada as Brampton mayor backs stadium plan