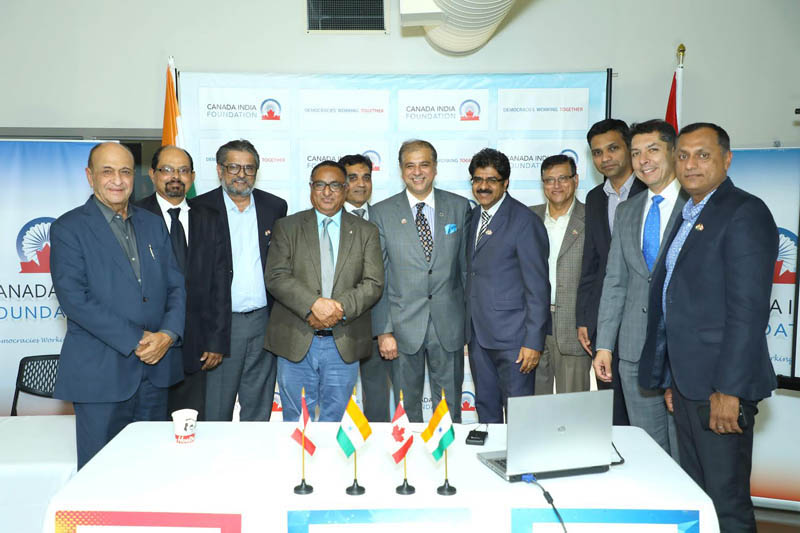 OAKVILLE: Anil Arora, Chief Statistician, Statistics Canada, highlighted the role of Canadians of Indian origin in the Canadian society and especially its economy at an exclusive Speaker Series organised by Canada India Foundation Tuesday 9 October at Oakville.
In a session that witnessed unprecedented participation, Mr. Arora also highlighted the modernisation drive undertaken by Statistics Canada in its centenary year to generate data that will enable real time policy decisions.
Indo-Canadian population
Delineating the role of Canadians of Indian origin in the Canadian economy, Mr. Arora said, their number is rising. According to the 2016 Census of Population, 8.9% of Canada's total immigrant population was born in India. Immigrants born in India constitute Canada's largest immigrant group by country of birth, ahead of China (8.6%) and the Philippines (7.8%).
He said, about half of immigrants who came to Canada from India between 1980 and 2016 were sponsored by a family member. Most others were admitted under economic class programs. More recently, immigrants born in India represented 12.1% of all immigrants who came to Canada between 2011 and 2016, second only to those from the Philippines (15.6%).
Indian students
Explaining the popularity of Canada as a higher education destination among international students from India, Mr. Arora said, "of the 385,000 international students who came to Canada between 2010 and 2013, 13 percent came from India. This compares to just 1% of international students who came to Canada from India in the 1990s.
Bilateral trade
On bilateral trade between Canada and India, Mr. Arora said that the total trade in goods and services between the two countries was $10 billion in 2017, up from $6 billion – or nearly 70 % – in 2012. Nearly 2,000 businesses operating in Canada export to India, while about 15,000 import from India.  Canada's direct investment assets in India total $2.6 billion, generating about 15,000 jobs in Canadian affiliates operating in that country. India's direct investment assets in Canada total $3.1 billion, generating nearly 18,000 jobs in Indian-owned affiliates operating in Canada.
Data revolution
The third part of Mr. Arora's presentation pertained to the data revolution that is changing Canada's society and the expectations of Canadians and Canada's economy and business environment.  Statistics Canada is modernizing every step of the cycle to improve its products in support of evidence-based policy.
Ramesh Sangha, Member of Parliament for Brampton Centre, in his remarks lauded Statistics Canada's calibrated approach to modernising its processes to enable better public policy decision making. StatCan provides information on every aspect of Canada's society and economy, he said.
Satish Thakkar, National Convener of Canada India Foundation, in his introductory remarks, gave an overview of the Foundation's objectives and discussed the plans. "On the bilateral relations front, CIF has advocated for a 360-degree improvement in bilateral relations i.e. politically, socially, economically, and culturally." CIF will endeavour to influence public policy by advocating for recognition of qualified and experienced Canadians of Indian origin in public spheres, Mr. Thakkar said, 
Pankaj Dave, Co-Convener of Canada India Foundation, while delivering the thank you note, lauded Mr. Arora's effort at simplifying statistics, a subject that is often mired in confusion and controversy. He then invited all the participants to celebrate the centenary of Statistics Canada. Canada India Foundation had ordered a special centenary cake.
READ ALSO: Canada should accept Afghan  Hindus and Sikhs as refugees, says Canada-India Foundation