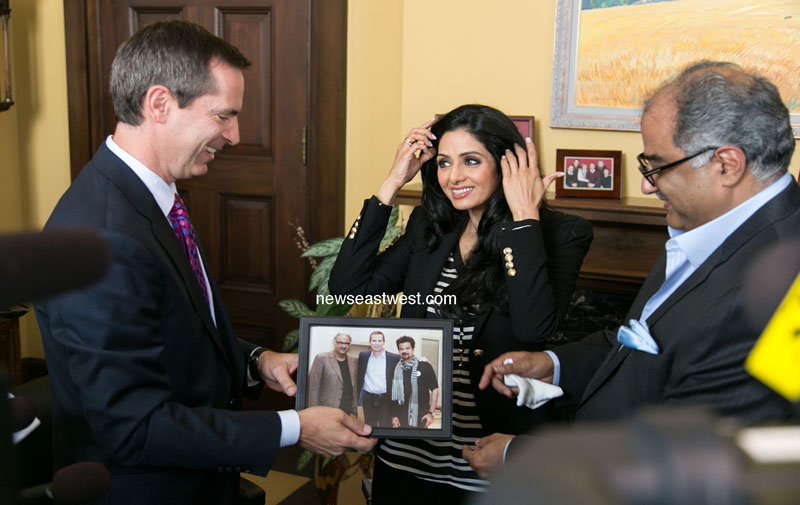 By Subhash K Jha
MUMBAI (Sept 17, 2012): Ontario Premier Dalton McGuinty invited Sridevi, along with hubby Boney Kapoor, her producer R.Balki and his director-wife Gauri Shinde, to tea in his office before the red carpet gala of English Vinglish at the Toronto International Film Festival (TIFF) here on Friday.
The premier was supremely charmed by Sridevi and just couldn't stop giving her attention.
But McGuinty took time off his Sri-dialogue to show his guests a picture taken of him with Boney and Anil Kapoor when they visited Toronto last year.
The world premiere of Sridevi's comeback film was an outright winner.
Funnily, more than the two ladies Sridevi and her director Gauri Shinde, it was their respective husbands – Boney Kapoor and R Balki – who were moved to tears to see the love of their lives light up the posh Roy Thompson Hall and hard-to-please audience.
"We got a standing ovation for ten minutes," says Balki who sobbed right after the premiere. "The local media  just can't stop praising Sridevi and Gauri work. They are comparing Sri with Meryl Streep. She is just taking it all in so modestly."
However, with the sunshine comes the cloud and Balki sighs, "I truly wish Mr Bachchan was here with us in Toronto. He has a five-minute cameo with Sri. But the impact he makes is amazing. Everyone is asking about him,"
The Big B tried his utmost to make it to Toronto, but his prior commitment to the shooting of Kaun Banega Crorepati kept him away.