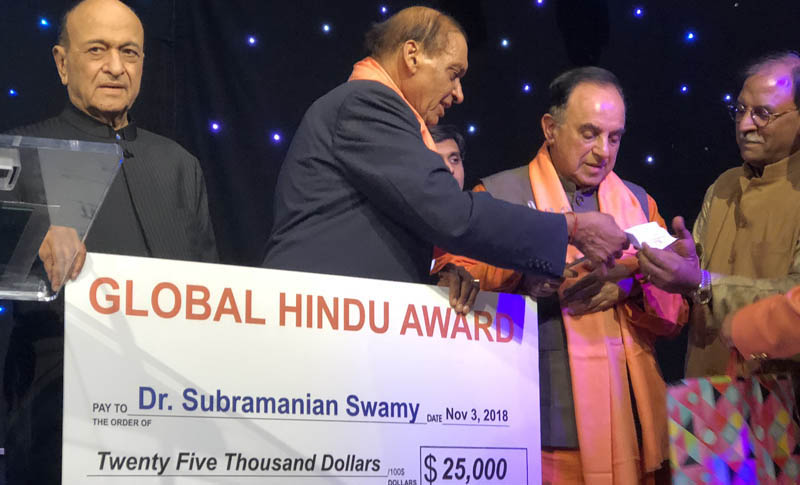 TORONTO: BJP leader Dr. Subramanian Swamy was given the first Global Hindu Award as Hindus from the Greater Toronto Area and Southern Ontario converged on the International Centre in Mississauga on November 3 to celebrate Hindu Heritage Month.
Ontario declared November as Hindu Heritage Month in December 2016 in recognition of the contribution of the community in all walks of life.
Addressing the huge gathering, Swamy said the Indian Constitution gives the Hindus the fundamental right to worship and they should be allowed to worship where Lord Ram was born.
"My faith tells me that Ram was born where the mosque stood,'' he said, asking that the disputed Babri land be given back to Hindus to build the temple.
"We're not asking for any Ram temple, but only a temple where Ram was born. That we won't give up.''
Amid cheers from the gathering, Swamy said a Ram temple would be built in Ayodhya at all cost.
He said while mosques can demolished and namaz can be offered anywhere, but Hindus need a temple for prayers because "it's a place where God resides."
Unlike other old civilizations which fell to Islam and Christianity, he said Hinduism is the only oldest surviving civilization in the world.
Blaming the British for creating myths about Indians and impoverishing the country by stealing its material resources, he said history books don't tell the truth about Indian civilization and it needs revaluation.
That's why "we want the BJP voted back to power…we want to see that we go back our traditional values,'' he said.
Calling for new Hindu renaissance — akin to the one by Shankaracharya who restored India back to Hinduism from Buddhism by debates, the senior BJP leader urged Hindus to abandon the baggage of the varna system.
The original varna system was about division of labour and had nothing to do with one birth, he said. "But over time, the varna system degenerated and became fossilized…now we have to forget all this.''
As part of his renaissance plan, he stressed that the Hindus must learning Sanskrit.
"It is the language of the future and it is the most computer friendly language,'' he said, citing a US study.
Indian High Commissioner Vikas Swarup, MP Deepak Oberoi, MPP Sara Singh and many others also spoke on the occasion.  
READ NEXT: BAPS Swaminarayan Temple in Toronto to last one thousand years