By Lachman Balani
TORONTO: It was pure fandemonium (fans cause pandemonium) and madness as thousands of fans from all over the world descended upon the small town of Collingwood in Ontario to attend the world's largest Elvis impersonators festival, where scores of Elvis lookalikes imitate, sing and move like him, taking people back to that time and place of their lives when The King ruled the airwaves!
Such are the powerful renditions of these impersonators that every year spectators are moved to tears!
To mark the 20th anniversary of this festival, the organizers especially flew in Elvis' one and only wife, Priscilla Presley, and many of his co-stars such as Anne Helm, Tanya Lemani, Victoria Paige, Chris Noel and Gary Lockwood to name a few.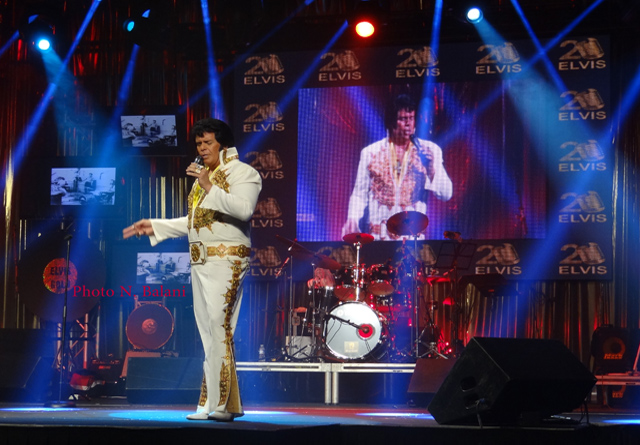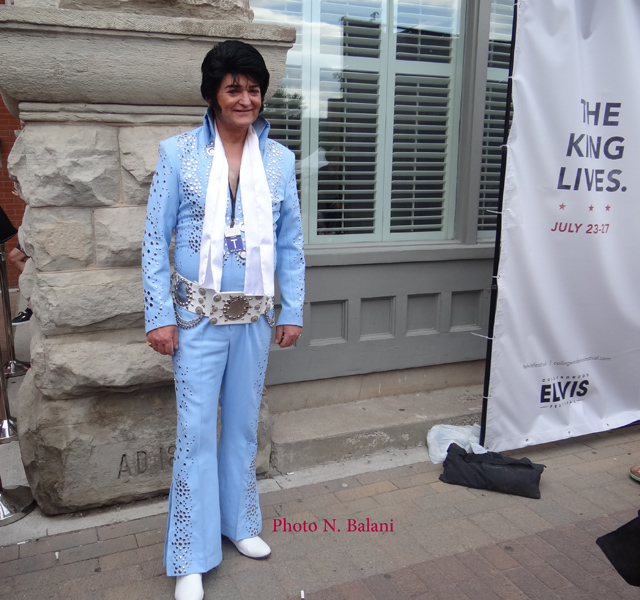 Priscilla was interviewed on Zoomer radio where she told people that "fans were Elvis' first true love. He always wanted to know what his fans would think."
"It was tough being the wife of a rock star," she continued. "My likes were his likes, my dislikes were his dislikes. After several years we decided to part ways but we still kept in touch like we were never apart. My daughter in later years went on national television to say 'I never knew my parents were divorced!' "
What a tribute to their relationship!
The whole interview was syncopated with Elvis' songs including 'Jailhouse Rock',' Suspicious Minds' and 'An American Trilogy'.
Priscilla in partnership with photographer Christopher Ameruoso, also promoted their new book, 'Shades of Elvis' which depicts several entertainment icons wearing Elvis' legendary dark glasses. The stars in the book include amongst many others Ozzy Osbourne, Steven Tyler, Eddie Van Halen, Michael Buble, Helen Mirren (who acts in the new Steven Spielberg/Oprah Winfrey's touching movie '100 Foot Journey' with Bollywood actor Om Puri) and of course Mr. Spectacles himself- the great Elton John. She signed several copies of the book and also autographed many Elvis related items that the audience brought in.
Priscilla also officially opened the festival where many meet and greet events were held not only with Priscilla but also with Elvis' co-stars. Both she and Christopher were honoured with the key to the city of Collingwood.
However, the biggest draw were all the impersonators who got up on the outdoor mainstage, especially erected for the occasion blocking Hurontario Street in Collingwood, and socked it to the crowd, many of whom were dancing away to glory. Guys and gals crowded around the tribute artists for a photo-op.
At another indoor venue, 128 registered contestants were competing for the best tribute artist award being judged by a panel. Cliff Wright from Athens, Alabama won the coveted award of representing the Collingwood festival at the Ultimate Elvis Tribute contest in Elvis' hometown Memphis later in August. Gordon Hendricks from the UK won the Grand Champion of Collingwood. Many other winners in different categories were announced.
The Elvis tribute artists were from all over North America, even as far away as Alabama. Some were from the nearby areas of Kitchener and Milton.
Said the person from Seoul, "There are many greats – John Lennon, Jimi Hendrix, Frank Sinatra -but you don't see tribute festivals to them. There is only one man who has tribute festivals and that is Elvis – he is truly THE KING!"