Mississauga resident Meena Chopra has just come out with her third book, She! The Restless Streak, which is a combination of her poems and art work of the past four years.
Born and raised in Nainital, Meena started her life as a textile designer and then launched her own ad agency called Bhumeeka with husband Bhupinder Virdi in New Delhi in the 80s.
This is the third book by Meena who immigrated to Canada in 2002.
Q: Tell us about this book.
She! The Restless Streak carries both my poetry and artwork done
over the last four years.
Painting has always been my first passion and I have combined it with my poems to produce this book.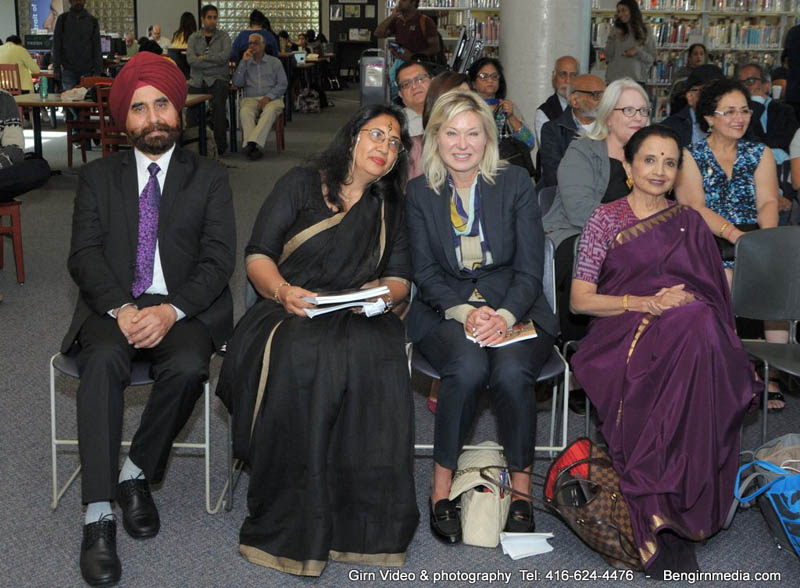 Q:  What motivated you to combine painting and poems in a book form?
When you are into art, you create something and then you develop a dialogue with your creation.
I get totally spell-bound whenever I see the sun dipping down into the glory of the golden skyline on the Canadian landscape, specifically so during the mesmerizing fall with its undulating colours. The wild enchantress, the ever entrancing mystery of nature, starts casting its enormous spell on my very being, seducing each and every passing moment of my life.
The unknown reality, the mysterious, magical and enigmatic — SHE! The  Restless Streak — is the centre stage of all my imagination with her splendour and vivacity. And then, SHE, starts her formidable journey descending on my blank canvases and sheets of paper, toning, tinting the stark lines and forms and at times colouring and filling my bare and impassive words with her unbound magical touch.
Q: Why is nature all feminine in your imagination?
Because the feminine form of nature has always been at the core of most mythologies, cultural traditions and religious rituals in both east and west. Energy has alway been feminine.
As I have said in the preface to the book , SHE, the life force, the moving fearless female energy, subconsciously and unknowingly, has always been a predominant part of my art depicting genesis, whether it is in abstract forms, figurative forms or in the forms of verse.

Q: When did you begin painting and writing seriously?
Painting came naturally to me and I had my first exhibition in the 1980s. I took writing seriously the early 1990s and published my first book Ignited Lines in 1996.  The second book `Subah Ka Suraj Ab Mera Nahi Hai' (Adieu to Dawn) came out in 2010.
Q: Are you now full time into writing and painting?
I spend more time on painting because we also social media consultancy.
Famous classical dancer Lata Pada, who performed to some of Meena's poems at the launch of the book, said, "As I read She! The Restless Streak, I found Meena's poems replete with imagery, nuance, allegory and subtext. Each poem has touched upon a central motif — that of a woman. The book is a deeper journey in that feminine mystique, mysterious and unpredictable, into the abstract and the tangible, complementary and contradictory.''
In his foreword to the book, Canadian master artist, historian and Order of Canada honoree Charles Pachter says,  "In She! The Restless Streak, Meena Chopra reveals herself to be a true original who combines words and images with grace and dexterity. Her poetry reveals subtle and astute observations of natural phenomena, from microcosmic details to sweeping macrocosmic overviews of human existence…''