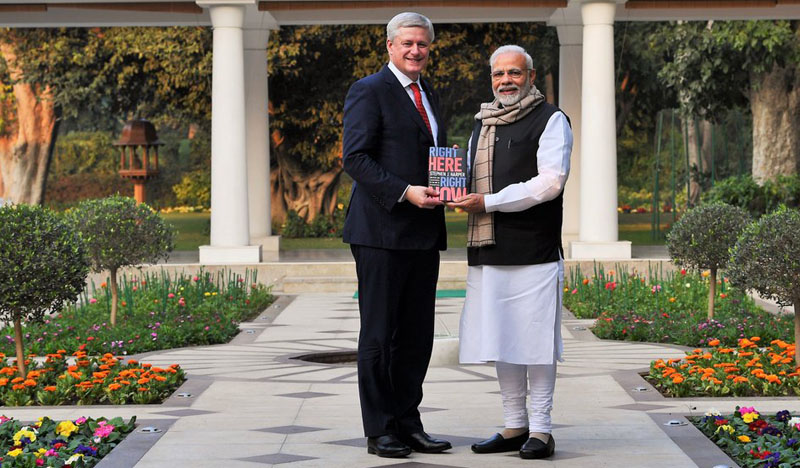 News East West
NEW DELHI: Former Canadian Prime Minister Stephen Harper, who is in New Delhi to attend the Raisina Dialogue on challenging global issues, met Indian Prime Minister Narendra Modi on Tuesday.
The two leaders, who have forged close bonds since Modi's visit to Canada in April 2015, "exchanged views on developments in India-Canada relations, main global trends and cooperation among democracies,'' according a statement by the Indian PMO.
Harper presented a copy of his book `Right Here, Right Now: Politics And Leadership In The Age Of Disruption' to Modi.
After their meeting, Harper tweeted to describe Modi as "the most significant leader of India since Independence.''
Calling the Indian PM `my friend,' Harper said, "Narendra Modi is shaping every conversation on geopolitics & the global economy. For India to realize its potential, it needs the courageous and visionary leadership of Prime Minister Modi. Proud to stand with him.''
An initiative of the Indian ministry of external affairs and the Delhi-based think tank Observer Research Foundation, the Raisina Dialogue each year brings global leaders in policy, business, media and civil society to  New Delhi to discuss major global issues.
Harper also met Indian commerce minister Suresh Prabhu and external affairs minister Sushma Swaraj.
The former Canadian PM also joined in Author's Corner conversation on his book at the Raisina Dialogue. He was joined by former high commissioner David Malone.
Harper said he was thrilled to kick off 2019 in India.
IN PICTURES: When Modi came to Canada