By Subhash K Jha
MUMBAI (Jan 31, 2014): Dream Girl Hema Malini's second son-in-law would be a Punjabi from a well-to-do business family in  Delhi.
Ahana's soul-mate is Vaibhav Vora with whom she ties the knot on 2 February. And Ahana's mother Hema Malini is ecstatic about her Punjabi son-in-law .
When Hema married her very Punjabi life-companion Dharmendra, there was no band baaja baraati.
Laughs the Dream Girl on the morning of  her daughter's mehndi (henna) ceremony, "My marriage happened very quietly and quickly. There was no time or occasion for a big ceremony. But now there is finally going to be a big fat Punjabi wedding in my family. From the very Punjabi baraati to our doorstep to a very Tamil welcoming of the groom into the mandap….And I am very excited."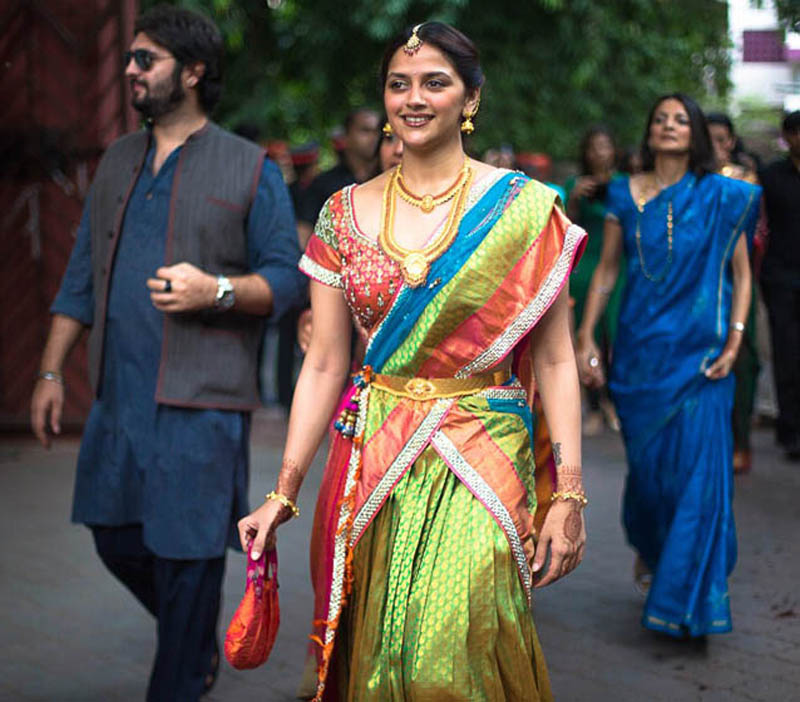 It would actually be a Punjabi-Tamil wedding.
Explains Hema, "Like a true Hindi film, my daughter's wedding will have two halves. The first-half of the wedding ceremony would be done in the Punjabi style. The second-half of the wedding would be done in the Tamil style. We will have two Pundits, one from the North India and the other from the South to perform all the rituals."
The excited mother, indisposed with a cold and fever  said, "As Ahana's is the second wedding in my family in quick succession it's easier this time to arrange everything since we already know what all needs to  be done. Having said that, it's no less difficult for us to make all the wedding arrangements for the second time. Luckily for me, all the nitty-gritty is being taken care of by my two Bhabhis, the wives of my two brothers Jagannath  and Kannan. I don't know what I'd have done without them."
The bride's father Dharmendra is even more nervous than the bride and her mother.
Says Hema, "I've told Dharamji, tension bilkul nahin lene ka. He's very nervous and tense. Ahana is his laadli. I've told him to just relax and leave everything to me and my family. And then of course there is the events manager who is following our instructions."
Hema is hugely thankful for the gift of a dependable family. "You know, this is exactly why I've never felt any need for friends. My family is my friend. My brothers and their wives take care of everything. And now I've two sons to complete my family. People always reminded me that I've no sons, only two daughters. But I want to tell them that now I've two sons. Both my sons-in-law are as good as my own sons. In any case my daughters are like my sons and daughters. Esha always says she is my son."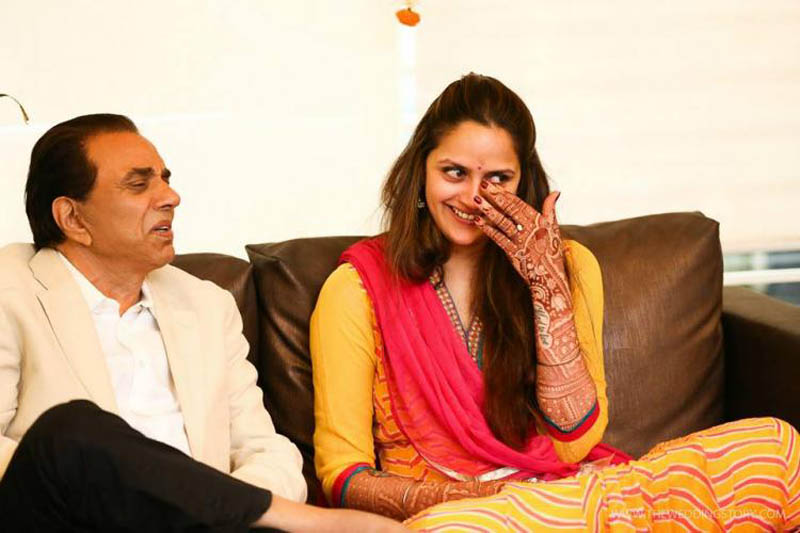 While Esha has stayed close to her mother in Mumbai after marriage, Ahana would have to move to Delhi after the shaadi.
Sighs Hema, "Her husband and his family are Delhi-based, so naturally she will shift base to the Capital. Ahana gets very sad when she thinks of the impending distance between us. But I keep telling her not to fret. Travelling from Delhi to Mumbai is now like catching a bus from your home to the suburbs. Besides, Ahana's sasural is very close to the airport in Delhi. Ahana's  mother-in-law keeps reassuring her she would never have to miss her mother."
Coming back to the impending wedding, the busy mother of the bride says, "The mehndi ceremony will be followed by the wedding and reception. So the next few days are going to go in a mad swirl of activities."
Ahana's wedding clothes are being designed by Neeta Lulla.
"She is an old family friend. And she she took over the responsibility  of almost the entire pre-wedding, wedding and post-wedding clothes for my daughters and I. Almost all  our clothes are being done by Neeta, except a few by Manish Malhotra and Shyamal and Bhumika.So we are being looked after in every way possible. Now I am just praying everything goes well. I want everyone to bless Ahana just as they have always blessed  me and my family."