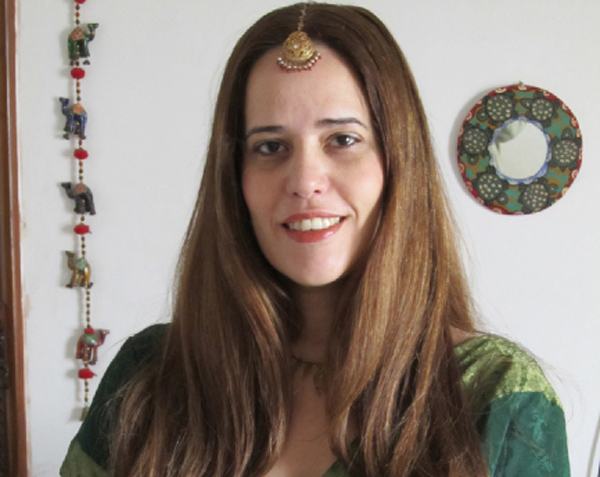 In 2006, Brazilian journalist Florencia Costa became the first from any South American country to be posted in India. During her stay in India, she met Times of India journalist Shobhan Saxena and married him. After spending six years in India, she and her Indian husband moved back to her native Brazil.
Costa has narrated her experiences in India and much more in her book Os Indianos (The Indians) in Portuguese. Here she is seen in various pictures in India:
Pic 1: Florencia Costa seen in the famous cloth shop in Varanasi where a bull is present all the time.
Pic 2: Florencia Costa in front of a Shiva mural in Varanasi.
Pic 3: Clad in a sari, Florencia Costa looks picture-perfect Indian woman. Not surprisingly, she says she is half-Indian. "My marriage to an Indian (journalist Shobhan Saxena) gave me entry into an Indian family and their values, culture and lifestyle. I got first-hand experience of all the festivals and weddings in the family. Even in Brazil, family is very important but in India, family is everything. It was a great experience for me to learn to wear sari and get recipes from my mother-in-law. Being received by an Indian family with so much love was very touching. Having lived in India for six years and married to an Indian, I consider myself half-Indian now. Now, it's my husband's turn to write about Brazil for Indians. This is our joint effort at bringing the two countries together," she says.
Pic 4: Florencia Costa in Gulmarg, Kashmir.
Pic 5: Florencia Costa back in her native Brazil – seen in Rio de Janeiro.
RELATED: I feel as if I am half Indian, says Brazilian journalist Florencia Costa
RELATED: Florencia Costa says the Golden Temple is the best religious place she visited in India