By Gurmukh Singh
TORONTO: Ludhiana-born Surjit Babra doesn't hold any MBA or business degrees, but he went on become the world's first Sikh to start an airline in 1988.
Gifted with extraordinary business acumen, Toronto-based Babra,65, turned his SkyLink Group into a multi-million-dollar conglomerate of SkyLink Aviation, SkyLink Travel, SkyLink Express, SkyLink Holidays and Dollar Rent -A-Car, with each servicing a particular segment of travel, tourism, aviation and cargo transport.
Born in Ludhiana, Babra left the city for Kenya when was just two. "Our family was moving in and out of Ludhiana quite often.''
From Kenya, he moved to London as a student. "At that time, I got a part-time work as a helper in a travel office. Then that man gave me the full-time job. That's how I got a break into this profession. Then I started a retail travel agency called SkyLink solely to promote India."
As he learnt the tricks of travel trade, young Babra saw a big opportunity for himself as a general sales representative in the huge north America market.
"So I left London and landed in Toronto in 1979 to set up my small travel office in Canada. By that time I had developed a great passion for business and we set about establishing our offices in New York, LA, Chicago, Vancouver and Montreal,'' he says.
Then he ran into an Israeli immigrant Walter Arbib who was also a former travel agent. The two joined hands to float their own SkyLink airline in 1988.
"It was the burning passion of two Canadian immigrants (me and Walter) to succeed that drove our business to new heights. Every year we progressing to new milestones. By the time 9/11 happened, we had become a very visible and respected brand. That's why we survived when many airlines sank.''
Soon, SkyLink became globally known as the UN, the Red Cross, and US and Canadian government agencies hired it to fly relief supplies or personnel to troubled spots of the world – be it the tsunami or the rescue mission during the Rwanda killings, etc.
Lauding the humanitarian missions of SkyLink, Ontario included the SkyLink profile in its school textbooks. "It was a very satisfying moment for us at SkyLink.'' Babra also got the Mother Teresa Humanitarian of the Year Award by Friends of Indio-American Community (FOIAC) and City of Los Angeles in 2005.
However, he describes the airlifting of new 149 birs (copies) of the Sikh holy Guru Granth from Amritsar to Canada by his airline as "the most satisfying event'' of his life.
"The local Sacha Sauda came to me for bringing the holy books from India. Since the Guru Granth Sahib is a living guru for us, SkyLink made arrangements that each bir was seated on an individual seat.''
In 2008, Babra and his partner started strategically exiting from their multi-million-dollar aviation business empire by selling its various segments to pour money into his newly created investment company SkyLink Capital.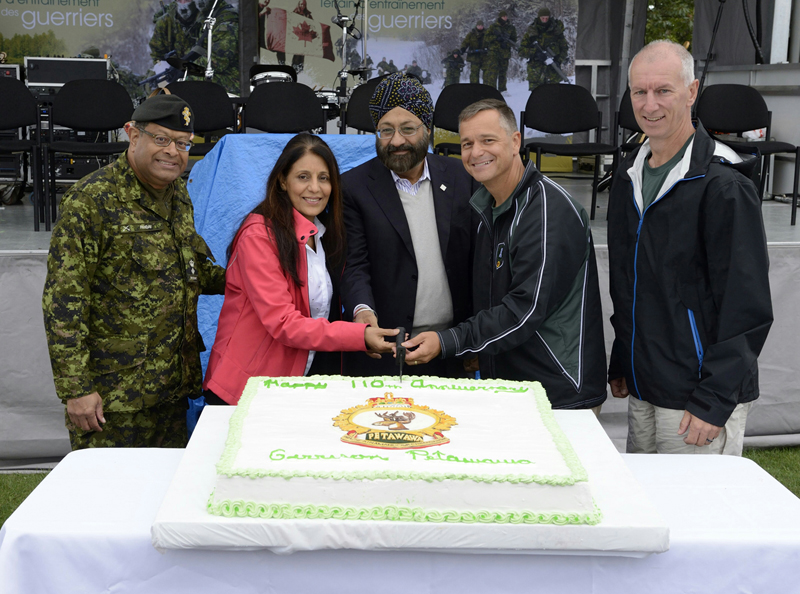 However, as this father of three was about to retire in 2014, a new opportunity presented itself.
"The American food processing giant Heinz was closing its plant at Leamington in Ontario. We four partners formed as investor group called Highbury Canco Corp and bought this plant saved 250 jobs,'' says Babra who was honoured with the Business Person of the Year award in 1996 by the Indo-Canada Chamber of Commerce.
Asked what is the secret of his success, he narrates a leadership programme in Las Vegas in which the participants were made to walk over hot burning coals.
"This exercise was meant to prove that mind can conquer anything. One should have a continuous desire for self improvement and burning passion to succeed.''
And Babra links the success of the Punjabi diaspora to the same mantra. "The last Sikh Guru meant the same thing when he said `sava lakh se ek ladaun.' This, coupled with the Sikh jaikara or war cry, is the secret of the Punjabi success story globally."
READ ALSO: How Sikhs came to dominate trucking industry in Canada
Though he has now branched into a new business as well as become a venture capitalist, Babra still owns SkyLink Express which operates a fleet of small aircraft to provide courier services across North America from its facilities in Mississauga, Hamilton, Vancouver, Montreal, Quebec and Halifax. (This story appeared in the Times of India on Monday, December 5)
READ NEXT: How Nav Bhatia became a Canadian super success story