By Aaloka Mehndiratta
TORONTO: In celebration of the 40th anniversary of DanceWorks, there was a very sumptuous feast of dances from across Canada, indeed internationally.
For the past forty years, as its mission, DanceWorks has curated and presented contemporary dances in Canada to showcase the emerging and established talent that has been steadily increasing and flourishing. In this mission, Danceworks has also been creating more and more appreciative audiences for the subtle and complex, and sometimes challenging dance pieces.
Mimi Beck, Curator of the DanceWorks states, "DanceWorks began at the Music Gallery in 1977. We've had 222 numbered performances since then. True to its early roots, the The 40th anniversary edition features music, dance and performance by five seasoned choreographers, all of whom were presented in previous seasons. These pieces are a sampling of themes from different decades of DanceWorks, drawn from 1981 to today."
At Fleck Theatre, in its 40th-anniversary celebrations, DanceWorks presented a number of world premieres at HarborFront as well as classics of dances from across the years. It was part of NextSteps Series that HarborFront in Toronto has been mounting.
In addition to the revival of Cheap Sunglasses (1981) by Holly Small and Robert Stevenson, Dancing with the Ghost (1995) and The Night Journey (2016) by Learie McNicolls, there were two world premieres, Moving Parts by Denise Fujiwara and Amalgam by Flamenco dancer Esmeralda Enrique and Kathak dancer Joanna de Souza, with live musicians Caroline Plante, Ian de Souza, Santosh Naidu and Maryem Hassan Toller.
It was a scintillating collaboration between two very fine Canadian dancers, distinguished in two different dance traditions: one in Flamenco and the other in Kathak.
HOW FLAMENCO-KATHAK FUSION HAPPENED
It was twenty years ago that the two of them had collaborated in the creation of Firedance.
Both Flamenco and Kathak are well-established and celebrated dance forms, with their origin and flourishing in two very different cultural traditions, one in Spain and the other in North India.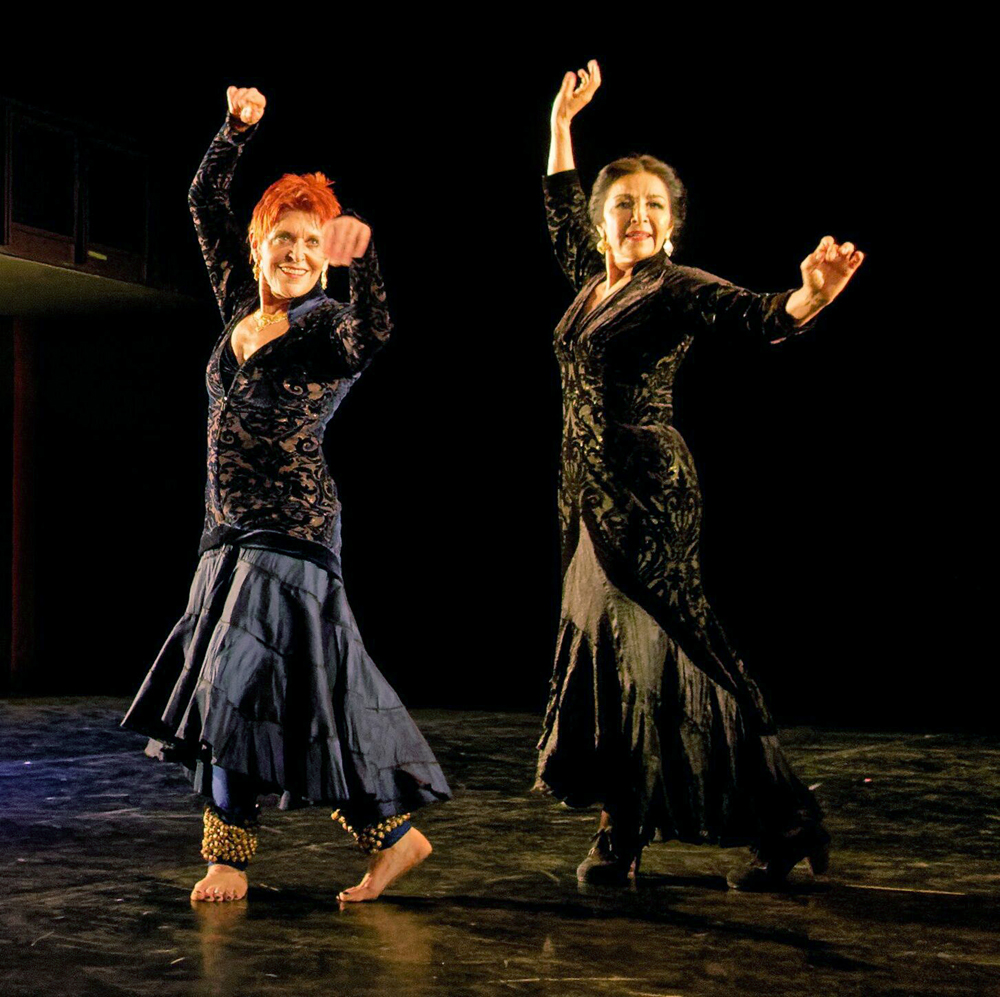 As Canadian multiculturalism flourishes, and people with different traditions and experiences in music, literature and dance come together, there is a creative possibility for a new synthesis of art forms. That is how Amalgam stands out as a very creative coming together of two outstanding artists and art forms.
Joanna de Souza is not only fine Kathak Dancer but also a bold and unique person. Born in Canada, she ventured out on a life-long journey to study Kathak under the late Pandit Chtresh Das almost 40 years ago, in 1978, and became part of Chitresh Dance Company from 1981-85. Under his guidance, as part of India's long tradition of guru-shishya parampara, Joanne set out to learn all theoretical and other aspects of Kathak from her guru.
At a time when Indian classical dances – Kathak, Bharatanatyam – were barely known in Canada, in 1987 opened M-DO. As a person of non-South Asian origin, as though venturing out to appropriate another culture, Joanne set out to provide, indeed give, another perspective on the traditional Kathak. With sensitivity and utter respect for the traditions, she created Chhandam Dance Company in Toronto, to teach Kathak, and to create and choreograph new pieces.
Over the years, Joanna has indeed contributed very significantly to the repertoire of Kathak, and to the delight of many in the South Asian community in Canada has enriched the tradition in numerous ways.
Esmeralda Enrique is, of course, a very well-known Flamenco dancer of Canada, who has enriched the dance scene in Canada for over many years and has brought laurels to Canada internationally.
She is the founder of the Academy of Spanish Dance and the Esmeralda Enrique Spanish Dance Company.
Recipient of several awards, she has been hailed as one of the most influential Hispanics in Canada. Ms. Enrique has also been honoured with Dora Mavor Moore Award nominations for Outstanding Performance and for Outstanding New Choreography in 2009 and 2015.
Thus, coming together of two very outstanding dancers for the creation of Amalgam, was a most welcome experience for dance lovers in Canada.
As a Kathak dancer, choreographer and teacher myself, and having watched both Joanna and Esmeralda over many years, not together but individually, I felt very proud that together they created a unique gift for the celebration of Canada's 150th birthday in a manner only they could.
Bravo!
(Aaloka Mehndiratta is a Kathak and Sufi dancer, and has always been exporing new ways to express in dance)
READ NEXT: Undercover Indian: Finding the meaning of home