MISSISSAUGA: Pakistan's acclaimed singer Humera Channa and Bollywood playback singer Richa Sharma shared the stage at the TD Mosaic festival at Mississauga Celebration Square (MCS) on Aug 4.
The headliner for Saturday night, Bollywood's award-winning diva Richa Sharma, first regaled the crowd by stepping down from the stage and going into the audience and singing alongside them.
Richa then took the concert to another level by returning to the stage and joined Mosaic's Friday night headliner prima donna Humera Channa from Pakistan, and together they blew everybody's mind!
READ ALSO: Model Diya Ali to represent Pakistan in world beauty pageants
First Humera put her heart into a melody by India's nightingale, Lata Mangeshkar and then Richa put her soul into a golden oldie by Pakistan's Goddess, Noorjehan. That prompted someone to post on facebook "This is a beautiful tribute of India-Pakistan mutual love". Indeed it was an epic moment!
Richa also did a number with another performer Vidha Lal, a well known personality at major dance festivals in India.
The brainchild of Asma and Arshad Mahmood, Mosaic has since its outset in 2006 been known to be an inclusive festival showcasing not just South Asian talent but also presents Rock The Coliseum (RTC) as an integral part of its program. RTC takes place at the amphitheatre at the MCS and gives opportunities to both rising and established talent in rock, hip hop, rap and other genres of music.
Mosaic has also throughout its history showcased Latin musicians, Chinese performers, indigenous talent, Caribbean entertainers and a plethora of artistic aptitude from other countries.
There were many awe-inspiring moments at the festival including a classical Indian dance by Hemant and Vaishali Panwar accompanied by Denique Leblanc, an amazing genre-busting musical performer, leading an attendee to exclaim:"the world has not seen anything like this before!"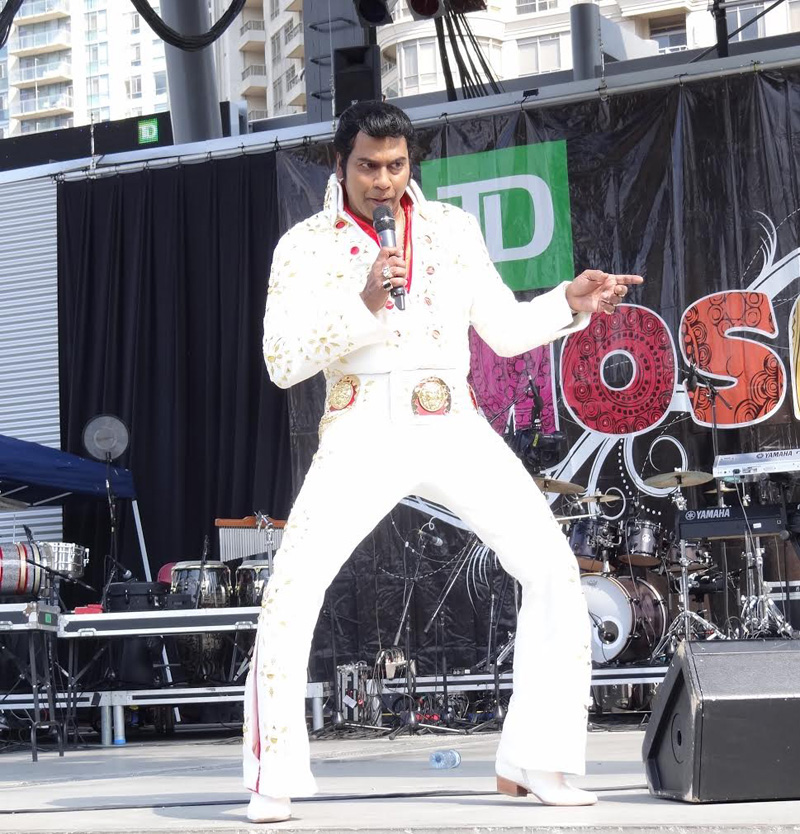 Another feather in the cap was Lorensz Francke, a person of Sri Lankan origin from Scarbourough and a regular at the world's largest Elvis Presley festival in Collingwood, just north of Mississauga. He wowed the crowd by singing Elvis' hits and gyrating just like the King.
A group going by the colourful name of 'The Mad Band' treated the crowd to a potpourri of Bollywood hits.
As has been the tradition for several years, the world famous Shiamak Toronto Dance Team brought the festival to a fast paced electrifying close.
There were many other acts by several artistes from many parts of the globe adding many dimensions to what many claim to be the most comprehensive and multi-faceted  South Asian festival in North America.
READ NEXT: Vikas Kohli scores again with Bollywood Monster Mashup