News East West
SAO PAULO (Brazil): In 2006, Florencia Costa became the first Brazilian — and South American — journalist to live in and report from India. In the next six years, as she covered politics, business, culture and entertainment in India and its neighbouring countries, Costa not only fell in love with India, but also got married to Indian journalist Shobhan Saxena (of the Times of India). In 2010, she started working on a book on India. She finished the book OS INDIANOS (The Indians) in 2012. The book became a huge success in Brazil.
In an interview, Florencia Costa talks about India, its people, promises and problems. Excerpts from the interview:
Q: First things first. How come a Brazilian newspaper thought of having a correspondent in India and how were you chosen for this assignment? Was India your first foreign assignment? And tell us a little about O Globo as well.
A: A few years ago, India was the story everyone wanted to write about. All international magazines and newspapers were talking about India's spectacular growth and how the country was changing. I had been covering Brazilian politics for many years; I wanted a change and India seemed like an exciting assignment. So, I asked O Globo to send me to India and they agreed. That's how I landed in Mumabi in 2006. That time I didn't know I would stay for more than six years and end up writing a book on India. I had been a correspondent in Moscow in the 90s when Russia was in political turmoil as well, but India was a different challenge. O Globo is the biggest newspaper published from Rio de Janeiro. It's part of a huge media conglomerate, with radio station and TV Channels. It's like the Times of India of Brazil.
Q: India must have been very intimidating for you when you landed in Mumbai first. More so when you came from a non-English-speaking nation.
A: I had been to India earlier on a brief visit to Hyderabad. So I knew where I was going, and since my sister was working for a software firm in Mumbai, I was sure it will be a smooth sail. But then I realised, it was not an easy place. India is a mixed bag. It could take you three months to get an Internet connection (in 2006), but on the positive side you could just walk into a slum and talk to people and you have an excellent story in your hand. India is very open in some aspects and very closed in others. Being a woman is not very easy, especially in Delhi where I lived from 2008 to 2012. Language was not a problem as a lot of middle-class people speak English, and when I needed to communicate in Hindi, I took help from my Indian husband.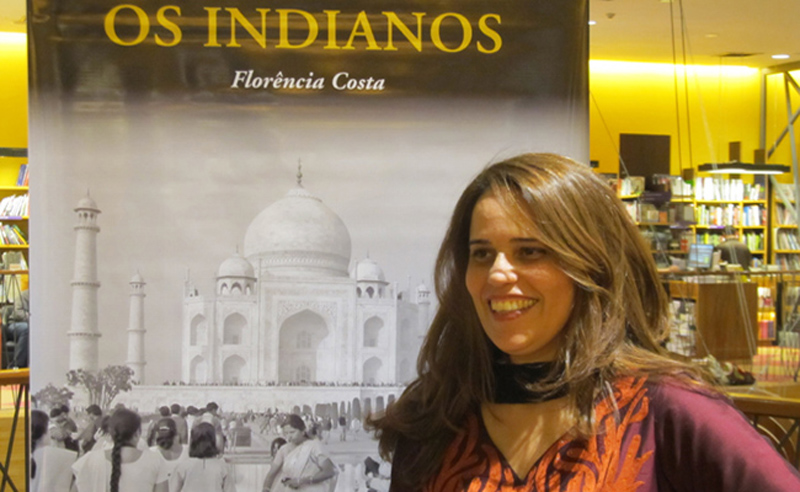 Q: So how did you get used to India, considering that you spent as many as six years covering the Sub-continent? Are there quite a few Brazilians in India (Delhi)?
A: To be honest, the initial days were overwhelming. You see so many people talking in so many different languages and praying to so many different gods, it's difficult to make sense of it. But as I started writing and reading about India – from politics to trade to Bollywood – and spoke to many experts, it began to make sense. In India, nothing is what it seems. You have to dig deeper to get the real story. There are not many Brazilians in India, but yes I met quite a few in both Mumbai and Delhi and they became friends. Many Brazilians go to India to learn yoga and Ayurveda, etc.
Q: How challenging was reporting from that part of the world? There must have been tough occasions. Tell us about your most memorable – happy and disappointing – moments there.
A: Getting information is not a problem in India. There are so many newspapers and channels. It's actually information overload. The real challenge was to sift through it and write for Brazilian readers who have very little idea about the complexities of India. Election time was such an occasion, like how do you explain to Brazilians what role the castes play in Indian politics. But covering the Indian election (2009) was a great learning experience. Also, travelling to Dharamshala and attending the Dalai Lama's congregation where he announced his retirement from political position was quite interesting. But my best memories are my travels to Iran, Pakistan and Afghanistan during elections there. The reality is so different from the depressing stuff you read in the Western press.
Q: Travels around the country must have changed your views and perceptions about India and Indians.
A: In the beginning, all Indians look the same. But when you travel around, you can tell a Punjabi from a Tamil and a Tibetan from a Bengali. It's amazing how different states have different food, languages, culture, music, dance and even festivals. And yet there is some kind of continuity. This is the best thing about India. I preferred to travel by train in India because that's the best way to see the real country and meet real people.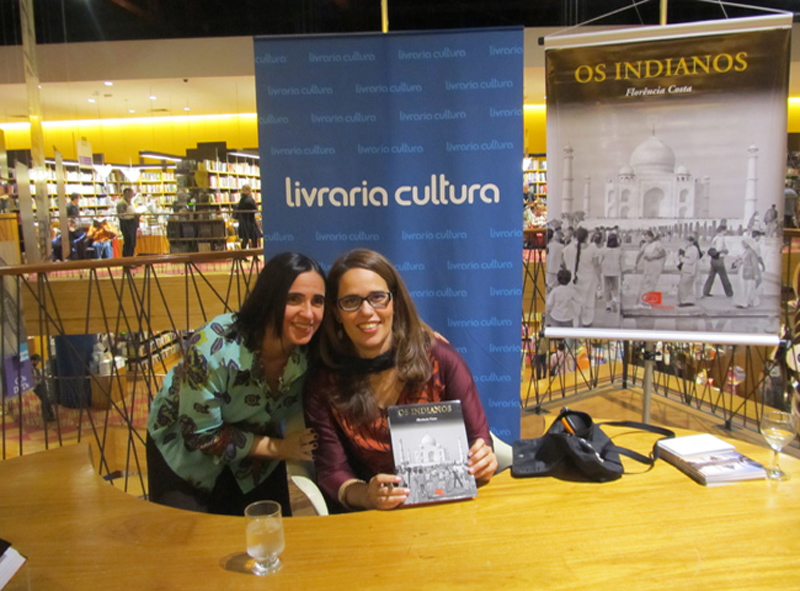 Q: When did you start thinking of doing a book on India which finally took the shape of Os Indianos (The Indians)? How long did it take you do this book? And how has it been received in Brazil?
A: I got the idea in the beginning of 2010. I had the feeling that I had absorbed a lot of India and I wanted to articulate it in some form. But I didn't want to do a cliched, coffee-table book or India Shining or India Whining kind of book. I wanted to write a journalistic book, which gave some insight to Brazilians about a country that lives in different time periods at the same time, a country that was changing fast yet clinging on to its past. My book is very much about this transition the country is going through and how it is coping with it. The book has been received quite well. We had a launch at Livraria Cultura, the biggest bookshop in Sao Paulo. All major newspapers have either reviewed it or done interviews with me. Also, it has been discussed on television. It's selling very well and I am getting quite a few invites to give lectures about India. I am very happy with the response. It's more than what I expected.
Q: Along the way, you met an Indian and married him. This must given you the chance to see Indians from inside, so to speak. And having lived there for six years and bringing back an Indian husband, how do you see India today?
A: I met my husband (Shobhan Saxena, a journalist with the Times of India) a few months after I arrived in Mumbai and we got married pretty quickly. My marriage to an Indian gave me entry into an Indian family and their values, culture and lifestyle. I got first-hand experience of all the festivals and weddings in the family. Even in Brazil, family is very important but in India, family is everything. It was a great experience for me to learn to wear sari and get recipes from my mother-in-law. Being received by an Indian family with so much love was very touching. Having lived in India for six years and married to an Indian, I consider myself half-Indian now. Now, it's my husband's turn to write about Brazil for Indians. This is our joint effort at bringing the two countries together.
Q: Do you feel that your reportage from India has brought these two far-flung giants closer, as there is little by way of trade and cultural exchanges between the two countries.
A: It will be very pretentious of me to say that my reports have brought the two countries together, but yes they have helped in generating interest in India. So has my book. India and Brazil relations have been growing steadily for the past few years. In the past five years the trade has almost doubled. With parts of Bollywood films like Dhoom 2 and Robot having been shot in Brazil, it's clear that relations are growing. The Indian Cultural Centre here is doing great work in promoting Indian dance, music, food and festivals. There are more than 500 yoga centres just in Sao Paulo city. People here like Indian culture.
Q: Finally, give us a sense of the Indian community in your city Sao Paulo in particular and Brazil at large.
A: The Indian community here is very small but very active. Since I came here, I have been to many gatherings – Diwali, Gurupurb (Sikh), and Indian Republic Day, etc. There are many Indian traders and businessmen here. Also all the big Indian IT and pharms firms with operations in South America have offices in Sao Paulo, which is the financial capital of the continent. Since it's a big cosmopolitan city, there are eight Indian restaurants. Also, we have an Indian Association. Now, we are both looking forward to the Holi party.
——————————————————————————————————————————–
Excerpts from Florencia Costa's book Os Indianos or The Indians
——————————————————————————————————————————–
Os Indianos (The Indians)
By Florencia Costa
Published by Editora Contexto  (Sao Paulo)
Pages 395, Price R$55 (US$27)
INTRODUCTION
The India growth story has set in motion a churning not seen in this country for decades. There have never been so many frictions as well. The new elite lives in their glass and steel condominiums, and the Gandhian simplicity has been disposed off in a trash can. Amid a huge sea of misery, futuristic cities and luxury towers are rising from green fields in the countryside. There are serious conflicts over land acquisition all over the country. There are new fights every day between the haves and have-nots of New India…
The most interesting thing in India is indeed its people: the most varied ethnic types, who speak different languages, dress in their own ways, eat different foods and pray to different gods. And there are people everywhere. One in six of the seven billion inhabitants of this planet is Indian. And within two decades, they will surpass the Chinese. At times, the crowd can be suffocating, but there is no escape from it. Every inch of space is packed with humans and animals. India's total landmass is just as much as the northern region of Brazil, but it has six times our population…
With so many people crammed in such a small piece of land and with so few opportunities, ordinary Indians survive by what is called Jugaad. All Indians have a great knack for this skill, which literally means "trying to make something work." Just as in Brazil, the people at the lowest rung of the social ladder make a lliving by innovating, Indians too have a talent for improvising when necessary, which is always. So don't be shocked, when you see a brand new washing machine being used to make lassi — a drink of yogurt, sugar and ice — in a roadside eatery on a highway in Punjab; or when someone tries to sell you a cellphone that also works as a mosquito repellent. In India's chaos, which refuses to subside even at night, Jugaad is a very apt way of survival. It's quite appealing too. But this practice is also the reason why things go horribly wrong in India and the services are poor. From the neighbourhood plumbers to unprofessional road builders, they all rely on Jugaad, which is basically a short-cut method of building or fixing things. This often leads to disaster.
INDIA ON THE MOON
One of the factors that has driven the Information Technology revolution was the success of Indian professionals in the US, especially in Silicon Valley, California. The Indian engineers work in more than half of tech companies there. The migration of highly educated engineers often sparks an intense debate within India, with the migrants being accused of using the excellent — and almost free — education from the government to further their careers abroad, without giving anything back to their country. The bulk of Indians today migrate to the US, Australia, Canada and New Zealand. There are more than 25 million Indians overseas, far fewer than the 60 million Chinese diaspora. But the Indians are the champions of sending money home: in 2010, they sent $55 billion, while the Chinese remitted $ 51 billion, according to the World Bank.
The Indian diaspora is one of the most successful in the world. They work in various lines of business, in universities, medicine, literature, media, and even in politics. They are not only small entrepreneurs and software specialists; they are also business managers, bankers, hoteliers, and academics. They are the ones who study hard and earn better salaries, as compared to white Americans. Some 80% of Indians residing in the U.S. have third-degree diplomas. Indian-Americans are the richest ethnic group in the US, with an average annual income of over $50,000. (Translated from Portuguese by the author).
READ ALSO: The Golden Temple is the best religious place I have visited, says Brazilian journalist Florencia Costa