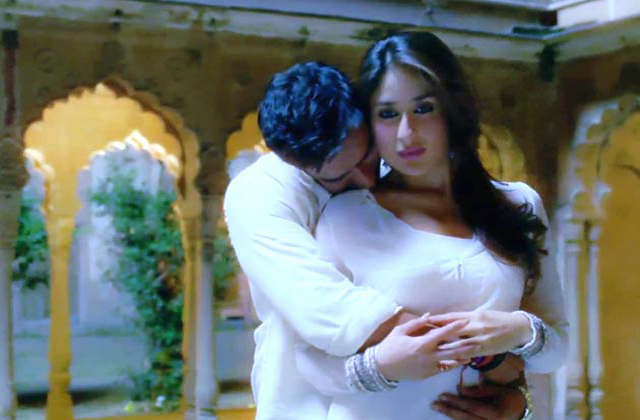 By Subhash K Jha
In Prakash Jha's  Satyagraha there is a very romantic erotic love song Ras se bhare tore nain saawariya. It's the song where Ajay Devgn and Kareena Kapoor Khan (yes,that's how she is billed for the first time in the credit titles of Satyagraha) get intimate.
The sequence required Kareena and Devgn to kiss and make love.
However one hears Kareena, otherwise a very dedicated artiste on location in Bhopal, flatly refused do the intimate scene with her co-star.
In Vishal Bhardwaj's Omkara, Kareena had dome some very intimate scenes with Devgn. But that came before her marriage.
Says a source from the Satyagraha location, "Prakashji wanted at least a brush-on-the-lips since this was a very passionate moment between the lead pair. But now after marriage Kareena won't do any intimate scenes with any of her co-stars. Not even her own husband Saif. There is a certain code of conduct that Kareena must follow as a Pataudi bahu. Also, Kareena would do nothing to hurt her mother-in-law(Sharmila Tagore) whom she loves dearly."
Sources from location say Prakash Jha had to make do with just the suggestion of a kiss and zero-proximity between the pair.
Says one of Kareena's co-stars from Satyagraha, "Bebo has always been fearless before the camera. It isn't as if she hasn't done kissing scenes. She kissed Aamir in 3 Idiots, didn't she?But I think Heroine was her cut-off point as an actress. She did that very bold role with no holds barred.But I think she has made up her mind to avoid all intimacy on screen after marriage. I feel that that's a good thing. Prakashji had to fudge the kissing scene and we just see Bebo lying fully-clothed and alone  in bed. That's it. I think her wishes as an individual must be respected."
DON'T MISS: Picture of Salman kissing Kareena goes viral