News East West
MUMBAI: Even as Himachal Pradesh model Vijay Singh is still on cloud nine after winning Mallika Sherawat's hand on The Bachelorette India, some rejected suitors of the sexy babe are giving vent to their anger.
Vinay Jhamb, who was one the three final contenders, says Mallika knew Vijay Singh before the show and she has fooled others.
"I want to say that Mallika has fooled us all on The Bachelorette (Uss ne hum sabko ullu banaya). I knew that Vijay would be the winner on the show since the day one. In fact I would also like to say that Mallika knows Vijay since long. He and Karan both never gave auditions for the show and had entered directly,'' Jhamb has been quoted as saying by the Times of India.
A dejected Vinay Jhamb added, "I had also said this once to Mallika on the show that if she is interested in Vijay then let us all go back home, why is she wasting our time on which she rubbished my words saying nothing is brewing between her and Vijay. This particular chunk was also not aired on the show like many others.''
Reiterating that Vijay Singh had once called Mallika a prostitute, Vinay said, "Vijay can't deny the truth. He was along with me while he uttered the word 'R***di' for Mallika. He just needed a platform to stand different which he got through this show.
"I know nothing is going to happen between Mallika and Vijay. It was just a show for publicity and TRPs as Vijay called me up a few days before and said that he is busy with his daily routine. All in all, Mallika fooled us all on The Bachelorette India.''
On the other hand, 24-year-old Vijay Singh is still on cloud nine after winning Mallika's hand.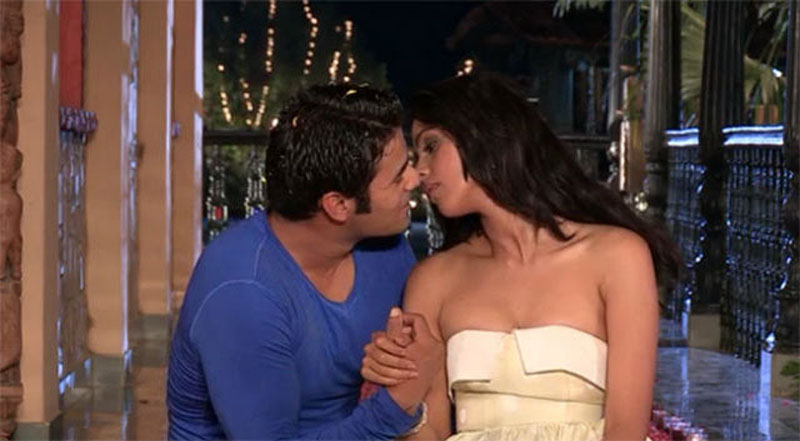 And he doesn't think the age difference between him and Mallika, who is a divorcee, will impact their relationship.
He says he didn't know that Mallika was a divorcee.  "She comes from a small village in Haryana. And those days, girls were married very young. Mallika was probably immature and got married in haste. I don't mind the fact that she is a divorcee,'' Vijay Singh adds.
About his parents' reaction to his winning Mallika's hand, he says, "My parents had no say in my decision to come to Mumbai. So, when I informed them that I have won the show, they said, 'You have taken all your decisions, so why should we have a say on this one?' I am very mature for my age. As of now, I am not thinking about the age gap; I am just trying to fill the void in her life. My sister is also older than her husband. But yes, it is difficult to keep the attention of a woman like Mallika focussed, since she is a celeb.''
DON'T MISS: Mallika and I are made for each other, says The Bachelorette winner Vijay Singh