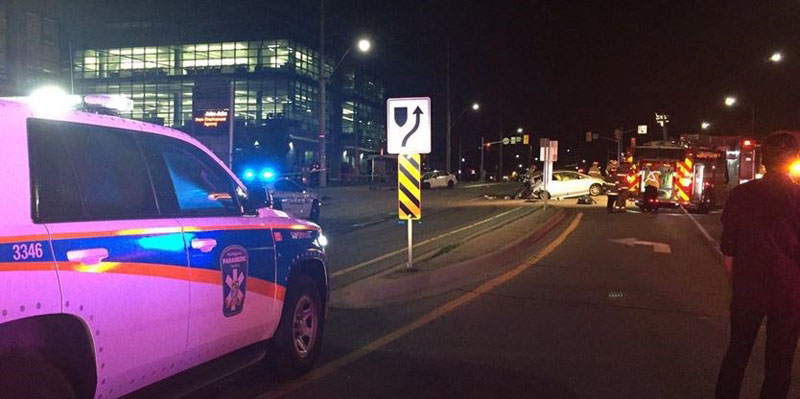 BRAMPTON: A man driving a stolen Mercedes went on the rampage in the GTA on Friday night, leading to three multi-vehicle collisions. As a result, one person is dead and two are in hospital.
Martin Hines, 30, of Orangeville, is in custody and has been charged with causing death, dangerous driving causing bodily harm and failing to remain at the site of the accident.
It all started at about 1 am when a three-vehicle collision was reported at Steeles Avenue West and McLaughlin Road South in Brampton, involving the stolen vehicle.
Brampton resident Eddie Chavez Alquinto, 60, who was driving his Mazda 5, was killed in the collision. His wife is in hospital with serious injuries.
After the collision, the  suspect left his stolen Mercedes and carjacked a Honda Civic and sped away eastwards on Steeles Avenue.
At the intersection of Steeles Avenue West and Kipling, he hit a van which then struck a pedestrian. The suspect then left his stolen Honda Civic and carjacked a Nissan Rogue and sped away.
Then he was involved in a multi-vehicle collision at Steeles Avenue and Weston Road.
After this collision, he tried to steal a TTC bus to escape. But the driver of the TTC bus alerted police and the suspect was arrested. He was rushed a trauma centre with serious injuries.
#PRP responding to several incidents in Brampton involving several carjackings, as a result serious collision at Steeles/Mclaughlin – intersection will be closed Major Collision Bureau investigating Male arrested by @TPSOperations transported to Toronto Trauma Centre

— Peel Regional Police (@PeelPoliceMedia) June 29, 2018