News East West
Finally, the #Metoo movement has come to India where surveys show that every third woman suffers sexual and physical violence.
Interestingly, the first such high-profile case has been reported from Bollywood where actresses such as Radhika Apte, Kangana Ranaut, and Konkana Sen have vocally supported the #Metoo campaign triggered by the allegations of sexual assaults by multiple women against Hollywood film producer Harvey Weinstein.
On Wednesday, a maternal cousin of Bollywood veteran Jitendra accused him of sexually assaulting her 47 years ago.
In her complaint filed with police, the woman says she was sexually assaulted by the actor in January 1971.
The woman says the sexual assault took place in Shimla when she was 18 and her cousin Jitendra was 28.
The accused says she was in Delhi when Jitendra arranged her to join him on the sets of a film in Shimla.
"He (Jitendra) had arranged with my now-deceased father to have me join him on the sets where his movie was being filmed," the woman says, adding that she was not aware of the arrangement. But she went with the actor in a group car from Delhi to Shimla.
The woman says when they reached Shimla, Jitendra brought her to "his hotel room which contained two separate beds."
She says Jitendra went out, telling her that he would be returning later.
The woman says, "Tired from the journey I went to sleep in the far bed."  When she was asleep, he returned to the room and joined his bed with hers.
"As I rested on side facing the wall, he entered the bed and…," the victim says. She says she tried to push him away, but Jitendra continued with his sexual assault.
"Trapped between the wall on one side and my … cousin on the other, no escape was possible," the woman says.
After the sexual assault, she says, Jintendra separated his bed from hers. "We slept silently in the room that night."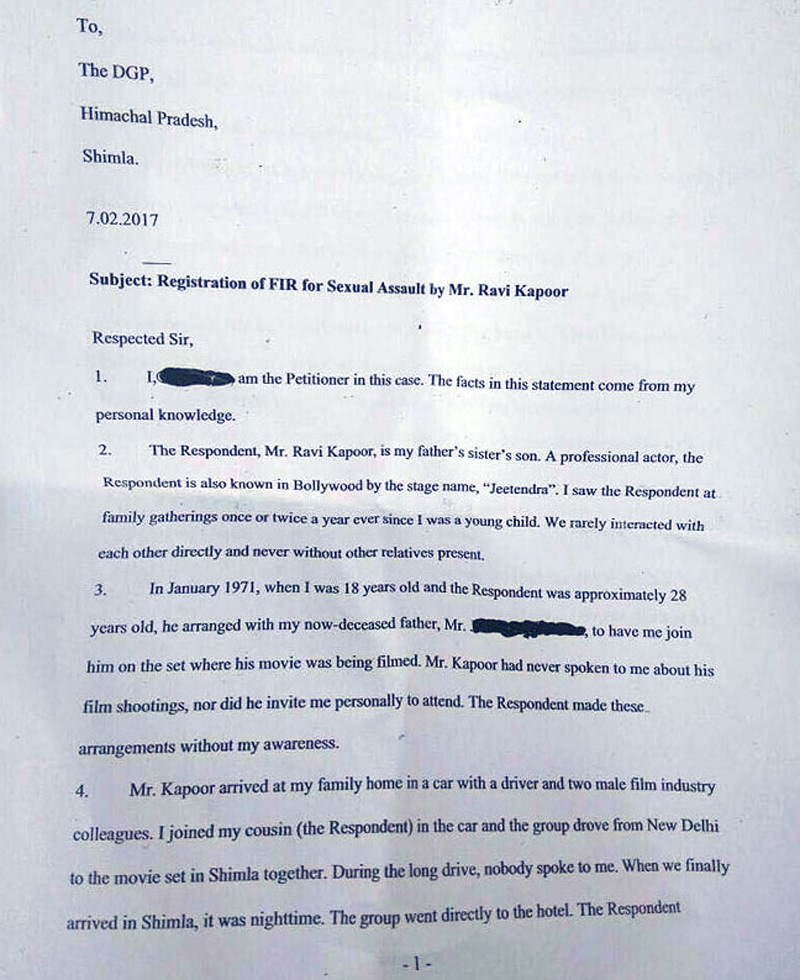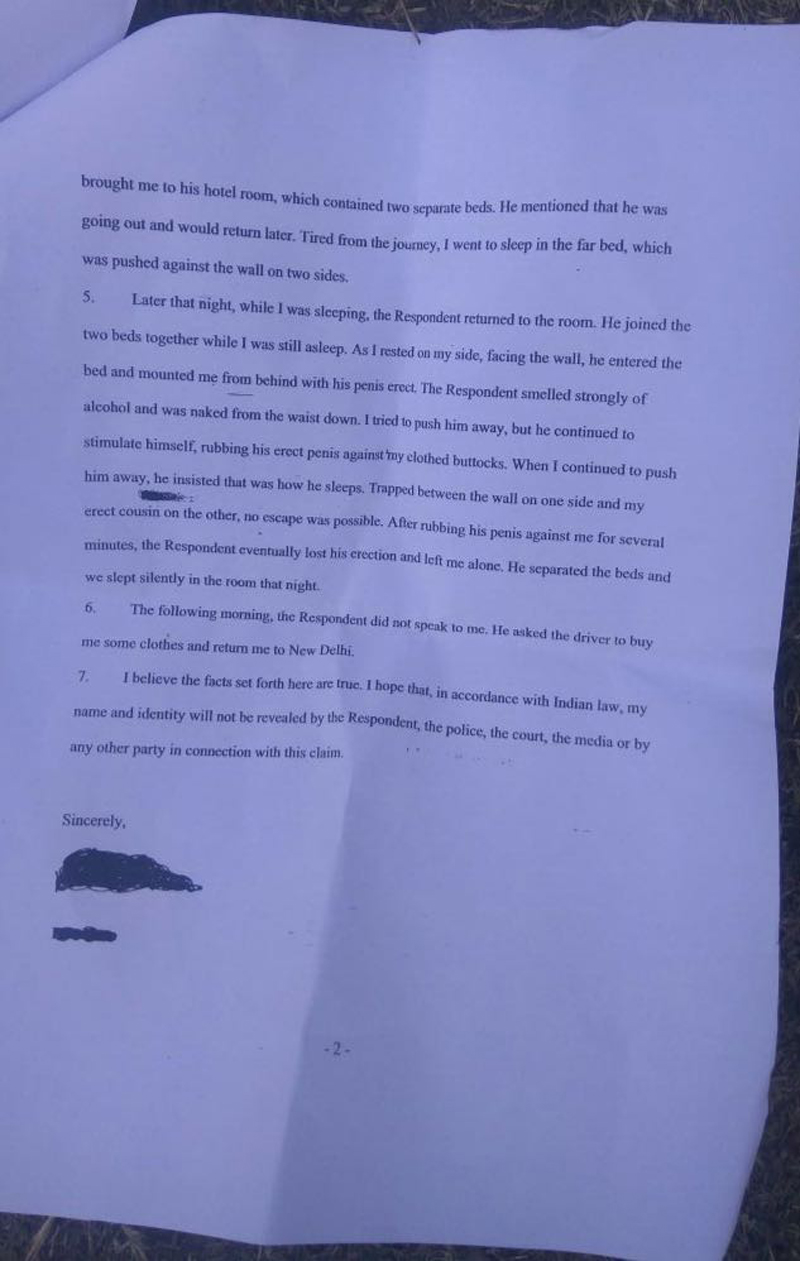 The woman says she kept quiet for 47 years because of her parents. She says she has come out with her allegations now because her parents are no more.
Jitendra, 75, whose real name is Ravi Kapoor, is the father of actor Tusshar Kapoor and producer Ekta Kapoor.
Surveys show that almost one-third of women in India endure sexual assaults and violence.
In its November 2017 report titled `Everyone Blames Me: Barriers to Justice and Support Services for Sexual Assault Survivors in India', Human Rights Watch (HRW) says Indian women facing sexual violence also undergo the further trauma of humiliation at police stations and hospitals.
Despite a two-year jail term under law for policemen who don't register reports of sexual assaults, women victims are often turned away. Moreover, most cases of sexual assaults against women go unreported in India for fear of social stigma.
READ NEXT: #Metoo trouble for Indian poet Shamir Reuben as multiple women accuse him of `sexting'
READ NEXT: Sex assault allegations by Sarah Thomson `100% false,' says  TVO Agenda host Steve Paikin