TORONTO: Navdeep Bains, Canada's minister for innovation, science and economic development, on Sunday joined the LGBT parade in Toronto for the first time.
Known as Toronto Pride Parade, it is one of the biggest events in North America to celebrate inclusion of the LGBT community.
Bains was among over one million participants in the 38th annual Pride Parade. He walked with federal finance minister Bill Morneau,  parliamentary secretary Omar Alghabra and others of his Liberal Party.
Last year, defence minister Harjit Sajjan had walked in the Vancouver Pride Parade.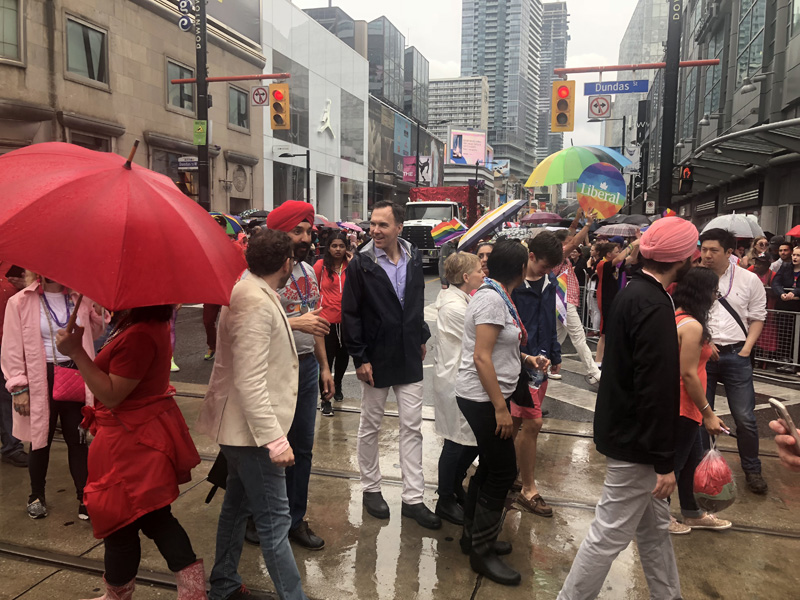 Participation by Canada's two Sikh ministers in Pride Parades assumes significance as homosexuality is still a taboo subject in the Indo-Canadian community and the Sikh religious leadership in Punjab.
As a first-time MP, Bains had supported Bill C-38 to legalize same-sex marriages in 2005 despite a warning by the then Akal Takht jathedar. However, he took part in the LGBT parade for the first time only now.
Bains told the Toronto Star that a talk with his two daughters – 10-year-old Nanki and seven-year-old Kirpa – about discrimination against people on the basis of their religion and sexual orientation prompted him to join it this time.
"I was talking to my girls and they were asking me questions about what did LBGTQ2 stand for. They were talking to me about bullying, all those challenges that still exist among young kids. I take enormous pride telling my daughters, 'Be proud of who you are. Be proud of your culture, your religious faith, your identity.''
🌈Today, I marched in my very first #PrideParade, and here's why:
//
🏳️‍🌈Ajd, j'ai participé à ma toute première #Parade de #fierté, et voici pourquoi: https://t.co/kzBMADCOHP#CdnPoli #PolCan #LGBTQ pic.twitter.com/peLvE15vj7

— Navdeep Bains (@NavdeepSBains) June 24, 2018
When Canada legalized same-sex marriages in 2005, the then Akal Takht jathedar Giani Joginder Singh Vedanti had directed Canadian Sikhs MPs to oppose Bill C-38.
The Sikh cleric had said that homosexuality is against the Sikh code of conduct and laws of nature.
"The basic duty of Sikh MPs in Canada should be to support laws that stop this kind of practice because there are thousands of Sikhs living in Canada, to ensure that Sikhs do not fall prey to this practice," Vedanti had said.
Canadian Sikh MPs had met the Sikh cleric in Amritsar and Bains had argued in favour of the same-sex bill, getting a stern warning from the cleric.
"The Sikh religion would never accept such MPs. Nobody would support such a person having such dirty thoughts in their mind because it is against the Sikh religion and the Sikh code of conduct and totally against the laws of nature,'' Vedanti had warned Bains and other MPs.
But Bains voted for the same-sex legislation.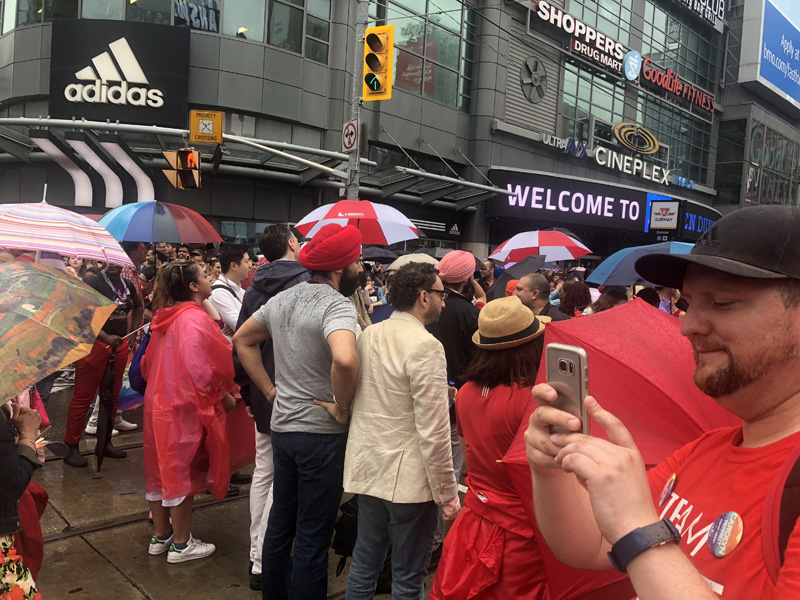 While voting for the bill, Bains had said that for him "it is a charter (Canadian Charter of Rights and Freedoms) issue… We live in a secular society where the state and religious institutions are separated.''
Because of his long hair and turban, he said, he never fitted the status quo. But "it is this charter that enabled me and so many others to follow our faith, and form an identity that today I can say with a great deal of pride is a strong part of the Canadian mosaic and fabric.
"I will do everything in my capacity as an elected official to uphold the principles and the values laid out in the Charter of Rights and Freedoms.''