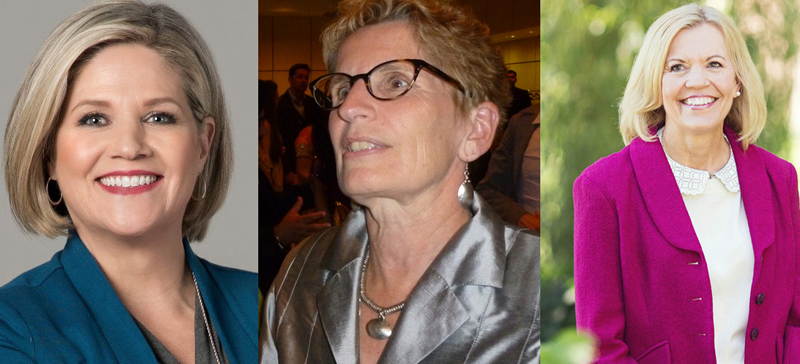 The Canadian Bazaar
TORONTO: As their opponents in the Progressive Conservative Party grapple with the leadership race after the exit of Patrick Brown after allegations of sexual misconduct, the ruling Liberal Party holds their three-day annual general meeting this weekend at a downtown hotel here to pep up the cadres before the June 7 polls.
Premier Kathleen Wynne, who doesn't enjoy much public approval, will speak to party leaders, legislators and cadres on Saturday to outline the strategy for the provincial elections.
Party leaders will speak with workers on the ground to discuss poll campaign to retain power which the Ontario Liberals have enjoyed for 14 years now.
Grey Cup-winning Toronto Argonauts coach Marc Trestman will be one of the star speakers.
Till Patrick Brown's downfall, the Liberals were trailing the Progressive Conservatives in opinion polls.
But a small survey taken after Patrick Brown's exit shows that Tories still enjoy 36 percent public approval as against 33 percent for the Liberals and 26 percent for the New Democratic Party led by Ms Andrea Horwath.
It now depends on who the next PC leader will and how the party can come together around a new leader.
Former Toronto mayor Rob Ford's brother Doug Ford, 53, former prime minister Brian Mulroney's daughter Caroline Mulroney, 43, late Jim Flaherty's wife Christine Elliott, 62, and former Postmedia head Rod Phillips, 53, are in the race for the PC leadership.
The new PC leader will be elected on March 10.
Elliott, who unsuccessfully contested for the PC leadership in 2009 and 2015, is reportedly the favourite, with an opinion poll showing her enjoying 40 percent support. Ms Mulroney, who is the PC candidate from York-Simcoe, enjoys 36 percent support.
Both Doug Ford and Rod Phillips enjoy 32 percent support.
The new PC leader will have his or her job cut out as Brown was successful in bringing a huge number of new members into the party and building bridges with many vote-rich ethnic communities.
If either Christine Elliot or Caroline Mulroney is elected PC leader, Ontario will have women leading all three parties into the June 7 polls. People have choose one of these three women.
READ NEXT: Why Kathleen Wynne chose Harinder Malhi for her Cabinet