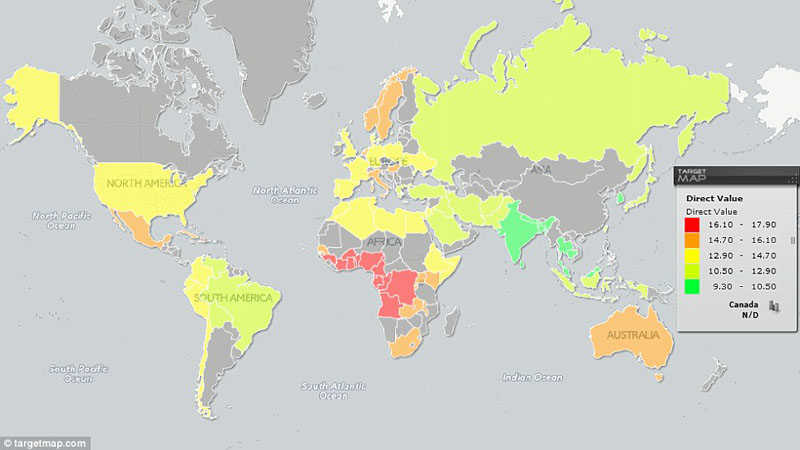 News East West
NEW YORK: Size does matter. But it doesn't seem to bear any relation to the population size of a country because men in the most populous countries have the smallest penises.
The above interactive graphic of the size of the penis in various parts of the world shows that men in India, Sri Lanka, Malaysia, Thailand and South Korea have the smallest size compared to men anywhere else in the world. The average size of penis in these countries is 9.30-10.50 centimetres.
In fact, Pakistani men score over their Indian counterparts. The average size of the Pakistani penis is 10.50-12.90 centimetres. Pakistani men in are in the same league as Arabs, Russians and Brazilians.
As this map shows, men in African countries of Nigeria, Siarra Leone, Angola, Ghana, Gabon and the Congo have the penis size over 16 centimetres.
The second biggest penises are found among Australians, South Africans, Mexicans, Italians and Scandinavians.
The third biggest penis size is found the US, the UK, France, Germany and the countries in northern and western Africa.
The figures for Canada, China and many countries in central Asia and Africa are not available.
As for as the size of women's breasts is concerned, females in Russia, Sweden, Norway and Finland have the biggest size. Women in Australia, France, Italy and the UK have middle-sized – or C cup-sized breasts.
They are followed by females in Africa and Asian countries most of whom have A or B cup sized breasts.
READ ALSO: Former porn star Sunny Leone says: My brother and husband are very supportive
IN PICS: Hot Miss Pakistan 2015 Anzhelika Tahir