TORONTO: I have vivid memories of the late Pandit Ravi Shankar, who was born this day – April 7 – in 1920 as Robindro Shaunkor Chowdhury, when he burst on the international stage in the 1960s.
In his early years, he toured with his choreographer brother, Uday Shankar, as a dancer in his troupe. It wasn't till he turned 18 in 1938 that he started to learn how to play the sitar under the auspices of virtuoso Alauddin Khan.
Training was rigorous and continued through till 1944, during which he played several concerts and also married Khan sahib's daughter Annupurna Devi and sired a son Shubendra Shankar.
After finishing his training, Panditji moved to Mumbai where he gained recognition composing various musical pieces including combinations of eastern and western music which led him to become director of All India Radio from 1949-1956.
He then composed for Satyajit Ray's internationally acclaimed 'Apu Trilogy' opening doors for becoming music director for various Hindi movies.
However, it wasn't till the 60s and 70s when he toured internationally, that he became recognized globally. His associations with the famous violinist and conductor Yehudi Menuhin and George Harrison of The Beatles brought him further fame with the world accrediting him for being instrumental in introducing Indian classical music to the west.
The relationship between George Harrison and Panditji is of special interest. In the 60s when Panditji was recording for Richard Bock's label in the US, a famous rock band, The Byrds, was also using his studios. Roger McQuinn of The Byrds introduced his friend George Harrison to Panditji's music through records and George was totally blown away. He went out instantly and bought a sitar.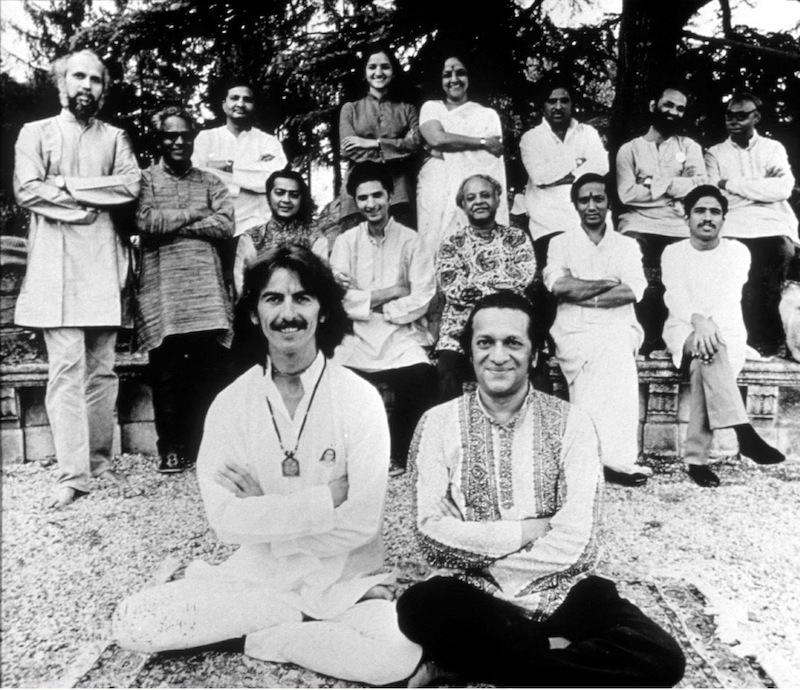 In 1965, history was made, as George Harrison first put the sitar into a western song- The Beatles' memorable Norwegian Wood from the Rubber Soul album. This opened the door for other bands like the Rolling Stones and later on Led Zeppelin to incorporate the sitar and tabla into their compositions, and thus the 'raga rock' scene was born.
Upon the success of Norwegian Wood, George went in quest of Panditji and learned to really play the sitar and incorporate it into more Beatles' albums and later on his own solo albums. Panditji has claimed that it was George who made him famous as a rock and pop star.
Panditji was however very disillusioned with the whole hippie scene and refused at first to play at the Monterey Pop festival in California where he was shocked to see bands like The Who and Jimi Hendrix smash and burn their guitars which Panditji considered sacrilege as musical instruments are sacred and actually revered in our culture. However he succumbed to the free love scene and finally performed. The same occurred at the legendary Woodstock festival where he was again shocked to see half a million people stoned out of their minds and musicians mistreating their instruments.
Pursuant to these two festivals and punning on the extremely popular word groovy and calling on his Indian heritage, he was nicknamed 'the guru-vy rock star!'
Panditji's crowning moment came on August 1, 1971 when he, along with the help of George Harrison, put together the first benefit concert of all time 'The Concert for Bangladesh' which was conceived to raise funds for the new nation of Bangladesh. This massive concert, boasting well known names of the rock scene such as George Harrison, Ringo Starr, Eric Clapton and Bob Dylan, tabla maestro Alla Rakha and Panditji himself amongst several others was held at the Madison Square Garden in New York City. I had the privilege of attending this grandiose concert while supposedly pursuing my studies in the US.
Famously, Panditji requested everybody at the concert to stop smoking and all the joints and hash pipes went out in a flash! Then he and his band started to tune up to a huge round of applause, to which Panditji chuckled and said 'If you appreciate the tune up, wait till you hear us play!' And sure enough he lived up to his claim as 50,000 people reached nirvana that evening!
Of course Panditji didn't stop there. He went on touring tirelessly giving enthralling moments to all his audiences all over the planet with his God gifted prowess winning countless citations and awards. He played till the last moment in Nov 2012 just before he passed away on Dec 11 2012, leaving an irreparable void in the world music scene. Two months after he died, he was posthumously awarded two Grammy awards in February 2013- the lifetime achievement award and the best world music album which were accepted by his two daughters Anoushka and nine time Grammy award winner Norah Jones.
Besides being an extremely talented musician, Panditji was also an extremely virile person having married twice and had affairs with two other ladies, one of whom gave birth to award winning Norah Jones- a true chip off the old block.
I will fondly remember him and grieve his passing away as I listen today to the many CDs I possess. I am sure even his sitar must be lying in a corner, weeping softly, and self strumming 'happy birthday to you, sarkar!'
(Lachman is a financial advisor)
READ ALSO: I was groped, touched and abused, says Anoushka Shankar