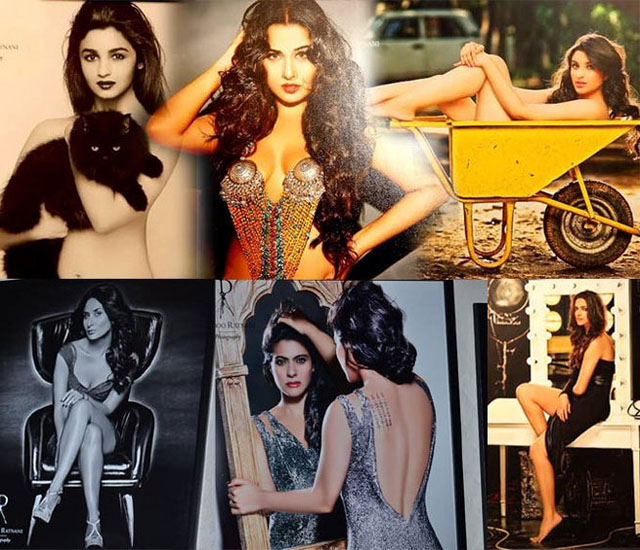 News East West
MUMBAI: Our hot Bollywood divas are shedding their inhibitions as wells as clothes at the slightest pretext. Perhaps they have taken a cue from Sunny Leone, Sherlyn Chopra and Poonam Pandey.
For the year's Bollywood calendar by celebrity photographer Dabboo Ratnani, our  ladies Vidya Balan, Parineeti Chopra and Alia Bhatt have posed with the skimpiest clothes or no clothes.
In the calendar, Vidya Balan, who loves out-of-the-box roles in films, shows up with only a big weird necklace to hide her big bosom.
Parineeti Chopra is seen sitting  in a hand-cart which hides her bottom.
Flashing her shapely thigh, Parineeti's cousin Priyanka is pretending to be in a rage.
And Alia Bhatt is seen holding a cat to hide her assets.
The slender Anushka Sharma is seen in smoldering hot shorts.
Bengali bombshell Bipasha Basu can be seen in a sexy leggy pose and `masala hips' Sonakshi Snha gives a slight glimpse of back.
As for Aishwarya and hubby Abhi, there is nothing to write home about.
While King Shahrukh Khan is seen lying in a relaxed mood and puffing on his cigarette, Salman Khan has the look of an intellectual.
MUST READ: Anushka, Kriti and Alia strip for 2016 Bollywood calendar