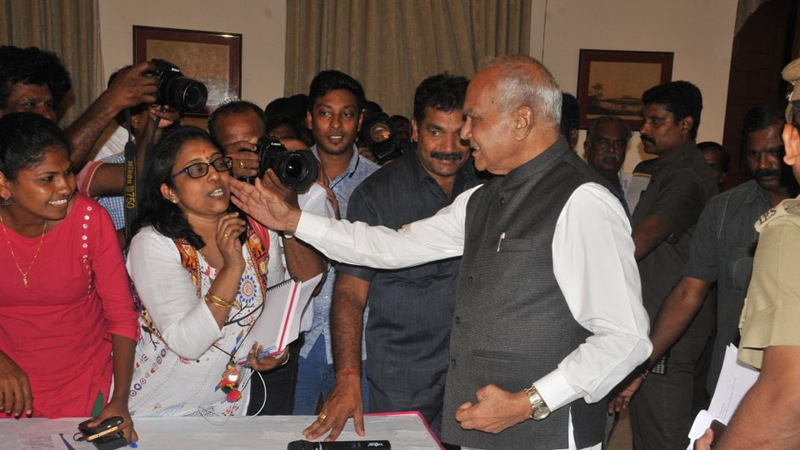 News East West
NEW DELHI: Tamil Nadu governor Banwarilal Purohit on Tuesday caused an uproar by patting a woman journalist on her cheeks during a media conference at his official residence Raj Bhavan in Chennai.
The TN governor had called the news conference to deny allegations by a woman professor who has been arrested on charges of luring college girls to give sexual favours to university officials. The arrested woman professor has alleged that she is close the governor.
During the media conference, the governor touched the cheeks of woman journalist Lakshmi Subramanian who works for The Week magazine.
The governor's action led to angry protests by the journalists who shot off a letter to him, warning him that his action was a non-bailable crime and that he should apology for his action.
"As the Constitutional head of our state of Tamil Nadu, you have crossed the lines of not just basic courtesy but also those of law… Even if your gesture is paternal in nature, touching a lady without her consent is a crime under the Tamil Nadu Prohibition of Harassment of Women Act, 1998," the letter warned him.
"Mr Governor, we the journalists of Tamil Nadu demand that you offer an unconditional apology to the journalist in question and also assure all journalists of Tamil Nadu that you will not violate their rights in future," the letter said.
Around 200 journalists not just from TN but from all over the country have written to the TN Governor demanding an apology for his unbecoming conduct towards @lakhinathan yesterday. The letter has been sent as an email to the Governor. @rashtrapatibhvn @rajnathsingh @PMOIndia pic.twitter.com/E9vBaIBIbK

— Sandhya Ravishankar (@sandhyaravishan) April 18, 2018
The governor quickly responded by writing an apology letter to the woman journalist.
"…I gave a pat on your cheek considering you to be like my granddaughter. It was done with affection and to express my appreciation for your performance as a journalist since I was also a member of that profession for about 40 years,'' the governor said.
Lakshmi Subramanian said she accepts his apology, but she was not convinced about his intention.
Your Excellency, I have with me your letter expressing regret at what happened at the press conference in Chennai the previous day. I accept your apology, even though I am not convinced about your contention that you did it to appreciate a question I asked @TheWeekLive pic.twitter.com/JhjPOQy8UW

— Lakshmi Subramanian (@lakhinathan) April 18, 2018