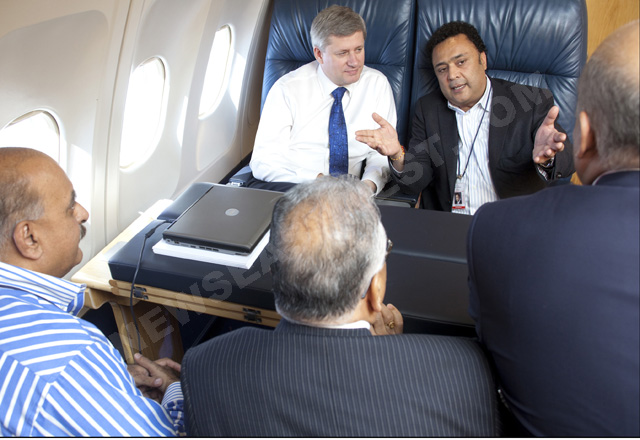 By Gurmukh Singh
TORONTO: If any Punjabi immigrant in North America is living a golden dream, it is Bob Dhillon of Calgary.
This 40-plus Real Estate entrepreneur, who comes from the village of Tallewal near Barnala, has literally been digging gold since the age of 19 when he started his business with his car serving as his on-the-go office.
Today, he is the biggest Indian-origin landlord in North America, with his publicly listed company Mainstreet Equity owning nearly 9,000 units in eight cities across Canada.
Years ago, this driven man said he wanted to be North America's first Sikh billionaire. Today, his company has assets worth over $1.2 billion. 

And during this doom-and-gloom scenario of the last five years when the global meltdown began, Dhillon's business has been on a roll.

"During the last five years, our overall return has been 910 percent, and we are the best performing stock in real estate in this part of the world,'' says Dhillon who joined Canadian Governor-General David Johnston on his official visit to India in Feb this year.
Because of his very high profile in Canadian businesses and his ethnic origins, Dhillon is invariably included in Canadian entourages to India.

"Yeah, I have been part of many official delegations to India. Our bilateral relations and trade are growing. I am also exploring opportunities in India, though Indian laws are still an issue. I have met the Haryana chief minister during the last trip to explore avenues,'' says Dhillon who was born in Japan where his grandfather had gone to do business, though the family later moved to Liberia in Africa and then Calgary in Canada.
Dhillon's unusual immigrant success story can be explained by what shaped this man.
Born in Kobe in Japan, he studied in India at Bishop Cotton School Shimla, lived in Liberia (Africa) and came to Canada when he was 12.

 Here he saw his parents suffer from discrimination. "My mother was fired from her post office job because of racist attitude. That leaves scars on your mind.''
Dhillon says that was the trigger for him to be his own boss. So, at the age of 19, he bought two houses and sold them for a profit of $18,000 after repairs. 

He knew real estate was to be his calling and threw himself into it."I virtually used to live out of my car in those days.''
Not surprisingly, he was a millionaire by the age of 21. 

As he bought and sold real estate worth hundred of millions, Dhillon also managed to squeeze in an MBA degree at the Richard Ivey School of Business.
When Mainstreet had 272 units in its portfolio, he took it public, making it the first Indian-owned company to be listed on the Toronto Stock Exchange in May 2000.

A regular feature in Canadian print and broadcast media, Dhillon has been crowned as the undisputed king of mid-market apartment buildings in this country
.

"Basically, our business model is to buy run-down, under-valued properties, renovate them and take profits,'' says Dhillon.
In that segment, he controls a major portion of real estate in major cities in western Canada.

But there is one dream project that he gets written a lot about: a blue-water island of 2,700 acres in Belize in central America that he bought for a few millions, to build it into an architecturally controlled paradise of resorts, high-end houses, golf courses, and condos for the high-flying and Hollywood celebrities. "Yes, it is coming along nicely,'' says Dhillon.
Because of his commitment to develop Belize, that central American country has appointed him as their honorary consul general in Canada. "I have also written a book on that country and it is titled Business and Retirement Guide to Belize,'' says Dhillon.

 As he concentrates on the booming western part of Canada and expands into the US, Dhillon says he wants to invest in India also.

"I met Haryana chief minister Hooda and other people when I went to India with Canadian prime minister Stephen Harper in 2012. I hope to meet some more people this time,'' says Dhillon who was honoured by Canada with the Diamond Jubilee Medal in  2012.
In April, this Sikh real estate magnate made headlines when he bought a sword belonging to Maharaja Ranjit Singh from the London auction house Mullock.
READ NEXT: Bob Dhillon – the Sikh who became real estate mogul