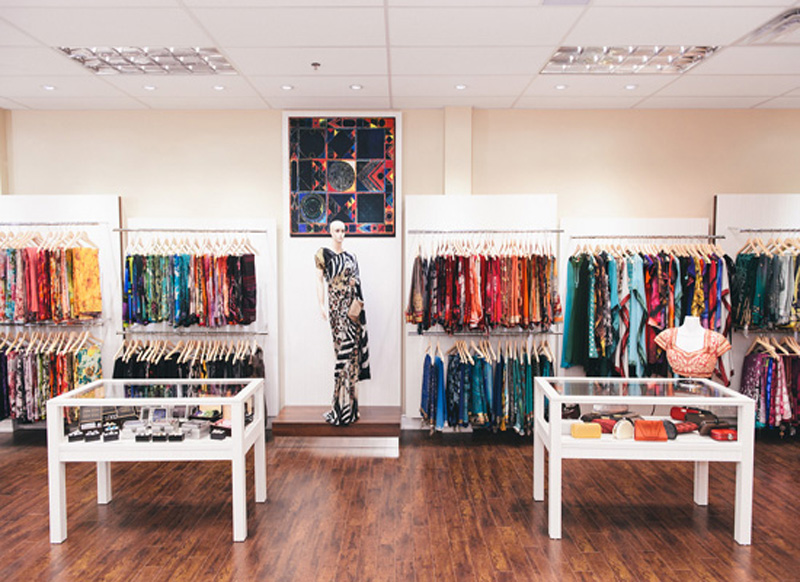 By Nita Balani
TORONTO: Finally, Satya Paul fashion comes to Canada with the opening of a store in Brampton!
I certainly could not believe what I was seeing. Another jewel in the crown for Brampton – the opening of the acclaimed designer Satya Paul's first flagship store in the Western Hemisphere and in particular, in Canada, has certainly made waves in our city.
After all, Paul is one of India's greatest fashion designers and is often referred to  as the "Picasso" of the fashion industry (at least for me and thousands of women) as his works are so avant-garde and well ahead of his times.
The store in Brampton is classy and stylish and at the same time warm, welcoming, and cosy. It has extremely friendly staff. The walls are lined with beautiful saris in all the colours of the rainbow and in a multitude of styles from the modern digital prints on georgettes to iconic embellished work on silks.
There is a suitable Satya Paul piece for every budget. The store has a well-stocked accessories section for those of us who are looking for scarves or clutches or handbags and wallets and even ties, cufflinks and pocket squares for a gift to our significant other.
Satya Paul is well known for his signature flamboyance in the art of creating saris and use of colours and designs and rich textured fabrics. He is well known for reinventing the traditional sari and breathing new life into the sari as a modern and sexy classic piece for the intelligent global woman of today.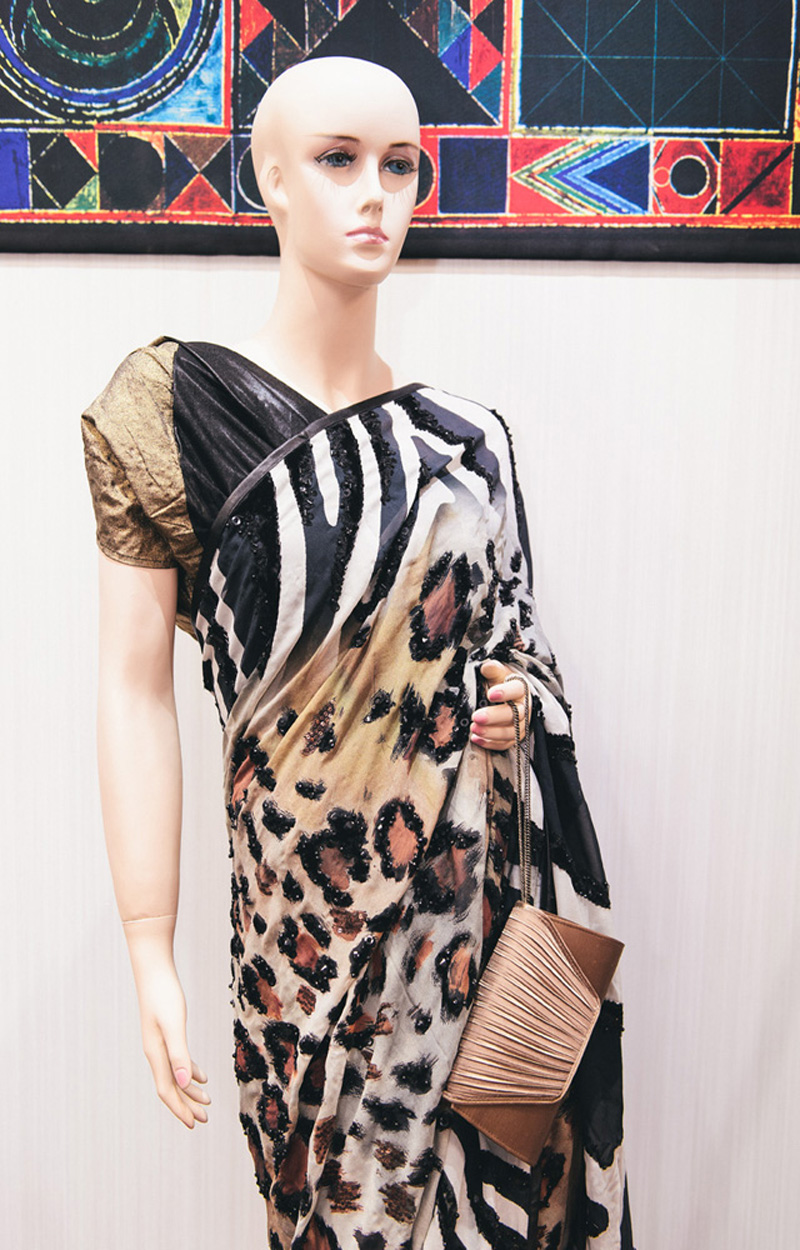 Satya Paul's saris are worn the world over by women who are famous and can be seen on the international red carpet of many premier events. In fact, well-known Canadian actress Lisa Rani Ray, who recently got married, wore a beautiful Satya Paul creation for her wedding as the only Indian ethnic piece she selected for her wedding.
The sari was a stunning piece specially commissioned and designed for her in georgette highlighted with beige gota and patti work.
Over the years several leading actresses and international celebrities have been seen wearing these works of art – Aishwarya Rai Bachchan (an exquisite polka dot sari nobody can forget) Bipasha Basu, Jacqueline Fernandes, Malaika Arora.
Satya Paul fashion's only aim is to creatively dress his muse – the global woman of today. "The designs and styles are for women of intelligence and ambition while never losing sight of their femininity inspiring confidence."
The stunning bridal wear is every bride's dream come true as it includes rich textures in silks, chiffons, and georgettes delicately and intricately worked on and embellished with traditional bead, crystal and handwork coming together in a work of art fit for a queen.
The rich palette of colours ranges from pale blushing pinks to deep rosy reds to bold purples and magentas all finely balanced with gold or silver or jewel tones to create the richness every bride looks for in her outfit without sacrificing sophistication and class. Each of his saris are like diamonds unique and classy and they are highly valued and cherished through the generations. The latest sari collections are in exquisite French lace which melts the heart of even the most hardened women. Delicately feminine and yet strong and sexy and still classical and timeless at the same time
The collections also include salwaar kameezes, anarkalis with churidaars and stunning zardozi and patchwork for evening or cocktail wear. As a natural extension, Satya Paul also has a collection of cocktail dresses and evening gowns for all special occasions. Each outfit can be suitably matched with accessories from clutches to evening bags to complete the look.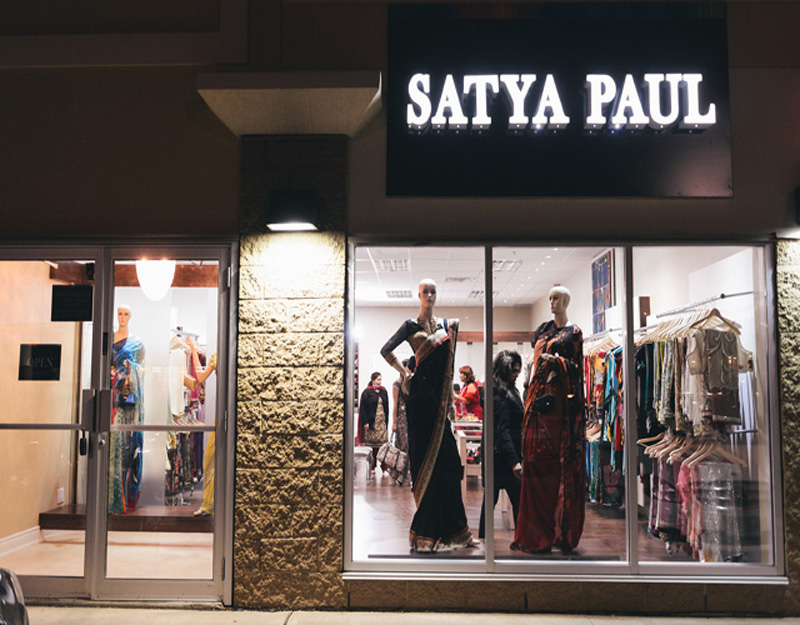 The Spring 2013 collection is all about introducing the retro with a new and modern look. Satya Paul fashion delves into "rich archives of print and colour and harmonizes the two with a futuristic rendering" as Tami Ismail, franchise owner explains, and 'extensive use of metallic and foil finishes with crystal and bead embellishments" can be seen in his latest collection.
I have been following Satya Paul fashion since the 80's have seen him grow over the years as one of India's leading and innovative fashion designers and saw him on the Pune Fashion week 2010 launch his mystical Art of Tarot collection with a fantabulous show stopper modelled by Miss India Universe Ushoshi Sengupta was certainly not to be missed. Satya Paul's collections are truly an inspiration for every woman to look and feel and be global, confident, and sexy.
The boutique is a must see stop in Brampton for all brides-to-be- as well as for all fashionistas looking for that something special to add to their collection and a definite stop for festive shopping to gift to your significant other! We welcome Satya Paul to Toronto and look forward to viewing his latest collections up close and be one of the first to grab them.