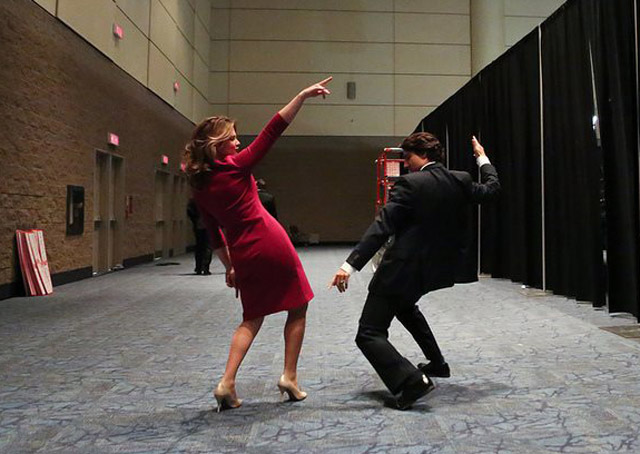 The Canadian Bazaar
TORONTO: Who is currently the world's sexiest First Lady?
Till now, Marcela Tedeschi, the 33-year-old wife of Brazil's 70-year-old President Michel Temer, was the sexiest first lady in the world.
Enter Melania Trump – the 46-year-old wife of US President Donald Trump.
In fact, Melania is a former model who posed nude for British GQ magazine in January 2000 when she was Donald Trump's grilfriend. In that nude shoot on Donald Trump's Boeing 727, Melania Knauss wore handcuffs and wielded a chrome pistol.
So has Melania Trump replaced Brazil's Marcela Tedeschi to become the world's sexiest First Lady?
Here are the six hottest first First Ladies in the world today, with Melania and Marcel Tedeschi being the hottest of the hottest.
1: Melania Trump: US
2: Marcela Tedeschi: Brazil
Brazil is a country of big-butted beauties in the world. After all, this south American country is famous for its BumBum Brazil contest. So not surprisingly, Brazil's first lady Marcela Tedeschi too is a stunner. This 33-year-old beauty is a former Miss Sao Paolo. She met her husband Michel Temer in 2002 at a political event. Temer was an established Congressman at that time. Despite their age gap of 37 years, the two fell for each other and tied the knot in 2003. The couple have been married for 13 years now. Temer became president of Brazil just more than a month ago on August 31, 2016, when his predecessor Dilma Rousseff was impeached and removed from the office.
3: Sophie Gregoire-Trudeau: Canada
Yes, Sophie Gregoire, 40, will be Canada's next First Lady.
A former cultural reporter for Quebec with CTV's etalk, she is also a trained yoga instructor.
Sophie and Justin grew up in the same neighbourhood of Montreal, but their romance started only when they co-hosted a charity ball in 2003. The couple married in May 2005 and now have three children.
4: Angelica Rivera Hurtado: Mexico
Angelica Rivera Hurtado, 46, the sexy wife of Mexico President Enrique Pena Nieto, 49, is a singer, model and actress. The couple married in 2008 when he was the Governor of the State of Mexico. She also has three daughters from her previous marriage.
5: Ri Sol-ju: North Korea
Can you imagine that North Korean dictator Kim Jong-un, 32, has a sexy and graceful wife?  Yes, Ri Sol-ju looks such a stunner. Though very little is known about the couple, an Australian paper reported some time ago that the young North Korean dictator became besotted with her when she was performing at a concert. She is said to between 25 and 30.
Even a dictator likes it hot!
6: Asma al Assad: Syria
Syrian president Bashar al-Assad's British-born wife Asma al Assad is a classic beauty with chiseled features. Vogue magazine once rightly called this 40-year-old beauty as  "a rose in the desert."
A former investment banker with J.P. Morgan, Asma was born to a Syrian family in Britain. She met Assad when he was studying in London to become an eye surgeon. Instead, he ended up casting his eye on this sexy diva. The couple married in June 2000.
READ: The sexiest vegetarian of the world in 2015