The Canadian Bazaar
TORONTO: After the fall of Progressive Conservative leader Patrick Brown over sexual allegations by two women earlier this year, the #metoo movement has led to the fall of another Conservative leader in Ontario.
The Ontario Progressive Conservatives on Monday kicked out MPP Michael Harris for sexting a young intern in 2013.
The father of four, who represents the Kitchener-Conestoga riding at Queen's Park, was informed very early on Saturday, April 7, that he won't be get nominated this time because of the allegations against him by a young intern who said she was the target of his sexual texts when she worked at Queen's Park in 2013.
Later that day, Harris had said that he won't be contesting this time because of eyesight problems.
On Monday, he was kicked out of the caucus after question period.
According to PC caucus leader Lisa Thompson, the allegations against Harris were brought to the party's notice on April 6 in the form of "a written complaint from 2013 by a former intern about how she had been passed over for employment. There was also a series of text messages from the same time period, between the young intern and the MPP.''
The former intern kept these explicit BlackBerry Messenger (BBM) message from the MPP.
The PC caucus leader said the text messages sent by MPP Harris were of a "sexual nature. They included a discussion of potential part-time employment, as well as a request for her to send him photos, an invitation for her to meet with him late that evening, and reference to something that may have previously taken place in his legislative office."
The party's provincial nominations committee (PNC) reviewed the text messages and took a unanimous decision to kick out Harris.
PC leader Doug Ford said in a statement that he was made aware of the allegations against Harris on Friday. "We have a zero-tolerance policy with regard to inappropriate workplace behaviour. This has no place in the PC Party of Ontario," Ford said.
Harris admitted what he calls "an embarrassing, inappropriate BBM conversation with a former employee." But he added that "nothing further ever happened.'' Below is his statement: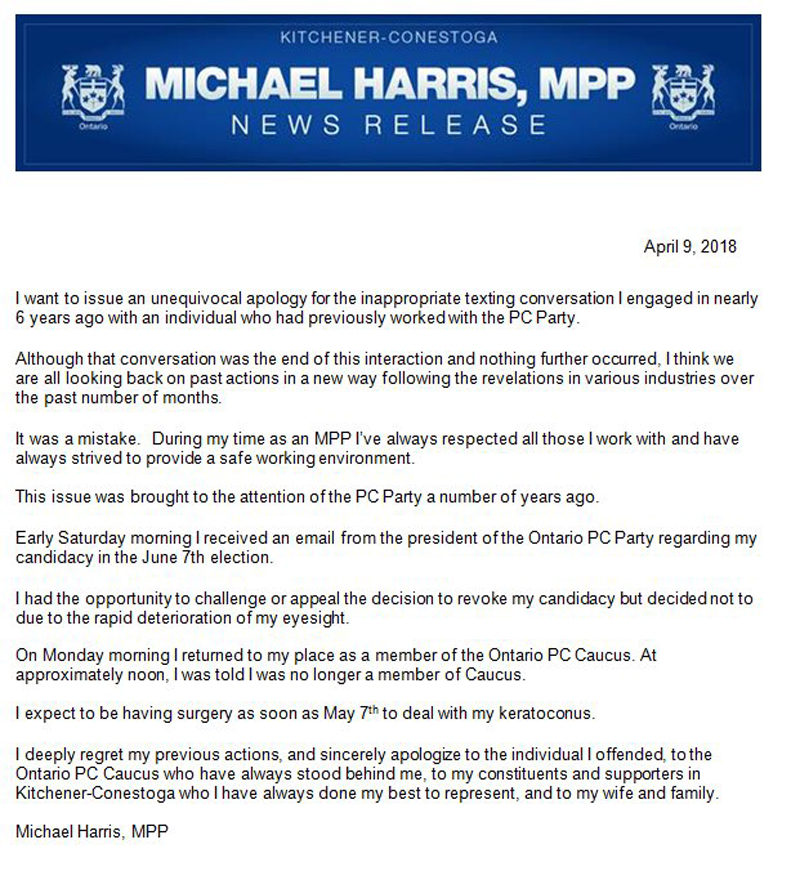 READ NEXT: Patrick Brown says truth will come out