The Canadian Bazaar
TORONTO: Indo-Canadian director Brinda Muralidhar, whose debut film Knot Not! won accolades at international festivals this year, says she is very happy from the response her film got.
An engaging and hilarious Indo-Canadian family drama with gender and cross-cultural conflicts, Knot Not! won the Best Film award in the NRI section of the Delhi International Film Festival.
Knot Not! was an official entry in many film festivals including the Bangalore International Film Festival, the Chhatrapati Shivaji International Film Festival, Pune, the London Independent Film Awards and so on.
In an interview, Brinda Muralidhar describes her debut film as an incredible journey.
Q: Having bagged the best film award at the Delhi International Film Festival, you must be feeling on top of the world.
Of course, it feels incredible! I was in Delhi along with Knot Not! co-producer Gunny Muralidhar. Together we accepted the award on behalf of our entire team.
It was an exciting, yet nerve-wracking experience for us. Along with the local audience, many international filmmakers attended the Delhi screening. We were very happy that Mr. Matt Friesen, head of public affairs at the Canadian High Commission in India, was also there.  



The film was applauded for its humorous take on a serious subject. Every department got great reviews, from story, screenplay, acting to music to technicality. They could not believe that everyone in this film was a first timer! We couldn't have asked for more.
Since the film's Delhi screening, many interesting channels have opened up for Knot Not! Alongside promoting Knot Not!, I am excited to have started talks with few prospective collaborators for my next two projects that will again be Indo-Canadian stories.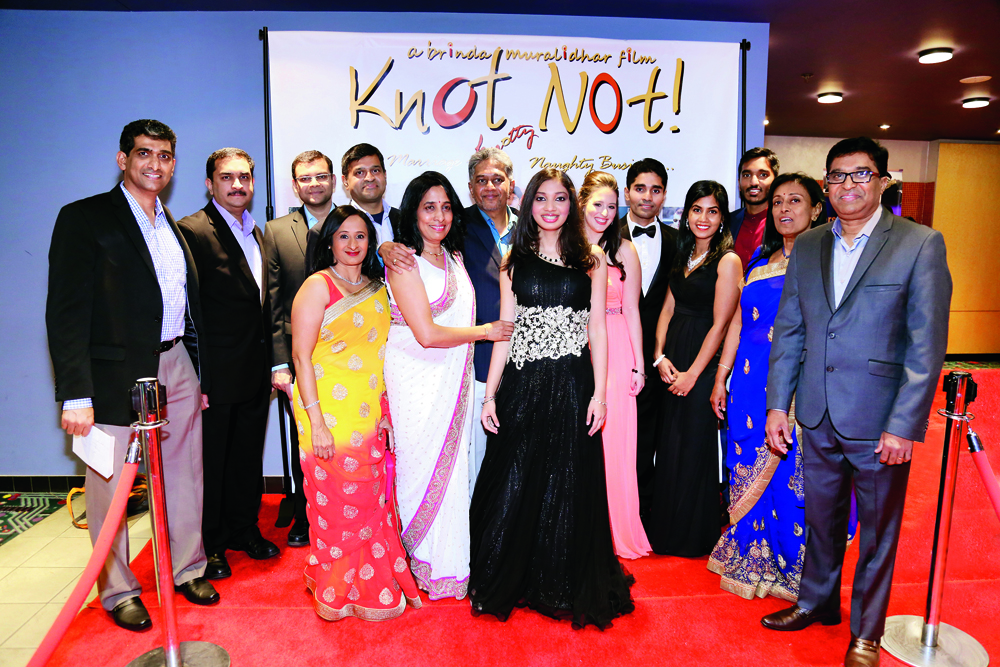 Q: You have theatre/drama background. When did you get interested in drama/theatre?
Stage/theatre/drama have always been a major part of my life.  My late father M.V. Ramachandra Rao was a writer-director. His inspiration was his older brother M.V. Narayana Rao who was a professional stage artist. Their passion for stage and cinema got everyone in our family involved in the art in one way or the other.
A very big chunk of my childhood was spent watching my father conduct rehearsals and those are my cherished memories. My sister Vatsala Narayan studied drama and I used to accompany her for her rehearsals. Later, during my school days one of my teachers introduced me to Samudaya, a progressive theatre group.  



Although it started as a hobby, theatre became my passion. I was also a drama artist at All India Radio, Mysore.
Q:  You say your husband complements you in your pursuit of theatre and cinema.
Yes, it was the theatre that brought us together!! I met Murali the very first day I went to audition for Samudaya production of Bertolt Brecht's 'Good Woman of Shezuwan'. I was thrilled when I bagged the protagonist role.
Well, Murali was the quirkiest actor I had ever met. He was famous for creating most outrageous and out-of-the-box moments out of any character he played. Our entire team used to wait for what hilarious moments he would spring up, especially in a serious situation in a play. 
 


The rehearsals were held every evening from 7pm to 9:30pm for 3-4 months on the campus of Sharada Vilas College in Mysore. There were only couple of girls in a team of 30-40 boys. They used to make sure that the girls reached home safely. 


Murali was assigned to drop me back home after the rehearsals. I used to be on my bicycle and he would accompany me on his Luna Moped. It was hilarious for me and annoying for him because, on a hilly road, his rattling Luna would be dragging while I used to zoom past him on my bicycle and tease him to catch me up!  

We both worked together on stage for a couple of years before deciding to tie the knot.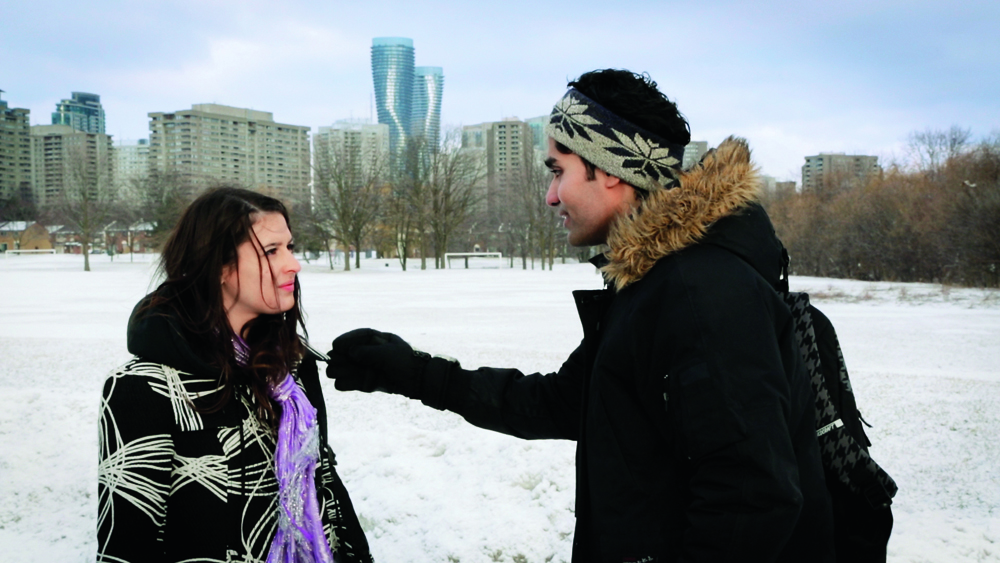 Q: You worked in Dubai for some time. Did you follow theatre there?
We were in Dubai for about five years. It was good in terms of learning to live a structured life and getting some economic stability.  But artistically, it was as dry as the desert sand. In the circles we were in, we did not find a suitable platform to pursue theatre.
Q: When and why did you move to Canada?
Murali always wanted to move to North America to pursue his IT career. But I was very reluctant because of two reasons. One, my parents were getting old and I wanted to be with them. Secondly, I missed our theatre life. Moving to an unknown country and having to start everything from scratch, with no hope of ever getting back on stage was a terrifying prospect for me. 



Well, Murali from his research, had found out that Canada's immigration policy was very conducive to bringing our families. But I insisted that we go back to Mysore and pursue our halted acting careers. After months of debate, he finally said he had studied the art scenario in Canada and that we could do a lot of theatre here. That is when I knew how determined he was to move to Canada.
Well, I laughed it off at that time. But I'm so glad we came to the right place, at the right time.
Q: How did you start theatre in Canada?
Well, the credit goes to Kannada Sangha Toronto (KST) that we call our home away from home. It is a socio-cultural organisation of people from Karnataka. The KST was our first stage and our Kannada friends here were our first audience. 

Our association with KST started within a month of moving to Canada. Our first stage production was a Punjabi bhangra dance in Kannada language.
Then we went on to write, direct and produce plays and musicals not only for KST, but also for Rangmanch Canada, SAWITRI theatre group and so on.  



I also worked under Canadian director Sally Jones of Rasik Arts, whose contribution to Indian theatre in Canada has been immense.
Q: You formed your own non-profit to promote theatre/drama among the Kannada community in the Greater Toronto Area (GTA). Why?
Well, our not-for-profit theatre company, KalaaRanga Performing Arts, is a progression of our stage work. While there were many schools and organizations for music and dance, we did not find any specific platform for stage artists. Murali and I soon realized the need to create such a platform. 

This was the reason why we had moved to Canada, and it was how we could pay tribute to my father and our mentor Samudaya.
We formed KalaaRanga to provide a platform for aspiring artists regardless of their experience or background. I have trained numerous artists, wrote, directed and produced over a dozen productions from one-act quirky plays to intense dramas to mega Bollywood musicals in Kannada, Hindi and English. 



Just before I took up Knot Not!, I was working on a pun-filled political satire, hoping to produce it in at least five languages with as many teams. If I had done that, I would have been the first one to talk about the impact of `The Topi and the Chair', much before the the Topi became a power emblem in Indian politics!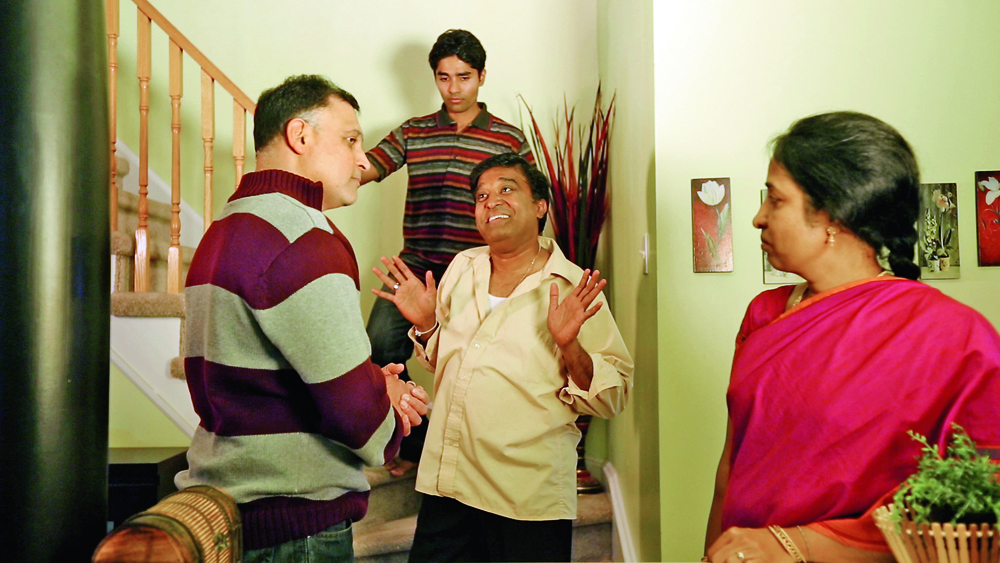 Q: You have said the idea for Knot Not! came from your husband Murali. And he also gave you the ultimatum – either his way or the highway. Right?
Oh yeah! Murali has a quirky brain. If you have seen Knot Not!, you will find that there is a very funny yet, defining moment in the film where the audience roars with laughter. They are awestruck by the sudden twist in the film. That moment is the one he enacted for me. I too laughed my head off. That tiny act made me stitch the story of Knot Not! 



About Murali's ultimatum! Around 2006, we got associated with local TV/film productions in the GTA. I did a few commercials, short films, and a documentary. I helped local filmmakers with scripts, casting, production design, editing, etc. I loved editing, it was a new craft. Beyond that, I did not think I had it in me to make a full-length feature film. 

But Murali kept insisting that I could do it.
For me, stage is not just a passion, it is a way of life. I was happy even if I was doing a small stage production. So, in 2012, while I was working on my play 'The Topi and The Chair', something snapped in Murali. He said he was no longer interested in supporting me with the play. I was shocked. But since I was working with two writers to translate it into Tamil and Hindi, I kept working on it.
Then, finally on the day of our wedding anniversary in October 2012, Murali gave me a very big jolt. He said there was no point in us living together, and that he was going to walk out of our marriage unless I took to film-making right away.  Well, I knew he was not serious, but I understood the purpose of his outburst. I put my play aside, and in December 2012, we sent out audition call for artists. And that was the start of the Knot Not!
Q: How did you develop it into a full-fledged film?
Let us go back to 2009. As we started discussing the Murali's inspiring act of 1 minute, I found that he had in his mind a very deep, very poignant subject. I was instantly drawn to it and started to write. I called it 'Venki'. It had just five characters. Even the two female leads Patricia and Lakshmi were not in it. We wanted to make a short film of 20 minutes. But we did not get the right cast, so it was shelved. 

But when I took to filmmaking in 2012, this was my first choice. As we progressed, it was going to be 45 minutes long.
But the layered storyline and the depth of the characters led me to realize that I needed more time to tell a meaningful story. Our cast and crew supported me.

 
Bala Ramanathan, who plays Srinivas Iyer, the main antagonist in Knot Not!, strongly insisted that we go for a full-length feature.
Q: How did you settle on this name – Knot Not!?
Frankly speaking, I had no idea what to call this complex story. I had to come up with a catchy title, something that audiences would take a second look at.  Luckily, everyone likes the title!
In many unhappy families, for the sake of children, one of the spouses tolerates everything, to keep the marriage from breaking. They allow themselves to be tied to the KNOT and follow the marital rules diligently, while the other simply does NOT give a damn. Hence, the title Knot Not!
Q: How did you choose the cast for the film?
Most of them applied through Mandy.com, some were sourced by our friend and zealous community leader Jay Srinivasan.  Some are our KalaaRanga artists.  There were many talented and passionate artists. I just could not say no to some of them.
Although I had written only 5-7 characters, the rest of the characters were inspired by the actors themselves, and I ended up writing 14 characters. I myself did not plan to be in front of the camera, so I was the last one to audition and get included.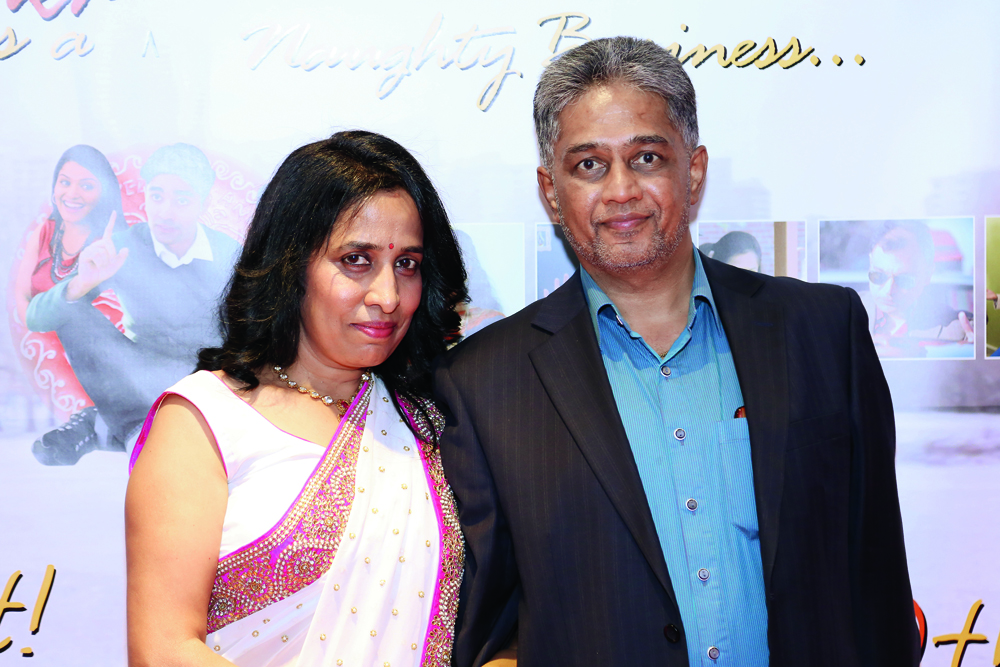 Q: How long did it take to make the film?
If I were to do the movie today, with the lessons I have learnt, it may take me just about 6-8 months. All of us were first timers, including me as the writer and director. We had acting workshops, rigorous dialogue rehearsals and on-camera rehearsals. 


We were shooting only on weekends. With all that, we managed to shoot 80 percent of the film in five months.
But then, one of our lead actors had to move to the US for work and things did not work out in terms of schedule, so it was back to the auditions. Hats off to the rest of the cast who gave their time to re-shoot the whole thing.
After the filming was completed, we found that our audio was not good in many parts. So, with not enough finances to engage a studio, we built the audio-booth ourselves and dubbed the entire film!. That added considerable time. So in all, it took us well over three years to complete the movie since we started filming it in May 2013.
Q: Any high emotional moments of the movie?
As our audiences have pointed out, there are so many moments that have a great impact emotionally. My favourite moments? Well, it will be the beautiful chemistry between Bhaskar and Lakshmi as father and daughter. I love their horoscope scene together.
It is a very funny scene that gets highly emotional in the end. It reminds me of my dad who did everything to cheer me up whenever he sensed I was in low spirits. He took great care to comfort me in a goofy kind of way just like Knot Not!'s Bhaskar does for Lakshmi. Their scenes are my favourite moments. Then the finale, with its many twists and turns, always touches me.
Q: Any final thoughts?
I hope Knot Not! will continue its journey, and reach far and wide globally, entertain the audience and make them feel it was worth their time and bang for their buck!
Finally, I have to thank two people who are instrumental in setting me up on the path of art!
Well, by virtue of my DNA and upbringing, I became an actor. For that I thank my father. For becoming a writer, director, filmmaker I give full credit to my hubby Murali. He was the one who recognized those talents in me and insisted that I pursue it. And here I am…