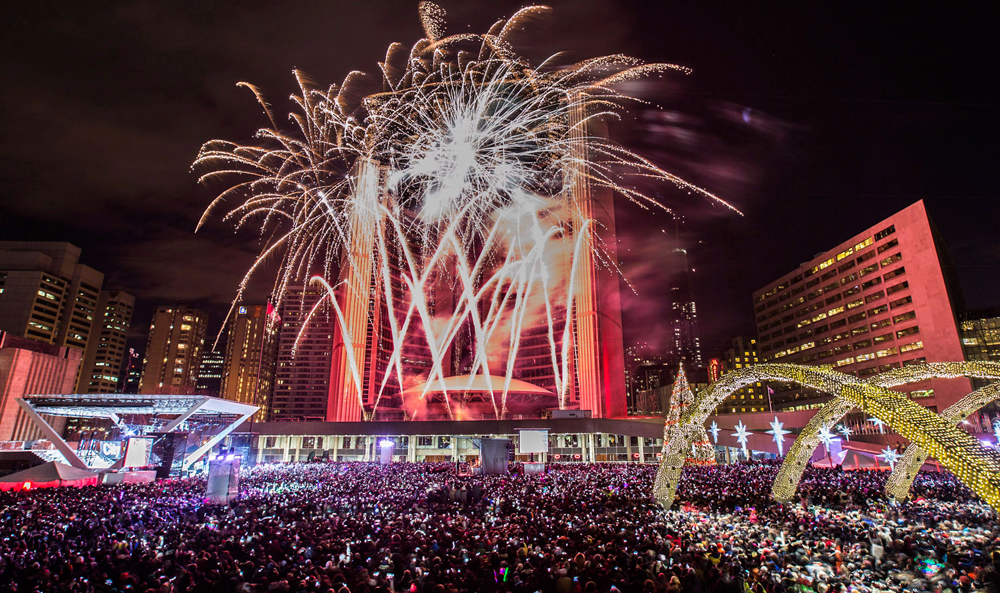 News East West
TORONTO: Toronto New Year celebrations at Nathan Phillips Square have been curtailed because of record-breaking extreme cold weather conditions.
The city says its New Year's Eve event will begin shortly before midnight with a live DJ set, followed by a countdown to the fireworks display at midnight, as planned. It will continue to monitor weather conditions over the next 48 hours and make further adjustments, if necessary.
The Canadian pyrotechnic leader Group Fiatlux-Ampleman Pyro or GFA Pyro, which a coast to coast Canadian company with headquarters in Montreal, will perform the spectacular fireworks display for New Year's Eve.
For the convenience of New Year party-goers, in addition to the regular all-night Blue Night Network transit service, the Toronto Transit Commission is extending its all-night subway service on all subway lines (Lines 1, 2, 3 and 4) to 4 a.m. on January 1.
TTC service will be free from 7 p.m. on December 31 to 7 a.m. on January 1.
Osgoode Subway Station is recommended for arriving to and departing from Nathan Phillips Square.
The following roads will be closed as of 6 p.m. on December 31:
• Queen Street West between University Avenue and Yonge Street
• Bay Street between Dundas Street West and Richmond Street West
• Hagerman Street between Elizabeth Street and Bay Street
• Elizabeth Street between Dundas Street West and Hagerman Street
• Albert Street between Bay Street and James Street
• James Street between Albert Street and Queen Street West
• York Street between Queen Street West and Richmond Street West
WHAT'S OPEN ON NEW YEAR'S DAY – January 1:
TTC. Mississauga Transit, Brampton Transit, GO Transit will run on a reduced Sunday schedule.
CN Tower – from 10am to 10.30pm.
Toronto Zoo – 9.30am to 4.30pm.
Royal Ontario Museum – 10am to 7pm.
Art Gallery of Ontario – from 10.30am to 4pm.
Cinema theatres.
Ripley's Aquarium – 9am to 11pm.
Square One Shopping Centre – 11am to 6pm.
Toronto Eaten Centre – 12pm to 5pm.
Pacific Mall – 11am to 8pm.
CF Markville – 11am to 6pm.
Hillcrest Mall – from 11am to 6pm.
Vaughan Mills – from 10am to 7pm.
Yorkville Village – from 10am to 6pm.
Mississauga Chinese Centre.
Bramalea City Centre – from 11am to 6pm.
Most Shoppers Drug Marts in Mississauga.
READ NEXT: Cute white rhino baby born at Toronto Zoo