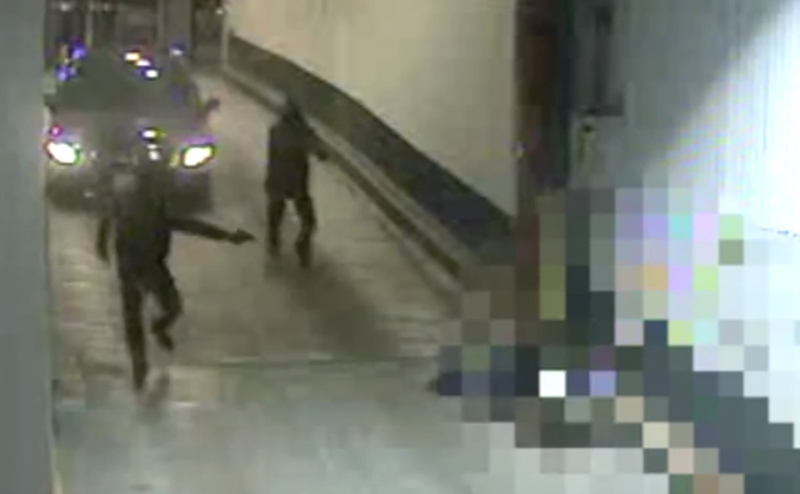 TORONTO: Toronto Police are looking for three men who shot dead a 28-year-old man in the ramp of a parking garage in downtown Toronto.
Releasing the shocking video of the crime which took place on May 20 just before 9 pm, police said the victim Jaiden Jackson had left Pick 6ix restaurant with a female acquaintance and was walking along Wellington St. West when a black Honda Civic approached them.
Immediately upon seeing the car, Jackson ran into a parking garage ramp at 18 Wellington St. West. Two of the men in the car chased him on foot.
Halfway down the ramp he falls. Both men on foot, as well as a man in the car, fired on Jackson. He sustained 20 gunshot wounds.
"We have three extremely dangerous individuals out in the community," said Detective-Sergeant Gary Giroux.
"They (suspects) must have been aware of the security video in the area but don't seem much concerned about it."
He said investigators are still poring over hours and hours of high-quality security video in the downtown core, including from Pick 6ix, and are working to enhance images of the vehicle's licence plate. They have also received cooperation from the woman who had been with Jackson.
Giroux said the four-door black Honda Civic with a sunroof is likely between a 2010 to 2012 model.
"We would also like to know whether anyone in the community knows of any problems Mr. Jackson was having," Giroux said.
The video has been pixelated not to show the victim being shot out of respect for his family. Here is the video of the shooting released by police: