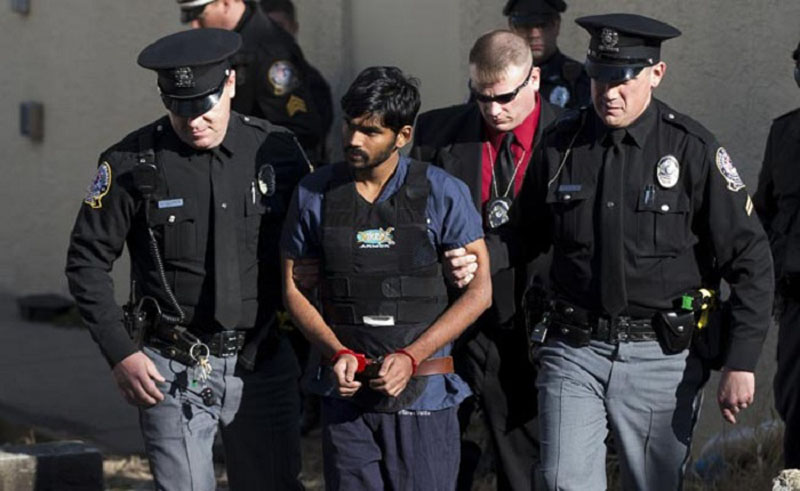 News East West
Indian American techie Raghunandan Yandamuri, who has been sentenced to death for killing two people, will be executed by lethal injection on Feb 23, 2018. If the sentence is carried out, he will become the first Indian American to be executed.
Raghunandan Yandamuri, 32, who hails from Andhra Pradesh, was sentenced to death in Oct 14, 2014, for killing his neighbours 61-year-old Satyavathi Venna and her 10-month-old grand-daughter Saanvi Venna in King of Prussia in Montgomery County of Pennsylvania in 2012.
Yandamuri, who came to the US on H-IB visa in 2010, kidnapped the baby for ransom to pay his $50,000 gambling debt.
Yandamuri and his wife Komali were friends with the victims who lived in the same apartment building in King of Prussia.
Yandamuri's wife Komali, who was pregnant at the time, had just come to the US from Guntur after marrying him.
During the trial, Yandamuri narrated how he entered the Vennas' apartment on the morning of Oct. 24, 2012, while baby Saanvi's parents – Venkata Konda Siva Venna and Latha Chenchu Punuru Venna – were away at work. He stabbed 61-year-old Satyavathi and kidnapped the 10-month baby with the intention of getting $50,000 in ransom from her parents. He also stole some jewelry and left a ransom note.
The ransom note read, "Shiva your daughter has been kidnapped. If you report it to cops your daughter will be cut into pieces and found dead."
The note added that the baby would be released only after her mother Latha paid him a ransom of $50,000 at a nearby restaurant that same evening.
After kidnapping the baby, he gagged her mouth with a rag piece and smuggled her out in a suitcase. The suitcase was left in a basement gym in the apartment complex where the baby died because of suffocation.
When police and the local community launched search for the missing baby, Yandamuri too joined them and even distributed flyers about the missing baby.
Police got clues about the murder from the ransom note which addressed the baby's parents by their nicknames. Police now knew that only close friends and acquaintances could know their nicknames.
Yandamuri and his wife, who knew the victims, became suspects.
Four days after the crime, police found Yandamuri at a gambling casino in the nearby Valley Forge Casino Resort.
Initially, Yandamuri denied his involvement in the crime, saying that he was at home having lunch with his wife at the time of the crime.
But his wife, who was also questioned by another police officer at her home at the same time, said that her husband was not home at that time. She told cops that she had asked for his permission to have lunch as he was away at that time.
Yandamuri admitted to his crime after a few hours of questioning and told the cops where the body of the missing baby was.
In his initial confession, he told the cops that he was in debt of over US $50,000 because of gambling at various casinos in San Jose in northern California. He said he had also made cash transactions of US $26,268 using his nine credit cards just within one year.
His court-appointed attorney said at the time, "The statement filed before US Bankruptcy Court, Northern District of California on March 6, 2012, shows that he was a big-time gambler and had suffered huge losses of over $50,0000. In order to overcome these mounting debts, he tried to kidnap Saanvi for a ransom.''
In his initial confession, Yandamuri also told the investigators that he stabbed the grandmother when she tried to protect the baby. He then stuffed cloth in the baby's mouth and took her out in a suitcase. He left the suitcase in a bathroom of the apartment complex where the baby died of suffocation.
But he later recanted his confession, saying that police got it out of him under force and said that two other men had committed the crime.
The killer had a tragic upbringing because he lost his policeman father to Maoist violence in Andhra Pradesh when he was a little boy.
Yandamuri's mother, Padmavathi Yandamuri, narrated this during her son's sentencing. The mother said her son had a traumatic childhood because his father Surendranath Yandamuri, a policeman, was killed by Maoists in 1997. She said her son never got over his father's death and twice tried to commit suicide – once by drinking kerosene at the age of 11.
A clinical psychologist also confirmed during the trial that Yandamuri was the victim of bi-polar depression and psychotic thoughts.
As for the victim family, the 10-month baby victim was their first child. The baby's grandmother had come from India to see her and was supposed to return in January 2013. But she never returned to India.
However, Yandamuri may be spared the lethal injection for the time being as the Pennsylvania Governor put a moratorium on the death sentence in 2015.
It is a tragic story of Raghunandan Yandamuri and the victim family.
READ NEXT: Sikh who was called terrorist becomes mayor of Hoboken city in US