The Canadian Bazaar
TORONTO: Downplaying what he called the "distractions around the visit of Prime Minister Trudeau to India,'' Indian high commissioner Vikas Swarup says the visit was an "unqualified success.''
Speaking at a reception for Indian minister for mines Narendra Singh Tomar, who is leading the Indian delegation for the PDAC International Convention here, on Monday, the Indian high commissioner said the language in the joint statement issued after Trudeau's meeting with Prime Minister Narendra Modi showed their strong resolve to deepen the relationship.
Trudeau was warmly received by the Indian Prime Minister and the two leaders had a great meeting, said Swarup at the reception hosted by the Indian consulate and the Indo-Canada Chamber of Commerce (ICCC).
Calling Trudeau's visit an `unqualified success,'' Swarup said the arrival of India's minister for mines in Canada within a week of Trudeau's trip is a "manifestation of the seriousness with which India views its relations with Canada. This shows how serious we are about developing relations with Canada.''
Swarup said, "It is a complementary relationship and the joint statement is the blueprint to bring to fruition the vision that the two prime ministers have for the relationship.''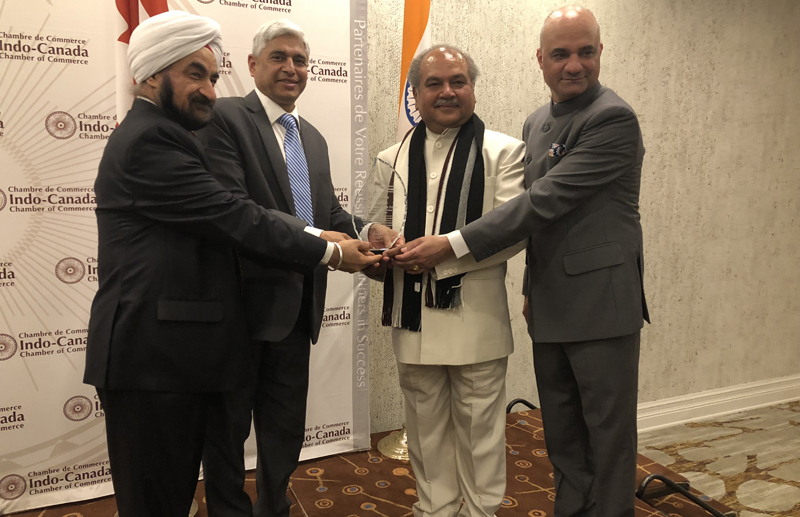 Minister Narendra Singh Tomar, who met his Canadian counterparts, said, "Just one week after Trudeau's visit, my coming to PDAC shows India's commitment to its relationship with Canada.''
Highlighting the 100 percent FDI allowed in the Indian mining sector, the minister said, "India has an area of 800,000 sq. km with a huge potential for mining, but only a very small area has been mined. India has put geological data in public domain to show the potential of mining in the country.''
Tomar lauded the role of the Indo-Canada Chamber of Commerce for promoting not only business relations but also people–to-people, political and cultural relations between India and Canada.
ICCC president Kanwar Dhanjal, who led a business delegation to India a couple of months ago and was also in India as part of Trudeau's delegation, said the visit of the Indian minister confirms the momentum in the deepening India-Canada relationship.
Indian consul general Dinesh Bhatia, who welcomed the Indian delegation to Toronto said, Canada is a world leader in mining and the top source of 13 minerals, including potash, nickle, uranium and tungsten, which are very crucial for India.
RELATED NEWS: Big ideas for small businesses at ICCC SME Expo-2017