Ankita Kumar-Ratta was born in Canada, but wherever she went in the world, people associated her with India. Even so, she could never represent India properly. She barely knew India.
When Ankita was 22, after finishing her degree in theatre studies, her mother did not pressure her to go to Law School, become a doctor, or get married. Instead, she told her to go to India and learn about her history. Undercover Indian is an autobiographical work in the form of a yoga class that challenges the notion of what it means to be civilized and modern, to be from a country that is often referred to as "developing" and the "third world" in one moment, and to be in the ice-cold and excessively polite Canada in the next. Audience members come to the show as though they are coming to a yoga class, and are invited to move through various asanas as Ankita takes them physically and emotionally through her story. Thought-provoking, hilarious and witty, Undercover Indian is Ankita's deeply personal story about learning to look at North American culture through a new lens, and, ultimately, about the beauty of finding home in two places.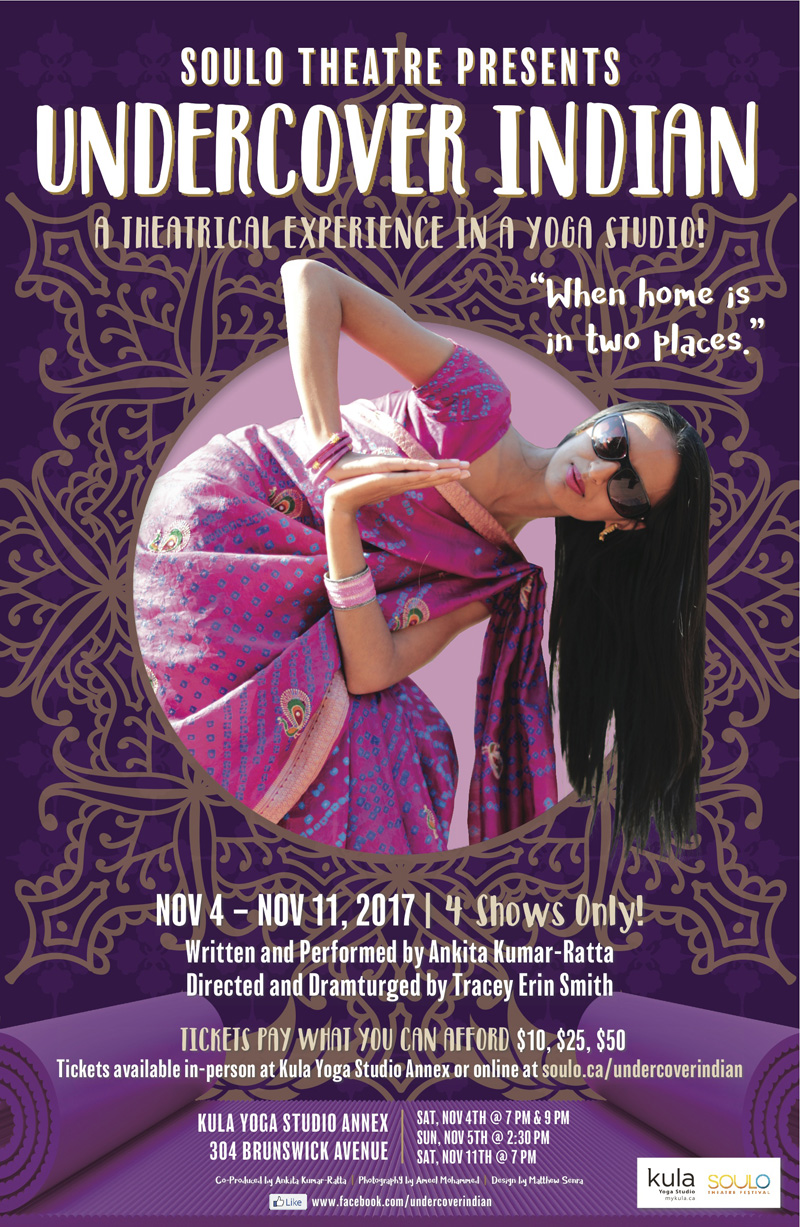 This piece, written by Ankita's elder sister Amrita, describes Undercover Indian as a window into her younger sister's soul. So many of us in Canada feel connected to more than one place, and those of us who have had the experience of moving physically between places know that with the joy of settling into a new place often comes a trauma that we speak very little about. Amrita picks up on this theme in her writing about this unique show that is both heartfelt and humorous. Undercover Indian chronicles one young woman's journey of belonging and finding home, and this piece speaks to a universal search for 'home' and 'belonging' at a time when these two notions are hotly contested.
The show, co-produced by Ankita and Soulo Theatre, is immersive and site-specific, taking place at Kula Annex yoga studio in downtown Toronto on November 4, 5, and 11.
The show will also be performed at IIT (Indian Institute of Technology)'s Mood Indigo Festival in Mumbai, India in December 2017. It received a workshop presentation at Soulpepper Theatre Company as part of the Shen Development Series in August 2017.
The playwright and performer, Ankita Kumar-Ratta, is a theatre artist, dancer and arts educator based in Toronto. Undercover Indian is her artistic debut as a young, emerging voice in Toronto's theatre scene. The show was directed and dramaturged by Tracey Erin Smith, the Artistic Director of Soulo Theatre.