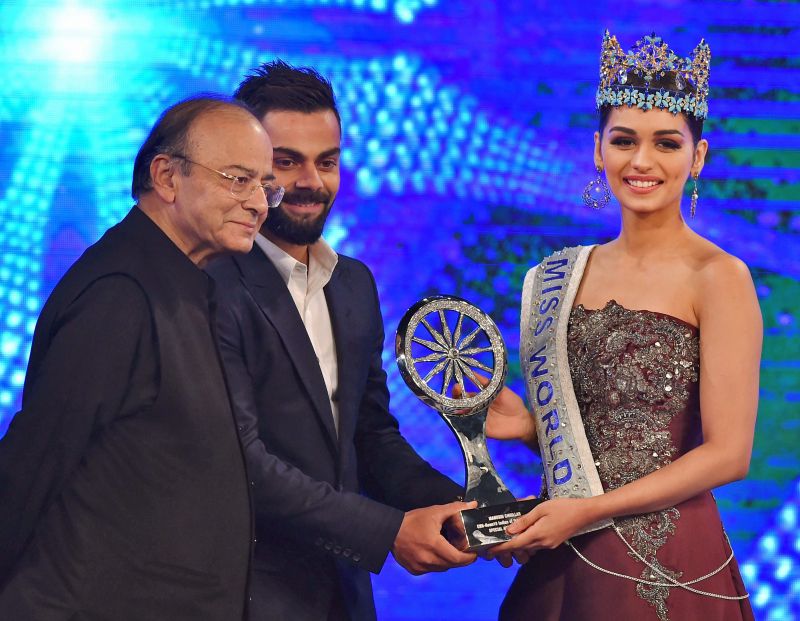 News East West
NEW DELHI: What will happen if India's top beauty and cricketer come together on a platform?
The world is bound to stop and notice.
This happened at the CNN-IBN Indian of the Year 2017 awards when the just crowned Miss World Manushi Chhillar, 19, and Indian cricket captain Virat Kohli, 29, came together.
The beauty threw this question Kohli: "You are one of the best batsmen in the world today and you've been such an inspiration. You've really given back to society. But there are a lot of young people who draw inspiration from you. How would you like to give back for children, especially in the world of cricket?"
What Kohli said in reply warmed millions of hearts.
Kohli said, "Well, what's very important to understand is when you do what you do and you express yourself on the field, it has to be genuine and it has to be from the heart. Otherwise, if people find out that you're trying to pretend, then they can never connect to you. I've never tried to be anyone else. I've always been myself; I always mention that people had a lot of issues with how I was, how I conducted myself, but I had never had any problems with that.''
The Indian captain said he has not changed himself just for the sake of others.
"The moment I started to think that I need to change, is the only time I changed. Everyone has to go through a mutual process to be where they get to in life to become more mature. What's very important to understand is one should never lose their own identity, character and personality because if you try to be someone else you can never succeed, and you can never inspire others.''
Miss World Manushi Chhillar was very impressed.
READ NEXT: Why Manushi Chhillar was the right choice for Miss World