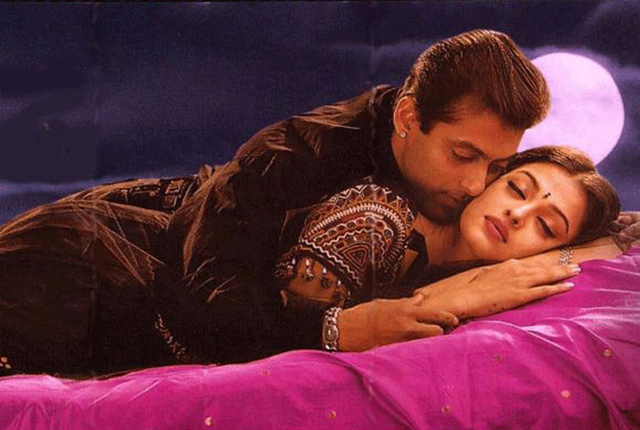 By Subhash K Jha
Among the many things you want to know about Salman Khan, one is why he refuses to do kissing scenes in his films. Read on…
1. Salman's first co-star was Rekha in Biwi Ho To Aisi. In the film he played her devar and is the diva's real-life neigbour. Years later Salman participated in a devar song Didi tera devar deewana that was the rage.
2. Salman is very shy of women and hides his shyness under truckloads of brashness and bravado. Respects women to the extent that he refuses to do kissing scenes with his co-stars on the screen.
3. Salman is very committed in his relationships. Wanted nothing short of marriage with all his girlfriends from Somy Ali to Sangeeta Bijalani to Aishwarya Rai to Katrina Kaif.
4. Salman and Shah Rukh were best friends for some years, so much so that Shah Rukh and Gauri had once gone to Salman's home with a marriage proposal on behalf of a top actress with whom Salman was involved.
5. Salman's favourite co-star was Karisma Kapoor. They were buddies. And when he was first offered to pair with Kareena, Salman was shy as he thought of her as a bachi (girl). It took a whole lot of convincing before he agreed to do his first film with Kareena Kyun Ki directed by Priyadarshan. It was a disaster.
6. Salman and Kareena were the original choice for Sanjay Leela Bhansali's Bajiarao Mastani. Ironically, the trailer of Bajirao Mastani with Ranveer Singh and Deepika Padukone in the lead, is now being attached to the new Salman-Kareena starrer Bajrangi Bhaijaan.
7. While Salman loves the idea of being paired with Kareena and more lately Jacqueline Fernandez, he won't do a film opposite Priyanka Chopra. "Chahe woh kuchh bhi kar le," says a close friend of Salman. Katrina too is now on his no-no list.
8. In his entire career, Salman has done only one film with a firangi co-star Ali Larter. The film Marigold was a disaster.
9. All of Salman's films with debutant heroines have under-performed at the box-office: Sneha Ullal in Lucky, Daisy Shah in Jai Ho, and Sonam Kapoor in Saawariya.
10. Salman's next film Sultan won't co-star one of the established actresses. But it won't star a newcomer either.
WATCH: Kangana Ranaut wooing Salman Khan