The Canadian Bazaar
BRAMPTON: The annual Holi gala of the William Osler Foundation at the Pearson Convention Centre in Brampton on Saturday raised over $555,000 – a new record for the annual event.
The William Osler Foundation runs three hospitals – Brampton Civic, Etobicoke General  and Peel Memorial.
The event was a riot of colour as guests showed up dressed in colourful clothes as they enjoyed gourmet food.
Punjabi bhangra king Malkit Singh was on hand to entertain the gathering. Other performers included the Shiamak Davar Dance troop.
Ken Mayhew, President and CEO of the Osler Foundation, thanked the people for their generous contribution.
"We are incredibly grateful for the outpouring of support for our hospitals by Holi Gala guests, committee members, corporate sponsors and community leaders," he said.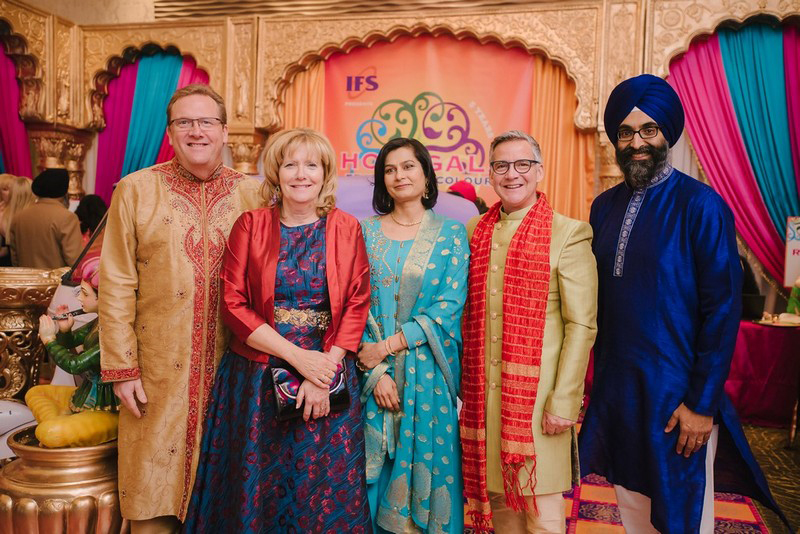 Funds raised at this year's event will go to support cardiac care at Osler hospitals, said a statement by the Osler Foundation.
The Osler hospitals serve about 2,000 cardiac patients each year. Brampton has a huge south Asian population which suffers from one of the highest incidence of cardiac arrest in Ontario.
Gaurav Sharma narrated how the care provided by Osler when he suffered a heart attack at age 39, saved his life.
Sharma said, "When I was told I had a massive heart attack, my first thought was, 'How's that possible? I am too young to have one'. If it hadn't been for the wonderful care I received from Osler's cardiovascular department, I wouldn't be here today to celebrate my daughter's fifth birthday. I am forever grateful."
Paul Bhullar, CEO of the main sponsor Interstate Freight Systems, said, "The Holi gala is an incredible evening showcasing the vibrancy and generous spirit of our community. IFS is a proud supporter of this event and all it does to help the people of Brampton and Etobicoke."
The event was sponsored by Raymond James LTD, TD, Scotiabank, BMO, CIBC, RBC, Air Canada, In n Out Car Wash, Fresenius Medical Care Canada, Mentor College, Pfizer, Maritime-Ontario Freight Lines and Janssen.