By Balwant Sanghera
VANCOUVER: Summer is just around the corner. A lot of British Columbians may already be in the process of planning a trip during the summer.
But the low Canadian dollar is a major deterrent to travelling outside the country. This is more so in case of travelling to the U.S. or any holiday destinations overseas. Often, we overlook some wonderful places to visit right here in our own backyard.
"Guaranteed Rugged", Lillooet is one such place. It is less than four hours' drive from Vancouver. A circuitous route provides the visitor with unique view. A visitor can travel to Lillooet by taking Highway Number1 through Hope, Yale, Boston Bar and Lytton. The Fraser canyon offers a very impressive view of the Fraser River canyon, the mountains and a lot more. The return visit through a very scenic Duffy Lake route through Pemberton, Whistler and Squamish is amazing and beautiful.
Lillooet is a historic town. It is mile O of the Gold Rush Trail to Baskerville. During the gold rush days of the 1850s, Lillooet was a flourishing community. It has a very rich First Nations heritage, gold rush and mining history. This area's unspoiled mountains, valleys and lakes are a delight for the visitors to enjoy.
The Lillooet area was home to the jade mine. It has been reported that in the late 1950s and early 1960s, Lillooet shipped more nephrite jade worldwide than any other place on earth. Lillooet's Golden Mile of History takes one from Bridge of 23 Camels to CN Railway Station, Lillooet Museum, Mile 0 Cairn, The Mining Rocks, The Miyazaki House, Town Hall, Hangman's Tree Park, The Camel Barn, Ma Murray's Old Newspaper Office and the Old Bridge. This Golden Mile through downtown Lillooet gives the visitor an impressive view of this community's historic past.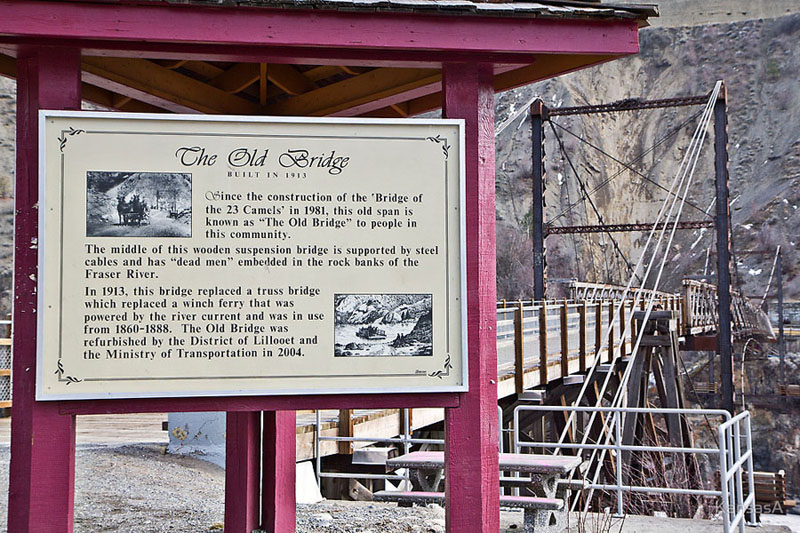 As a member of Lillooet's Municipal Council from the mid-1970s to 1990, I had the privilege of spearheading a campaign to save the Old Bridge from demolition. This historic structure, built in 1911, is a major landmark of the community. It is very satisfying to learn that to date, this bridge has been serving as a popular tourist attraction for locals and visitors alike. Also, with the support and encouragement of my fellow councillors at that time, I had the honour of initiating and leading the yearly celebration of Lillooet Days. The Lillooet Days festivities have been transformed into Apricot Tsaquam Days which is now celebrated towards the end of July .
The people of Lillooet are very resilient. Despite losing some of its main sources of employment, including the provincial government offices, mills and various other employers, the District Municipality has not only survived but also flourished in some ways. Its Sheep Pasture Golf Course, The Kaoham Shuttle between Lillooet and Seton Portage, the Fort Berens Estate Winery, fishing, hiking and gold panning are just some of the wonderful things that offer so much to the visitor. Lillooet, in a sense, is really Guaranteed Rugged. In indoor and outdoor recreation, Lillooet offers unique opportunities.
My family and I have very special attachment to this wonderful community. Having been an active member of this community and as an educator for more than 17 years (1973-1990) including 13 as an Alderman (Councillor) my family and I enjoyed every moment of it. 1990. My family and I have very pleasant memories of this "small town with a big heart".
READ: Golden City gurdwara was the oldest Indian city in North America