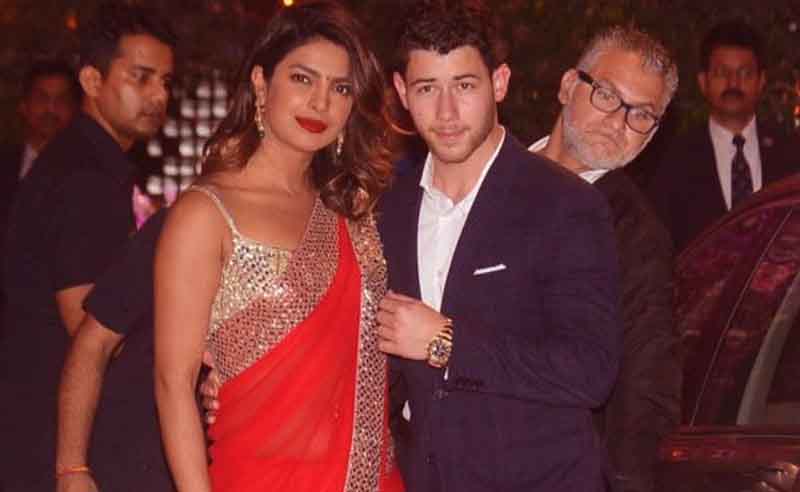 News East West
MUMBAI: Priyanka Chopra, 36, and Nick Jonas, 26, are now a wife and a husband.
The couple tied the knot in a Christian ceremony at Jodhpur's royal Umaid Bhavan on Saturday night.
Nick's father Paul Kevin Jonas Sr officiated the wedding ceremony.
The couple went through a Hindu wedding ceremony on Sunday.
Fireworks lit up the sky in the desert town as Priyanka and her beau exchanged wedding vows.
Their wedding comes just four months after the couple got engaged.
According to people.com, not only both the groom and the bride but also other members of their families,  bridesmaids and groomsmen wore Ralph Lauren.
Priyanka's brother Siddharth and Nick's three brothers, Joe, Kevin and Frankie were all present as the couple tied the nuptials.
Priyanka and Nick shares pictures of their mehndi (henna) ceremonies on Instagram on Saturday before their wedding.
The age gap of almost 11 years between Priyanka and Nick had raised some eyebrows when they confirmed their relationship.
At that time, People magazine had quoted a source close to Nick as saying that "the age difference is no big deal for them whatsoever.
"Nick loves dating older women, and if anything it makes Priyanka even more attractive to him."
In fact, Kate Hudson, whom Nick reportedly dated briefly, is even older than Priyanka by three years.
Nick Jonas is "an old soul'' who has "always been very mature for his age," the source had told People magazine.
The couple dated for about two months before getting engaged in London on Priyanka Chopra's 36th birthday in July.
After their London engagement, the two also went through Hindu rituals of engagement or roka in Mumbai on August 17.
Nick Jonas and his parents Paul Kevin Jonas and mom Denise Miller-Jonas flew to Mumbai for the engagement ceremony at Priyanka's Juhu residence
Because of her wedding, Priyanka Chopra had withdrawn from a Bollywood film with Salman Khan.
READ NEXT: 5 love affairs of Priyanka Chopra
READ ALSO: Love affairs and flings of Nick Jonas